MAKING MUSIC 2017
Published by Roberta Emerson
MUSIC WORKSHOP with DERIK NELSON & FAMILY

For one magical week in early August, nearly a dozen students had a priceless opportunity to expand their musical skills with talented siblings Derik, Riana and Dalten Nelson. Held at the Bankhead Theater, the students, who ranged in age from middle school on up, worked closely with the Nelsons sharing ideas, developing their singing, songwriting and performance techniques, and just having fun making music together.  With remarkable musical talents and friendly, approachable personalities, the Nelsons challenged the students to push for new skills, while building their confidence along the way.
At the end of the week, the students showcased their talents on the Bankhead Stage in a performance described by one parent as "awe inspiring." In just a few days the group had clearly become a team, their musical abilities and creativity fostered inside the fun and supportive environment. Since then, the students have stayed connected, taking part in a GroupMe just two weeks later, and plan to stay in touch with each other as they pursue their musical dreams.
For many artists, performing on stage is often just one aspect of their love for music and the arts. The Nelsons clearly find equal joy in nurturing the musical talents of others. The enthusiasm and energy they brought to the camp mattered every bit as much as their own exceptional musical abilities. While their polished performance as Derik Nelson & Family on August 4th gave Bankhead audiences a memorable evening of jazz and folk-infused sound combined with stunning video displays, it was the personal connections Derik, Riana and Dalten made with these thriving young musicians that truly planted the seeds for a love of music in the future.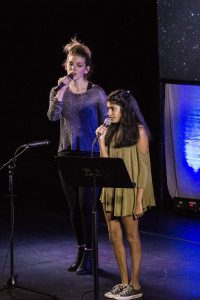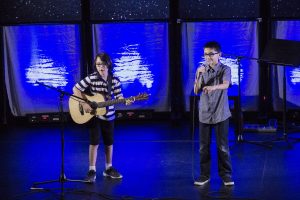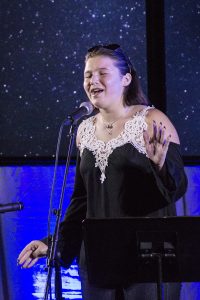 ABOUT THE NELSONS
The Nelson siblings have garnered over 3.5 million views on YouTube, toured over 60 locations across the West Coast U.S.A., reached over 15,000 students of all ages with educational music workshops and fundraising assemblies, were invited to perform the National Anthem at a Seattle Seahawks home game, and are proud to tour nationwide with their own headlining concert as a family.
The music workshop offered at the Bankhead aligns with the Nelson's personal priorities as musicians and entertainers. Raised in the Pacific Northwest, all three attended public schools and, as Riana says, are passionate about giving back so others can have the same opportunities they had to experience choir, band and theater classes. They have raised money for school music programs up and down the West Coast.
Derik, known for his recurring role as the guitarist on the television show "Glee," began performing at the age of seven and over the next decade appeared in over 60 productions. By the time he was 14 he had learned to play saxophone, guitar and piano and was already composing songs. Derik has said, "I feel most like myself when I'm at the piano or with a guitar in my lap, singing about how I feel to people who feel the same way. Music is one of the deepest expressions of emotion, and writing and performing original music is as personal and honest as you can get." By the time he graduated from the University of Southern California in 2010, Derik had produced five original albums and helped shape curriculum for USC's Popular Music program. www.deriknelson.com
Riana graduated from University of Michigan in Musical Theater, where she co-directed the co-ed a cappella group "Amazin' Blue," and has appeared on television, film and stage as well as led children's music programs. www.riananelson.com Dalten has appeared in musical theater productions since the age of four. His skills in lighting design and video production, from concept to editing, contributes to the trio's mesmerizing and visually immersive concerts.www.daltennelson.com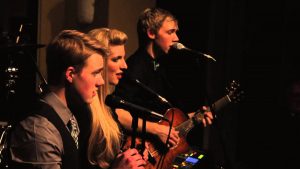 The music workshop was underwritten in part by the Livermore Valley Performing Arts Center's Education Fund.
To contribute to the fund or for more information, contact the development staff at 925-583-2305 or email