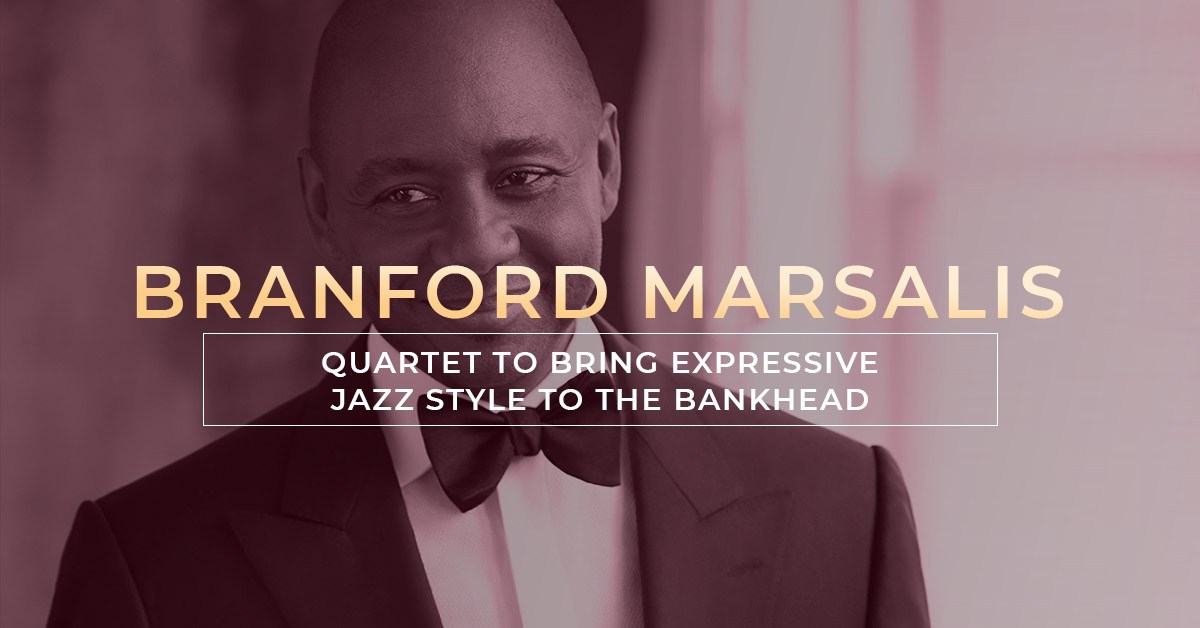 Branford Marsalis Quartet to Bring Expressive Jazz Style to the Bankhead
When
Mon, January 21, 2019 @ 7:30 pm
Email
boxoffice@bankheadtheater.org
Where
Bankhead Theater - 2400 1ST ST LIVERMORE, CA 94550

Phone
925.373.6800

From his early acclaim as a saxophonist, Branford Marsalis has stayed the course, bringing new energy and new audiences to the world of jazz. He has refined and expanded his talents and horizons as a musician, composer, bandleader, and educator over the years, becoming a 21st century mainstay of artistic excellence. It's easy to see why the Associated Press called the Branford Marsalis Quartet "one of the most cohesive, intense small jazz ensembles on the scene today."
As we'll discuss later in this post, the Branford Marsalis Quartet will perform at the Bankhead Theater for one night only on January 21. Keep reading as we take a closer look at this legendary group.
About Branford Marsalis Quartet
Marsalis grew up in the rich musical environment of New Orleans, the son of famed pianist and educator Ellis Marsalis and the oldest of his three jazz-playing siblings. He formed his own quartet in 1986 and has taken guest turns with such giants of the jazz world as Miles Davis, Dizzy Gillespie, Herbie Hancock, and Sonny Rollins. Among his many credits, Marsalis has composed for Broadway, toured with Sting, served as musical director for The Tonight Show with Jay Leno, and appeared on numerous other television and radio programs. He is a frequent soloist in jazz performance and, increasingly, in the classical universe as well.
The Branford Marsalis Quartet has long been known for telepathic communication among its uncommonly consistent personnel. Today, the group is recognized as the standard to which other ensembles of its kind must be measured. The Branford Marsalis Quartet delivers a deep book of original music, replete with expressive melodies and provocative forms, as well as unrivaled spirit in both live and recorded performances.
The performance
We are thrilled to welcome the Branford Marsalis Quartet for what's expected to be an incredible performance when they appear at the Bankhead Monday, January 21 at 7:30 p.m. Unfortunately, the $20 regular ticket level is already sold out, although discounted tickets for students and active military personnel are still available at that price. Remaining seats for the performance start at $50.
A venue like none other
Here at the Livermore Valley Performing Arts Center, we hope that 2019 is the year you check out the Bankhead Theater for yourself. This unique, 507-seat venue is regularly used for live music, theater, dance, lectures, events, and conferences. For more than a decade, the Bankhead has brought artists and audiences together to share in the rich experience of live performance.
There's no debating the importance of the arts. The LVPAC staff believes that every child deserves the opportunity to see, hear, and take part in the performing arts. That's why we put such an emphasis on making our events affordable and accessible. In addition to our various family-friendly shows, we also maintain an unrivaled educational outreach program for both children and the underprivileged.
Now is the perfect time to take in a performance at the Bankhead Theater in Livermore. Contact the LVPAC staff today for more information.
RELATED PERFORMANCES/SHOWS