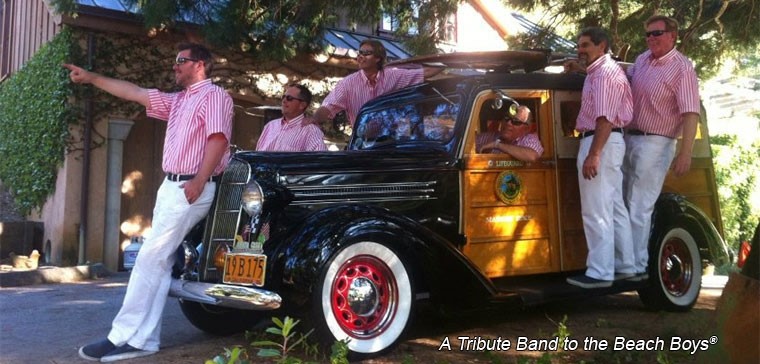 Mike Amaral's California Beach Boys
When
Sat, September 25, 2021 @ 8:00 pm
Email
boxoffice@bankheadtheater.org
Where
Bankhead Theater - 2400 1ST ST LIVERMORE, CA 94550

Phone
925-373-6800

Starbright Entertainment 
Mike Amaral's California Beach Boys Experience
Come along on a Surfin' Safari Concert-All Beach Boys, All the Time!
Playing to packed audiences and standing ovations since 2007
Mike Amaral became a musician in his youth and started a band called Flashback.  Having spent a lot of time as a youth surfing and body surfing around Santa Cruz, Mike always wanted a Beach Boys tribute band.  So he rounded up some other musicians, including a couple of cousins, and formed Mike Amaral's California Beach Boys Experience in 2007.  "The one prerequisite I had is to find people who love Beach Boys music.  Our goal was and still is to play for people who want to come listen to this great music", says Amaral, but he knew the challenges of doing Beach Boys music, which is why there are very few (pure) Beach Boys bands out there. "We acknowledge the Beach Boys all the time.  There simply isn't any more fun music around and it's such an honor to perform."   "It's all about the music," says Amaral.  "Our goal has always been to replicate the music and concert experience so the audience member doesn't know if they're in 1966 or 2021.  In our minds it doesn't matter who is playing the music, rather how good it is; pleasing our audience members is what's important.
Beginning with those famous harmonies, they perform Surfin' Safari, Surfin' USA, Catch a Wave, Hawaii, Surfer Girl and so many more.  Then came the car songs, 409, Shut Down, Little Deuce Coupe, then I Get Around, California Girls, Hush a bye, Help Me Rhonda, Barbara Ann, Good Vibrations and so, so many more in this two-hour concert. With their original outfits and equipment, all these great songs and more will be performed by this international band and it may be the best concert you have ever been to…Honestly! We want the audience members to feel like they're at a 1960's Beach Boys Concert, including authentic outfits, equipment, and of course those famous harmonies" says Amaral.
And you will have a whole lot of Fun, Fun, Fun, and get those Good Vibrations!
RELATED PERFORMANCES/SHOWS