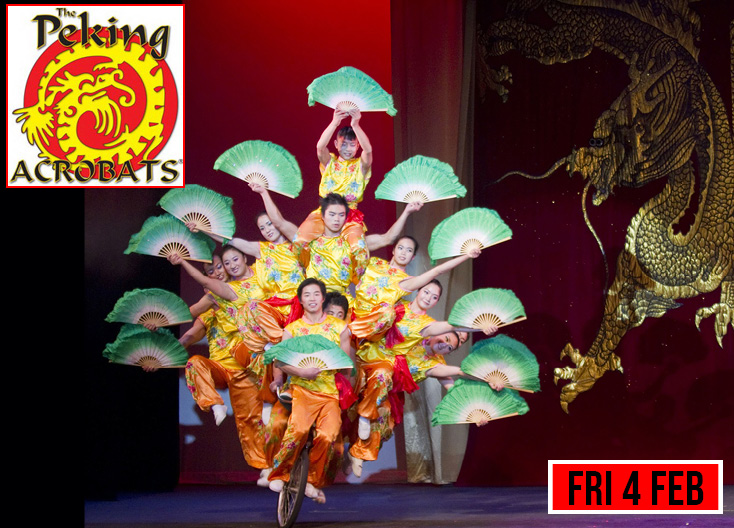 Peking Acrobats
When
Fri, February 4, 2022 @ 8:00 pm
Email
boxoffice@bankheadtheater.org
Where
Bankhead Theater - 2400 First Street Livermore,

Phone
925.373.6800

Bankhead Presents Peking Acrobats
For thirty four years, The Peking Acrobats have redefined the image of Chinese acrobatics, pushing the limits of human ability, defying gravity with amazing displays of contortion, flexibility, and control. With daring maneuvers atop a precarious pagoda of chairs or along tall poles, they display their technical prowess with such arts as trick-cycling, precision tumbling, juggling, somersaulting, and gymnastics. Accompanied by live musicians on traditional Chinese instruments, their classic Chinese music combines with high-tech special effects and awe-inspiring acrobatic feats to create an exuberant experience with the festive pageantry of a Chinese carnival.
The Peking Acrobats set the world record for the Human Chair Stack on the Guinness Book Primetime television show in 1999. Balancing six people on six chairs, twenty one feet up in the air without safety lines, they astounded audiences with their bravery and dexterity.
Since 1986, The Peking Acrobats have been featured on numerous television shows and television specials including Nickelodeon's Unfabulous, Ellen (DeGeneres)' Really Big Show, That's Incredible, Wide World of Sports, and Ring In The New Year Holiday Special. They have also appeared in 3D on NBC/Comcast's new 3D Channel. On the big screen, The Peking Acrobats were featured in the hit film Ocean's Eleven with Julia Roberts, Brad Pitt and George Clooney, and former member Shaobo Qin went on to appear in the films' two sequels.

"Cirque du Soleil meets the East"
– DC Metro
Friday, Feb 4, 2022 at 8:00 pm
RELATED PERFORMANCES/SHOWS