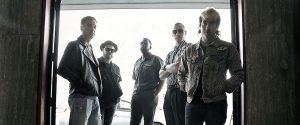 Plain White T's
When
Sat, August 14 @ 8:00 pm
Email
boxoffice@Bankheadtheater.org
Where
Bankhead Theater - 2400 First Street Livermore,

Phone
925-373-6800

Bankhead Presents Plain White T's
From All That We Needed to all that succeeded. It's been 22 years since the Plain White T's kicked off their career in the Chicago suburbs, playing a mix of pop and melody driven rock and roll in basements and clubs across the metro area. Over those 22 years the Grammy Award-nominated multiplatinum band has amassed an enduring and enigmatic catalog, spanning five gold certified offerings including albums "All That We Needed" and "Every Second Counts" and singles "Hey There Delilah," "Rhythm Of Love," and "1,2,3,4" The Storytellers Tour offers a unique, fun filled song and dialogue session with the audience where the band will play familiar hits, break down the song writing process and tell never-before-heard stories going back to the early days of the band, all the way to where they are now.
RELATED PERFORMANCES/SHOWS