October officially marks Filipino American History Month in the United States. October's significance as Filipino American History Month is due to the first recorded presence of Filipinos in the continental United States when on October 18, 1587, "Luzones Indios" came ashore from the Spanish galleon Nuestra Senora de Esparanza and landed at what is now Morro Bay, California. In November of 2009, both the United States House of Representatives and Senate passed laws – House Resolution 780 and Senate Resolution 298 respectively, officially recognizing October as Filipino American History Month in the United States.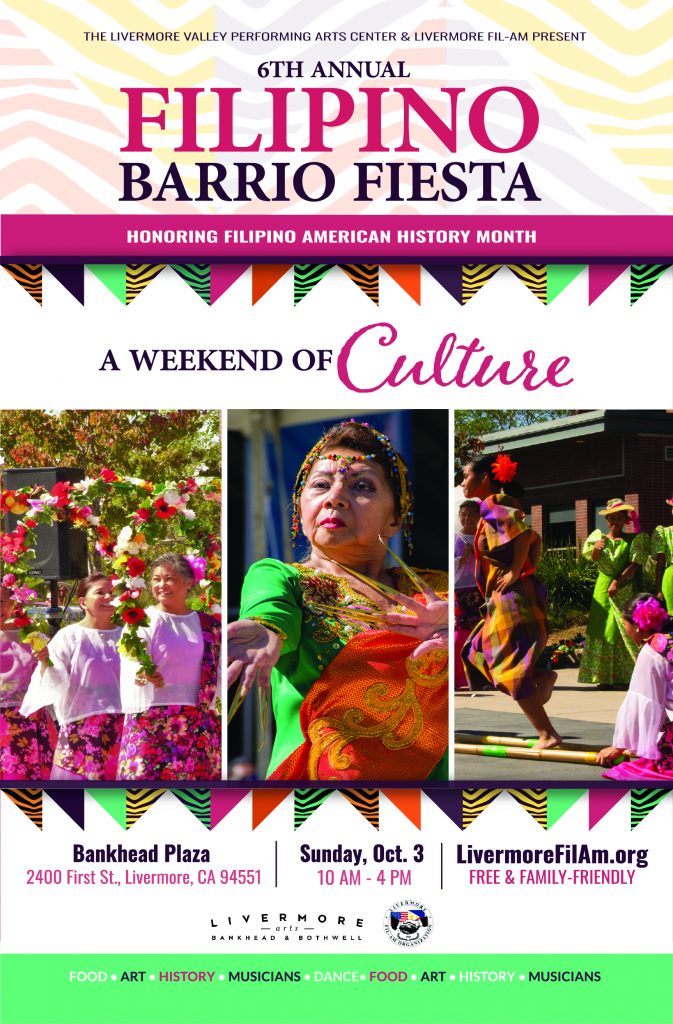 Livermore Arts and Livermore Fil-Am will honor Filipino American History Month with the sixth annual Filipino Barrio Fiesta – a free, family-friendly community event on Sunday, October 3rd from 10:00 am to 4:00 pm.

This year features music and dance performances, "Heart of My People," awards presentations for K Fresh, Thea Beth, and Fred B, historical artifacts on display, and an altar for our Ancestors. Filipino food will also be sold.

New this year at Filipino Barrio Fiesta is the Get Down East Bay Volume 2, a breakdancing competition that will be held at Mcleod Street from 1:00 pm to 5:00 pm.

Join us for an after-party on the Bankhead Plaza with Raid Among Friends Twitch DJs in the mix from 5:00 pm to 8:00 pm.