Welcome to Rae Dorough Speaker Series!
Join us at the Bankhead Theater for an up close and interactive experience that is not possible in larger venues. The intimacy of the Bankhead brings our guest speakers and audiences closer together providing a unique opportunity for dialogue that is appreciated by both.
Each presentation concludes with an opportunity for attendees to ask questions in what often turns into a lively give and take on the topical subjects presented, which range from literature, history and journalism to technology and cutting edge science. Speakers typically make themselves available for continued discussion and to sign books in the lobby of the theater.*
Come experience an unforgettable and enlightening evening that will illustrate why Rae Dorough Speaker Series has become a mainstay of Tri-Valley's vibrant cultural life.
2023-2024 Rae Dorourgh Speaker Series
Origin of Rae Dorough Speaker Series
In August of 2008, Livermore Valley Arts (LVA) and the Bankhead Theater created the Rae Dorough Speakers Series (RDSS), named for long-time Livermore resident and community activist Rae Dorough. Rae was professionally known in the community for over 30 years as active participant in and supporter of charitable organizations and City commissions concerned with health and social issues.
The mission of RDSS is to present renowned commentators discussing interesting and timely topics ranging from iPhones to dark matter – in Livermore at the Bankhead Theater. The RDSS goal has been to ensure that the general admission tickets for these renowned speakers are at reasonable prices, high school students in cooperation with the Livermore Joint United School District are admitted free, and other students are admitted at the Bankhead's reduced young person price.
RDSS speakers have included engineers, scientists, fiction and non-fiction writers and historians, entrepreneurs, comedians and entertainers, diplomats, astronauts, journalists, and a Secretary of Defense.
Rae Dorough was a catalyst for the cultural arts in Livermore.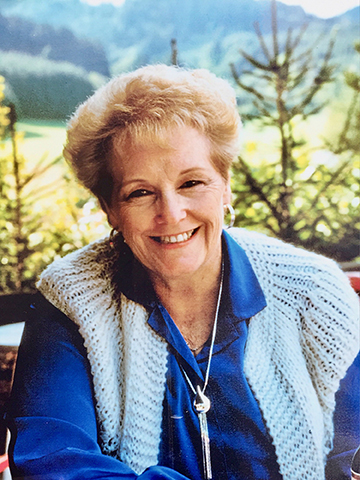 The 'Rae' Dorough Speaker Series is named for longtime Livermore resident and supporter of local cultural arts, the late Raellen Dorough. Rae was a founding member of Del Valle Fine Arts and gave generously of her time and money to cultural, civic and educational causes over many years. She and her husband, Gus Dorough, endowed a chair in Chemistry at UC Berkeley.
Inquisitive by nature, Rae is remembered as being well informed about a breadth of interests from the arts, movies and literature to news and politics.  She particularly enjoyed Herb Caen's column in the San Francisco Chronicle. Because she read voraciously on the topics that interested her, her family came to refer to her as the "information superhighway" in an era well before the ubiquity of Google searches.
Rae loved politics, championed women's rights and was a staunch advocate for the arts. Friends and family appreciated her congenial warmth, love of lively discussion and dry wit. "Rae was witty, wise, very kind, lots of fun and much loved by many people," Susan Mayall, a longtime family friend, told The Independent in 2008. "She was an amazing source of knowledge on all things cultural and we miss her enormously."
Driven by a strong work ethic, Rae worked in the 1950s and 1960s at Kaiser Steel and later as an administrative assistant in the Chemistry Department at Lawrence Livermore National Laboratory. In the 1970s, she embarked on a real estate career and was a highly successful realtor and broker for more than 30 years. The last 15 years she was co-owner of the highly regarded Valley Properties firm.
Rae raised four children and was stepmother to three others. She died unexpectedly from post-operative complications on Feb. 26, 2008, just shy of her 75th birthday.
Because Rae was an enthusiastic supporter of the Oakland Paramount Theater's acclaimed Oakland Speaker Series, initiating a Livermore series in her name seemed a fitting tribute. Her friends, with support of the family, launched the Rae Dorough Speaker Series in the fall of 2008 to honor her work for the community and as a reflection of her broad cultural interests and political convictions.
The creation of the series fulfilled an ambition of what was in 2008 the new Bankhead Theater. Len Alexander, executive director of the Livermore Valley Performing Arts Center at the time, noted: "From the earliest planning stages it was hoped the new theater would host an illustrious lecture series, and we are honored that the Dorough family helped us create The Rae Dorough Speakers Series to accomplish that goal."
Past Rae Dorough Speakers
RDSS speakers have included engineers, scientists, fiction and non-fiction writers and historians, entrepreneurs, comedians and entertainers, diplomats, astronauts, journalists, and a Secretary of Defense. Click links below for more details about each season and the speakers. 
2022-2023: Paul Giroux, Carl Bernstein, Rose Gottemoeller, Marlee Matlin, Michael Collopy
2021-2022: Danny Glover, Peter Sagal, Mary Roach, Amory Lovins
2020-2021: Maria Echaveste, Paul Giroux, Dr. Richard Reimer, National Geographic Live
2019-2020: Jamie Metzl, Jonathan Reichental, Ellie Cohen, John Arquilla
2018-2019: Janet Beard, Joel Breakstone, Patrick Hunt, Andy Weir
2017-2018: Roger Bales, Elisabeth Rosenthal, Ben Santer, David Shoemaker, David Vassar
2016-2017: Alan Ashworth, Robert L Gallucci, Jeanne Marie Laskas, Julie Lythcott-Haims, Ross Stein
2015-2016: Annie Barrows, Alex Filippenko, Allison Macfarlane, Astro Teller
2014-2015: Kelly Corrigan, Patrick Hunt, Michael Krasny, John Mather
2013-2014: Tony La Russa, Mike Montemerlo, Amy Stewart
2012-2013: Elizabeth Blackburn, Tammy Jernigan and Jeff Wisoff, Ed Larson, Markie Post, Francis Slakey
2011-2012: Bob Borchers Jr., Ron Cohen, Paul Alan Cox, Abraham Verghese
2010-2011: Kelly Corrigan, Timothy Ferris, John Gray, William Perry and Michael May, David Rakoff
2009-2010: Alex Filippenko, Jane Hamilton, John Hamre, Carey Perloff
2008-2009: Bob Borchers Jr., Dr. Morton Grosser, David M. Kennedy, Amory Lovins, Richard Rhodes