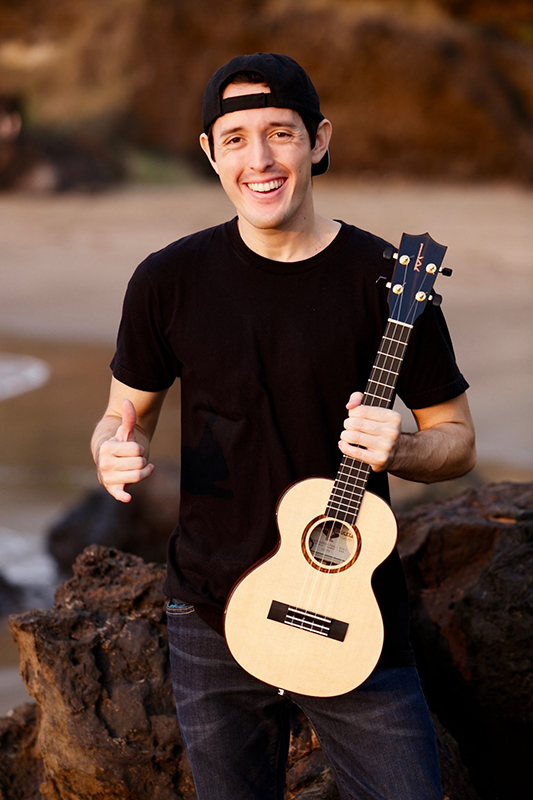 FOR IMMEDIATE RELEASE
Livermore Arts
Contact: Ruth Egherman (925) 583-2306 
Andrew Molina Builds on Longtime Hawaiian Musical Roots
to Blaze a New Trail in Contemporary Ukulele at the Bankhead
Livermore, CA – (September 10, 2021) – With a passion for playing that is evident in his sizzling talent and engaging stage presence, ukulele virtuoso Andrew Molina effortlessly blends Hawaiian, pop, rock, Latin and a little bit of jazz into his own personal style. Spanning a wide range of musical genres, Molina skillfully delivers his take on everything from sweet Hawaiian sounds, to Aerosmith's "Dream On," Guns N' Roses "Sweet  Child O' Mine," even taking a detour into the "Game of Thrones" theme. 
From his native Hawaii to Tahiti, China and Europe, Molina has captivated audiences around the world and tagged by Ukulele Magazine as "among a new generation of Hawaiian ukulele players taking a global-sized approach to what's possible on the ukulele." He will appear at the Bankhead for one performance only on Friday evening, September 17, together with his father Jay on bass and guitar. Remaining tickets are just $35 with discounts available for students and military personnel.
Molina is blazing a new trail in ukulele music and charting his own path to the future. 
Representing the third-generation of a well-known musical family in Maui, he picked up the ukulele at the age of 13 and quickly built on both his musical technique and his songwriting skills. Molina composed eight of the 11 songs on his debut CD, "The Beginning," which was named a finalist for the "Ukulele Album of the Year" category at the Na Hoku Hanohano Awards, Hawaii's version of the Grammy Awards. His two follow-on albums have also been nominated in the same category. 
The Friday evening concert with Molina follows the season opening gala and kicks off a busy Bankhead Presents season. In addition to two comedy events this month, on September 29 guitarist Ottmar Liebert and Luna Negra return for a welcome eighth appearance at the Bankhead. Liebert first won fans for his contemporary flamenco style with "Barcelona Nights" off his debut album. His innovative music has continued to evolve, infusing musical influences from rock to reggae and making him one of the most successful instrumentalists in the world. While at the theater, attendees can enjoy the recently opened art exhibit "Explorations in Colored Pencil IX," presented by the San Jose chapter of the Colored Pencil Society of America, which runs through October.
Tickets for all shows in the 2021-2022 Bankhead Presents season including Andrew Molina, Ottmar Liebert, as well as comedy, dance, theater and much more are available online, by calling 925-373-6800, or at the box office windows. To see a complete list visit livermorearts.org 
###
Livermore  Arts is an independent 501(c)3 non-profit offering wide-ranging programs that provide access to the arts for the Tri-Valley community and beyond. The Bankhead Theater and Bothwell Arts Center are home to nine resident performing arts companies and over 40 studio artists and cultural arts instructors. livermorearts.org 
Show:  Andrew Molina
Date: Friday, September 17, 2021
Time: 8:00pm
Tickets: $35 ($20 student/military personnel)