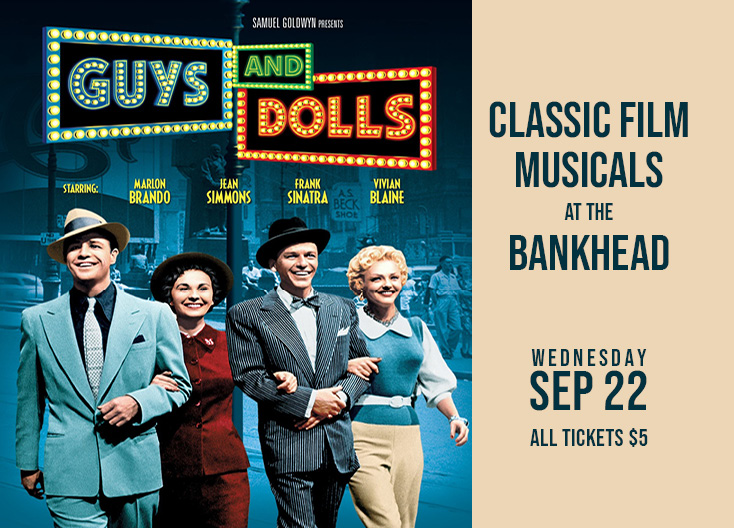 FOR IMMEDIATE RELEASE
Livermore Arts
Contact: Ruth Egherman (925) 583-2306 

Frank Sinatra in "Guys and Dolls" Marks the Return of
Classic Film Musicals at the Bankhead
Livermore, CA – (September 10, 2021) – The opening of the Bankhead Theater's 2021-2022 Season has brought back live music performances, as well as comedy, theater and film. Kicking off the return of the Classic Film Musical series for the fourth year will be "Guys and Dolls," starring Frank Sinatra and Marlon Brando at their swaggering best. The 1955 film will be screened on Wednesday, September 22, at 7:00pm. All tickets are just $5 each. 
While indefinitely postponing a wedding date with his longsuffering fiancé Adelaide, gambler Nathan Detroit (Frank Sinatra) finds he's short the $1,000 he needs to find a place for his floating craps game. He wagers with gentlemen-around-town Sky Masterson (Marlon Brando) that Sky's smooth way with women will fail when it comes to taking the virtuous Sarah Brown of the Save a Soul Mission out on a date. When Sky slyly offers to bring his friends to her mission in exchange for a dinner date in Havana, the two are surprised to discover they might actually have a future together. The Frank Loesser score includes "Luck Be a Lady" which became a signature song for Sinatra and has been ranked among the Top 100 greatest film songs. 
Classic Musicals scheduled for this season are some of Hollywood's most beloved films, featuring the suave men of the 40s and 50s including Fred Astaire and Gene Kelly, as well as the powerhouse women of the 60s such as Barbra Streisand, Julie Andrews and Vanessa Redgrave. Following "Guys and Dolls" will be "Anchors Aweigh" (1945) on November 17, a classic WWII-era tale of Navy sailors looking for fun on shore leave and starring the fleet feet of Gene Kelly. The two fall films are followed in 2022 by "The Bandwagon" (1953) with Fred Astaire and Cyd Charisse in February, "Hello Dolly!" (1969) with Streisand in one of her most famous musical roles in March, "The Sound of Music" (1965) which is considered by many to be the masterpiece of film musicals in April, and finally, Richard Harris as King Arthur opposite Redgrave in "Camelot" (1967) in May.  
All classic film musicals are screened on Wednesday evenings and, in keeping with the traditions of the era, each is presented with a cartoon preceding the main feature.
In addition to the Classic Film Musicals, the Family Film series has been extended in 2021 with two holiday events. Mel Brook's corny spoof of the horror film genre, "Young Frankenstein" starring Gene Wilder and Cloris Leachman will be shown on Sunday afternoon, October 31 for a laugh-filled start to Halloween, and the animated film "The Polar Express," starring Tom Hanks as the mysterious train conductor headed to the North Pole, will be screened on Sunday afternoon, December 26, 2021. 
Tickets for Classic Film Musicals and Family Films are just $5 for all ages and can be purchased online or through the box office. Popcorn, movie treats and beverages are available for sale in concessions at all film screenings. 
#    #    #
Livermore  Arts is an independent 501(c)3 non-profit offering wide-ranging programs that provide access to the arts for the Tri-Valley community and beyond. The Bankhead Theater and Bothwell Arts Center are home to nine resident performing arts companies and over 40 studio artists and cultural arts instructors. LivermoreArts.org 
Show:  "Guys and Dolls" (1955) starring Frank Sinatra and Marlon Brando
Date: Wednesday, September 22, 2021
Time: 7:00pm
Tickets: $5 each