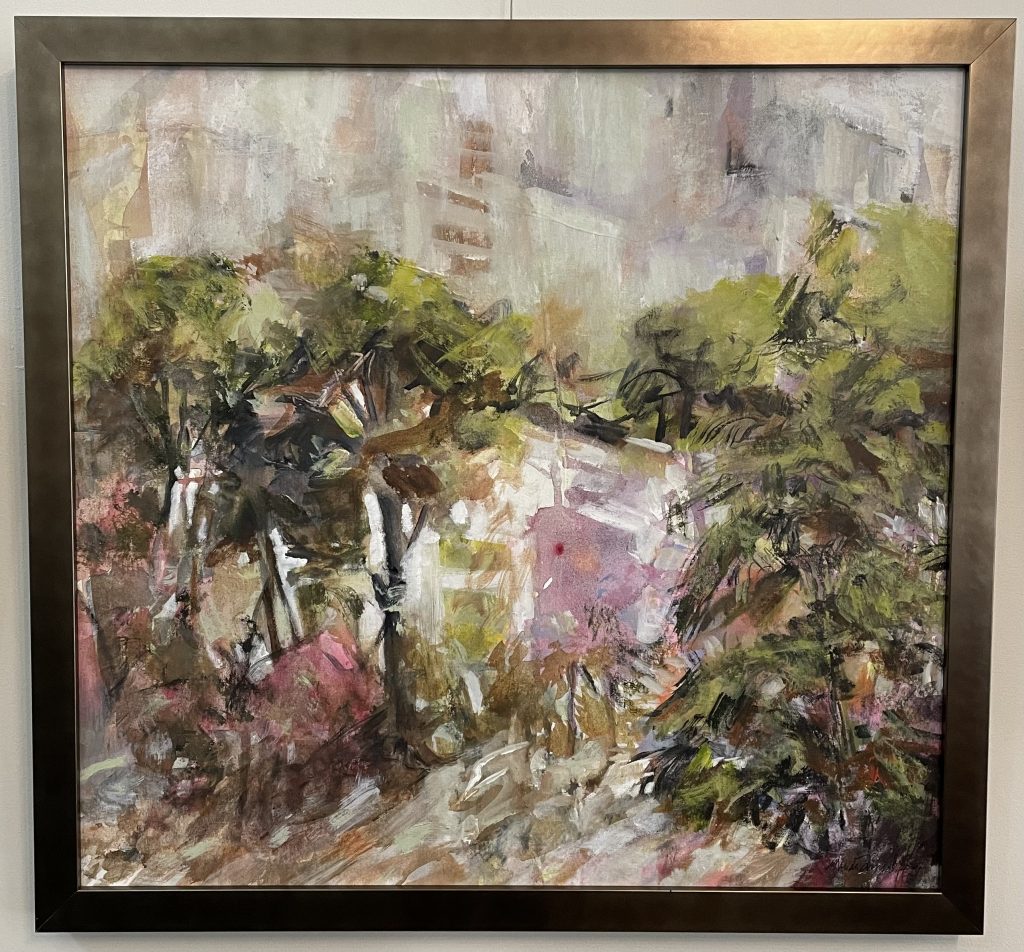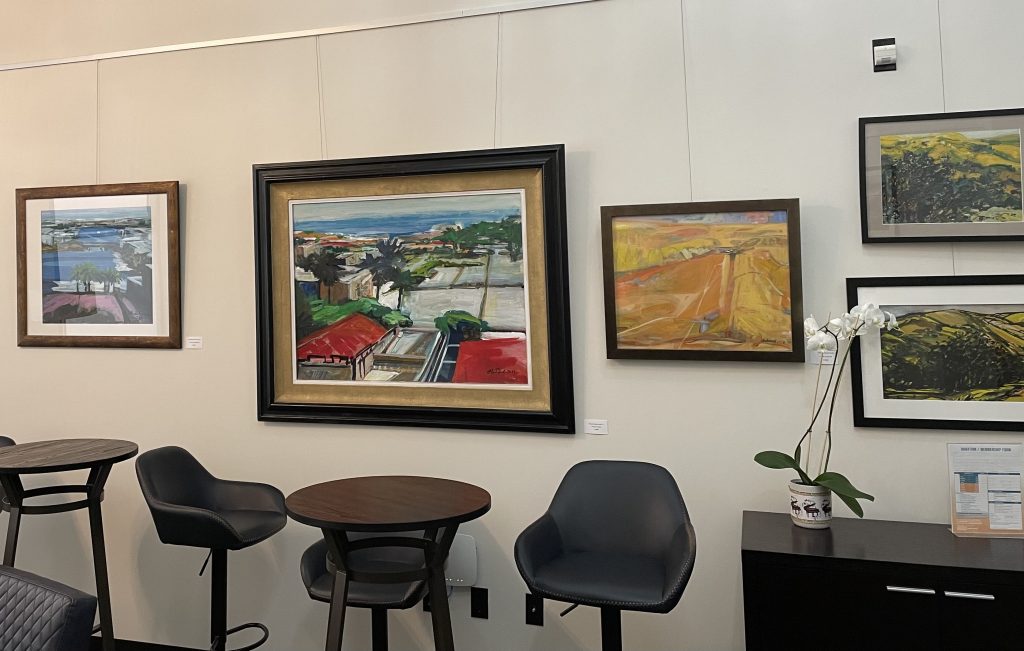 FOR IMMEDIATE RELEASE
Livermore Valley Arts
Contact: Ruth Egherman (925) 583-2306 
Modern the Word of the Day at Livermore Valley Arts' Upcoming Art Reception
Livermore, CA – (November 1, 2022) –
An exciting new exhibit, "Shape, Form, and Color: Modern Expressionism," is currently on display at the UNCLE Credit Union Art Gallery through December 4, 2022. This gallery exhibition incorporates works from local artists utilizing this artistic style, using exaggerations and distortions, originally portraying 20th-century life from a subjective perspective. Viewers of this exhibition can expect to see the world depicted through how it feels rather than how it looks. An art reception will be held on Saturday, November 12, from 1 pm – 3:30 pm, which is free and open to the public. Attendees can enjoy light refreshments along with the insightful art on display for a delightful autumn afternoon of art and culture, which will now include an exciting performance from modern dancers from the Livermore School of Dance. The public is invited to share in this exciting exhibit and free art reception at The Bankhead at the UNCLE Credit Union Art Gallery at the Bankhead Theater in Downtown Livermore.
The Expressionist movement originated in Germany and Northern Europe during the early 1900s, coming about during a period of intense change and upheaval within the continent. During this time, society was developing rapidly due to the industrialization that had captured Europe, as well as the chaotic state of the world that was present within European countries leading up to World War I. These changes brought about a sense of apprehension, isolation, and detachment in the general public, and artists responded to these events through the artwork they produced, depicting the world as it felt rather than how it looked, and dismissing the predominant stylistic conventions that had dictated visual creation. Rather than trying to accurately represent the world as artists had been doing since the Renaissance, they sought to express their emotional attitude towards themselves and the outside world through distortion, exaggeration, simplification, and through the use of striking, highly intense, non-naturalistic colors, and jarring, vigorous brushwork, with paint application tending to be generous and highly textured. Additionally, some Expressionists used their artworks to critique political and social causes, which helped carry the emotional significance in their works beyond traditional artistic society.
Stylistically the origins of the Expressionist movement can be linked to artists such as Edvard Munch, Vincent van Gogh, and Henri Matisse. Each artist displayed signs of a departure from lifelike portrayals in their later works. Munch's The Scream, van Gogh's The Starry Night, and Matisse's The Joy of Life are all highly expressionistic in treatment. Matisse's use of vivid colors and simplified linear figures and Munch and van Gogh's use of unnatural colors, dynamic brushstrokes, and overstated textures became essential characteristics of Expressionist Art. Throughout the lifespan of the Expressionist movement, many significant artworks were made by notable artists, which went on to define the trajectory of the movement. A few of these important artists include Georges Rouault, Egon Schiele, Paul Klee, Max Beckmann, Wassily Kandinsky, Ernst Ludwig Kirchner, Käthe Kollwitz, Francis Bacon, Henry Moore, Franz Marc, and Georg Baselitz. "Shape, Form, and Color" at The Bankhead showcases both global expressionist pieces in addition to the expressionist works of regional artists. Of special, exciting note is two featured works from Joan Miro and Alexander Calder, on loan from a private collection.
Moving from modern expressionism to modern technology, the Founders Room at The Bankhead is concurrently featuring a solo exhibit by Ghada Jamal. Born in Beirut, Lebanon in 1955, Jamal started painting in the early 80s and continued her studies at Beirut University College (LAU). Later, she immigrated to the US to pursue graduate studies, and in 1990, she earned a Master's in Fine Arts in Drawing and Painting from CSULB and lived in California until her return to Lebanon in 2002. Over the years, Ghada has exhibited in the United States, Europe, and the Middle East. She had eight solo shows in Beirut, Lebanon, at Agial Gallery, The French Cultural Center, and Piece Unique. She also participated in several group shows, such as CONTEMPORARY ART at City Center Dome and THE ROAD TO PEACE at Beirut Art Center. Her work is also in many permanent collections, including the National Museum of Women in the Arts in Washington, DC. Currently, Jamal teaches drawing and painting at the American University of Beirut and Notre Dame University, Louize. She continues to paint and exhibit in Lebanon and abroad, and the UNCLE Credit Union Art Gallery is thrilled to be able to present her solar exhibit right here in Livermore.
In 2004, Liz Roberts and Shelly Schoendienst created the Livermore School of Dance in Livermore, California. Their dream was to create a place where dancers of all ages could come and dance and feel great about themselves. It has always been their studio's primary goal to build self-confidence in all their dancers while teaching them proper technique in a safe and comforting environment. They offer classes for dancers ages 2 ½ through adult, from the beginning through advanced levels in ballet, pointe, jazz, contemporary, lyrical, hip hop, modern and improv, musical theater, tap, floor barre, tumbling, and creative movement. The studio is noncompetitive and offers multiple performance opportunities a year. Almost twenty years later, Livermore School of Dance is proud to continue providing a supportive and nurturing environment for dancers to grow and learn. They nurture their students so that every time a dancer walks out of the studio door; they have a smile on their face! Livermore School of Dance Modern Group will be performing at the Art Reception on November 12 at 1:30 pm, and Livermore Valley Arts is thrilled to have the dancers perform at this special event.
The UNCLE Credit Union Art Gallery is located in the lobby of the beautiful Bankhead Theater at 2400 First Street, Livermore. "Shape, Form, and Color: Modern Expressionism" is free and open to enjoy by ticketed patrons during performances and by the general public, Thursdays through Sundays, 1 pm-5 pm.
#    #    #