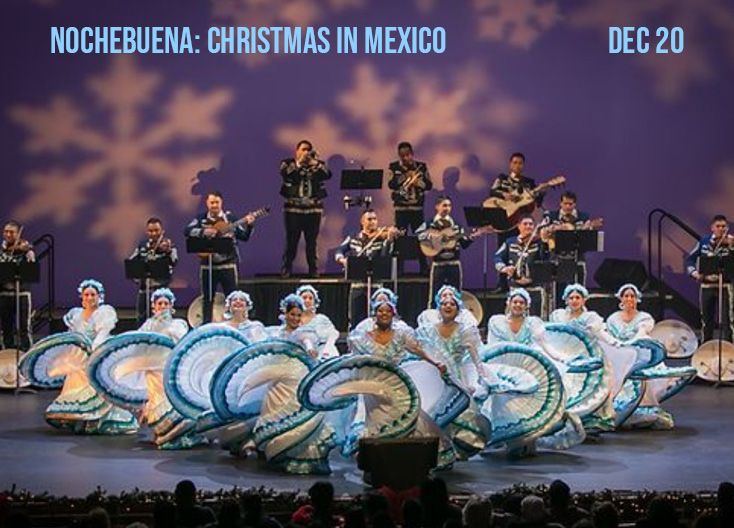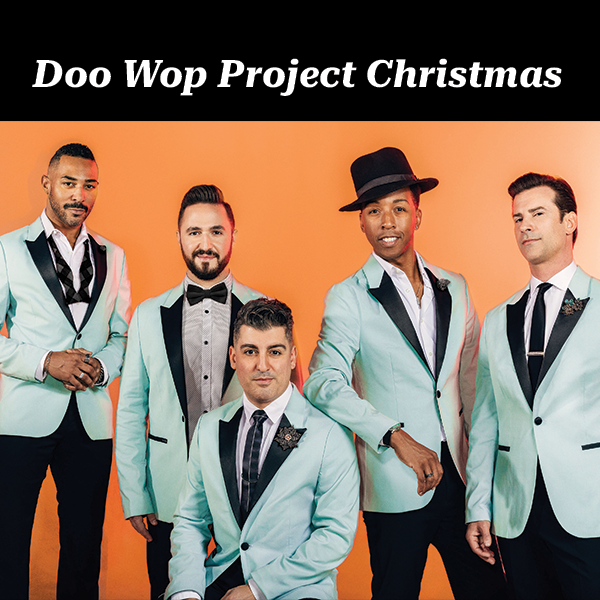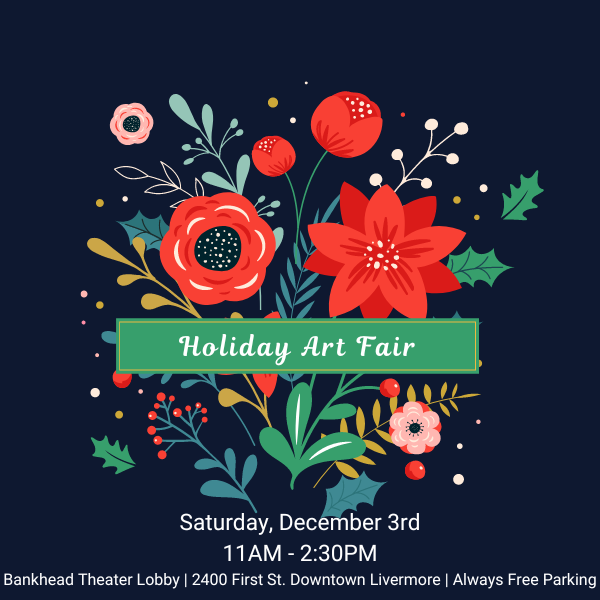 FOR IMMEDIATE RELEASE
Livermore Valley Arts
Contact: Ruth Egherman (925) 583-2306 
Celebrate the Season with a Variety of Offerings at The Bankhead this Winter
Livermore, CA – (November 15, 2022) –
Livermore Valley Arts will conclude 2022 with a season of events sure to please every appetite. From beautiful insights into how Christmas is celebrated and enjoyed in different parts of the world with Jake Shimabukuro: Christmas in Hawaii on December 19 and Nochebuena: A Christmas Spectacular on December 20, to historical insights into music and even history around the season with performances like The Doo Wop Project Christmas on December 4, the US Air Force Band concert on December 5, and All Is Calm: The Christmas Truce of 1914 on December 22, The Bankhead has a winter season full of events that will all lead up to New Year's Eve with Meredith McHenry on December 31. All of these dazzling performances will take place at the beautiful Bankhead Theater in Downtown Livermore.
Kicking off our season celebration at the beginning of the month, from classic Doo Wop to modern hits, the selling-fast The Doo Wop Project Christmas begins at the beginning: tracing the evolution of Doo Wop from the classic sound of five guys singing harmonies on a street corner to the biggest hits on the radio today, infused with a holiday theme in time for the season. In their epic shows, The Doo Wop Project takes audiences on a journey featuring foundational tunes from the Crests, Belmonts, and Flamingos through the vocal artistry of Smokey Robinson, The Temptations, and The Four Seasons all the way to DooWopified versions of modern hits from Michael Jackson, Jason Mraz, Maroon 5, and Sam Smith. Featuring stars from the Broadway hits Jersey Boys, Motown: The Musical, and A Bronx Tale, The Doo Wop Project brings unparalleled authenticity of sound and vocal excellence to recreate—and in some cases entirely reimagine—the greatest music in American pop and rock history, and they will help The Bankhead ring in the holidays to an already almost sold-out house on December 4.
The next day, The Bankhead is delighted to be part of the community's holiday season with the members of the United States Air Force Band of the West on December 5. Every December, the Band of the West celebrates the season with its annual "Holiday in Blue" concert. This free, family-friendly performance will feature a variety of music showcasing the talents of our Airman-musicians in a festive and patriotic way to celebrate the season. This free event is already sold-out; interested patrons are invited to get a free waitlist ticket for a chance to get into this exciting performance. 
A few weeks later, ukulele master and jolly ambassador of aloha Jake Shimabukuro will triumphantly return to the Tri-Valley with his highly anticipated holiday show, Christmas in Hawaii. Over the past two decades, Jake has proved that there isn't a style of music he can't play. While versatility for any musician is impressive, what's remarkable about Jake's transcendent skills is how he explores his seemingly limitless vocabulary – whether it's jazz, rock, blues, bluegrass, folk, or even classical – on perhaps the unlikeliest of instruments: the 'ukulele. Jake has taken the 'ukulele to points previously thought impossible, and in the process, he's reinvented the applications for this tiny, heretofore underappreciated four-string instrument, causing many to call him "the Jimi Hendrix of the 'ukulele." Jake's incredible journey has taken him from local phenom to YouTube sensation, from playing tiny clubs to headlining the world's most prestigious concert venues like the Hollywood Bowl, Lincoln Center, and the Sydney Opera House. He's performed on the biggest TV shows and has released a string of award-winning, chart-topping albums. Just recently, he was nominated by President Joe Biden to serve as a Member for the National Council on the Arts. It's fair to say that Jake has picked up more than a few admirers – millions of them, actually – but it wasn't until he began his latest album, Jake & Friends, that he discovered how many of his fans were, in fact, his very own musical heroes. This 2021 album is his most creatively ambitious project to date, featuring collaborations with a who's who of music legends and royalty, from Willie Nelson and Bette Midler to Jimmy Buffett and Kenny Loggins. This Hawaiian native will be bringing his twist on holiday cheer to The Bankhead on December 19. A holiday celebration to remember, this performance only has a handful of tickets left (check closer to the performance for availability).
All the beautiful traditions of Christmas Eve in Mexico will be presented at Nochebuena the following day, December 20. The acclaimed Ballet Folklórico de Los Ángeles and Mariachi Garibaldi de Jaime Cuéllar brings together an all-star cast of music and dance in a dazzling presentation of the traditions and customs celebrated by the people in Mexico during the Christmas season. ​Nochebuena is a journey through some of Mexico's favorite season-long Christmas traditions, which vary from region to region, many of them also changing with the influence of other cultures, most notably that of the United States. This spectacular show focuses on Nochebuena (Christmas Eve), when Mexican families attend midnight Mass before returning home to a late-night feast. Foods like bacalao, ham, turkey, tamales, and mole, with ponche to drink and lots of music, create a festive and spirited night of fun. Today, the Christmas traditions in Mexico are a blend of indigenous culture, Spanish heritage, and many influences. Ballet Folklórico de Los Ángeles catapulted to international fame when they danced at the 90th Academy Awards in celebration of the Pixar movie Coco. They also performed at the D23 Expo, the Coco Premiere at the El Capitan Theater, and "Disney Night" on Dancing With The Stars, working alongside Natalia Lafourcade, Gael Garcia Bernal, and Miguel as they sang the award-winning "Remember Me" from the film. Mariachi Garibaldi de Jaime Cuéllar has captivated and delighted audiences at both intimate venues and major theaters throughout the United States. In 2017 they teamed with Ballet Folklórico de Los Ángeles to recreate "Tale as Old as Time" from Disney's Beauty and the Beast, which went viral with over 15 million views. Most recently, Mariachi Garibaldi de Jaime Cuéllar was a featured artist in Center Stage Opera's 2019 production of Mozart's Le Nozze de Figaro. Avid proponents of music education, the group teaches mariachi for all ages at their own Academy for Performing Arts. Ballet Folklórico de Los Ángeles & Mariachi Garibaldi de Jaime Cuéllar is thrilled to invite the Tri-Valley to become part of this unforgettable Mexican Christmas Spectacular.
Perfect for the theatre, music, history, or holiday lover, on December 22, The Bankhead is proud to present the national touring production of All Is Calm: The Christmas Truce of 1914. 
All Is Calm relives an astounding moment in history along the Western Front in 1914, when Allied and German soldiers laid down their arms to celebrate Christmas together, thus beginning an extraordinary night of camaraderie, music, and peace, sharing food and drink, playing soccer, singing carols, and burying each other's dead. In some places along the Western Front, the truce lasted a single night, and in others, it endured until New Year's Day. This remarkable story is told through the words of the great WWI poets, official war documents, diary entries, and letters written by more than thirty WWI soldiers, which are woven together with iconic WWI songs and European Christmas carols, creating a profound retelling of this extraordinary moment in human history. This moving ode to peace was created by Theater Latté Da, premiering first in a live radio broadcast in 2007 with the vocal ensemble Cantus and expanding with Theater Latté Da in a reimagined work featuring twelve singer/actors. As Broadway World said, All Is Calm is "a piece of music-theater that's just about as perfect as one could be," and The Bankhead is honored to bring this remarkable true story, about our shared humanity, to Livermore.
Closing out the schedule of performances will be New Year's Eve with Meredith McHenry, a truly riveting way to ring in 2023 on December 31. Meredith has been singing since before she could talk, giving her first solo performance at ten years old. Studying classical voice, musical theater, and jazz in college, Meredith has been performing professionally since 2011, when she unexpectedly landed an appearance on ABC's short-lived attempt to jump into the singing show genre with the show "Karaoke Battle USA." Though it only lasted one season, the ill-fated show aired to over 3 million people and jump-started a long overdue transition back into music. These days Meredith is performing full-time at venues and private events all over the Bay Area and Monterey Peninsula. Singing effortlessly through selections by artists varying from Etta James & Ella Fitzgerald to TOOL & The Weeknd, Meredith and her network of truly talented local musicians have been entertaining audiences all over Northern California for over a decade, known for their ability to recreate both well-known classics and under the radar gems with their unique stylistic blend of jazz, blues, rock, folk, country, and pop. Hometown hero Meredith and her band will kick off a festive New Year's Eve show at The Bankhead. After a lively performance, the audience is invited to head to the Bankhead lobby for a complimentary sparkling wine toast and dessert to celebrate the year-end. 
In addition to this packed season of performances, Livermore Valley Arts will be bringing some season-worthy cheer with visual arts as well. On Saturday, December 3, the Bankhead lobby will come alive with a free-admission Holiday Art Fair from 11am-2:30pm, which will bring together art and fine handcraft vendors for shoppers to find that perfect gift, either for a special someone or for oneself! Additionally, LVA will be putting on Winter Break Art camp, Winter Break Art at the Bothwell, for young people January 2 – 6, 2023, at the Bothwell Arts Center. New for this year's offering, each day of the 5-day camp will be led by different professional guest artists, joining the Bothwell's teaching staff for unique and well-rounded art experiences that will be exciting and different each day, the perfect pump-up for students and kids before they head back to school. Finally, there will be some very special art on display at the UNCLE Credit Union Art Gallery during the season: the Bankhead Theater Lobby will be home to a festive art exhibition, Off the Wall and Under the Tree, which will showcase small artworks for purchase for "shoppers" to take "off the wall" and put under the tree, perfect for a special, unique gift for the art lover in one's life. Viewers and shoppers can delight in the holiday cheer and "off the wall" art at The Bankhead from December 8 through January 8, 2023, during performances or Thursdays through Sundays from 1 pm – 5 pm (free admission).
The Bankhead Theater keeps COVID safety protocols in place with enhanced air circulation and no touch ticketing. Proof of vaccination is no longer required for entry at ticketed performances unless noted as part of a contractual obligation with the artist. Tickets for all shows in the 2022-2023 Bankhead Presents season are available online, by calling 925-373-6800, or at the box office windows. For a complete list of events, visit livermorearts.org.
#    #    #