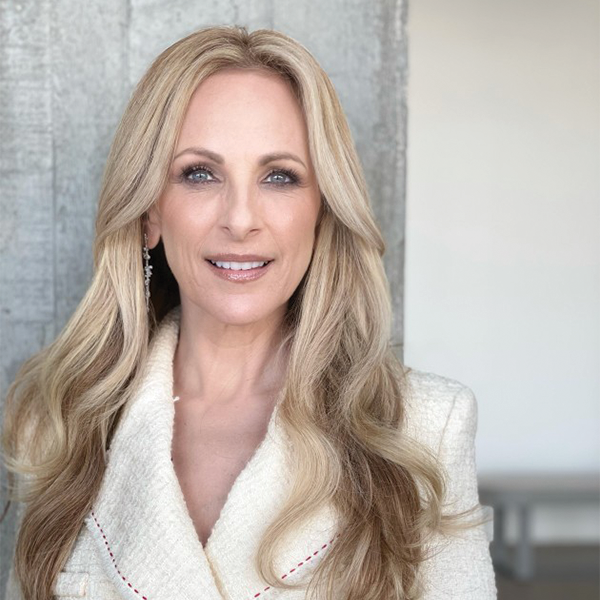 FOR IMMEDIATE RELEASE
Livermore Valley Arts
Contact: Ruth Egherman (925) 583-2306 
Academy Award-Winning Actress & Activist Marlee Matlin at the Bankhead Theater This February
Livermore, CA – (January 13, 2023) –
Fresh off her acclaimed performance in last year's Academy Award winning film CODA, actress and activist Marlee Matlin will tell the story of her life, Hollywood career, and activism in a Bankhead Theater presentation Thursday, Feb. 16 at 7:30 p.m. In partnership with the Rae Dorough Speaker Series, The Bankhead is thrilled to bring to Livermore "An Evening with Marlee Matlin." The Apple TV+ film CODA won the 2022 Academy Award for Best Picture and Matlin previously won the Oscar for Best Actress for her performance in the 1986 drama Children of a Lesser God. Deaf since age 18 months, Matlin is a staunch advocate for inclusion, acceptance and access. Her presentation will be offered in ASL and translated by an interpreter. 

Marlee Matlin received worldwide critical acclaim for her film debut in Paramount Pictures' Children of a Lesser God, for which she received the Academy Award for Best Actress. At 21, she became the youngest recipient of the Best Actress Oscar (a record she still holds to the present day), the first deaf actor to win an Oscar, and one of a small group of actresses to receive the honor for her film debut. In addition to the Oscar, Matlin received the Golden Globe Award for Best Actress in a Drama. In 2021, she was nominated once again as Executive Producer for the Live Action Short, "Feeling Through." She also co-starred in the Sundance Film Award winning film CODA on Apple TV+, and has also starred in her own NBC series Reasonable Doubts opposite Mark Harmon, and the Emmy Award-winning Picket Fences. Matlin was twice nominated for a Golden Globe Award for Best Actress in a Television Drama, as well as the People's Choice Award. She has been nominated for four Emmy awards for her appearances on Seinfeld, Picket Fences, The Practice, and Law and Order: SVU. Matlin starred for seven years on the award winning drama The West Wing, and has made numerous guest appearances including ER, Desperate Housewives, CSI: New York, Extreme Makeover: Home Edition, Desperate Housewives, Nip/Tuck, CSI, Glee, and Family Guy. In 2007, Matlin joined The L Word for three seasons, and from 2011 to 2017, Matlin starred in the Peabody Award-winning series Switched at Birth, in addition to Matlin being a series regular on the third season of the ABC drama Quantico. In her time as a speaker and activist, Matlin boldly challenges audiences to endeavor to live a life without judgment of others — everybody's different, and nobody's perfect. Audiences can expect to come away informed and empowered to make a difference in the world, with the knowledge that we can begin by changing just one person's life. As the Recovery Resource Council stated, "Marlee provide[s] a story of a woman that has overcome much adversity and has never allowed a disability to be a crutch. Her story [is] uplifting, light, and energetic." Be enchanted and inspired by this groundbreaking human being at The Bankhead on February 16.

The Bankhead Theater keeps COVID safety protocols in place with enhanced air circulation and no touch ticketing. Proof of vaccination is no longer required for entry at ticketed performances unless noted as part of a contractual obligation with the artist. Tickets for all shows in the 2022-2023 Bankhead Presents season are available online, by calling 925-373-6800, or at the box office windows. For a complete list of events, visit livermorearts.org.
#    #   #