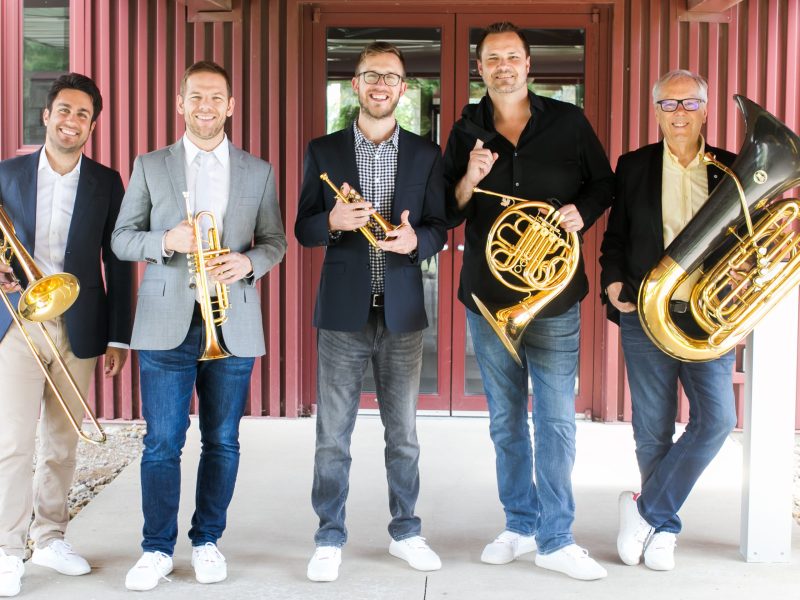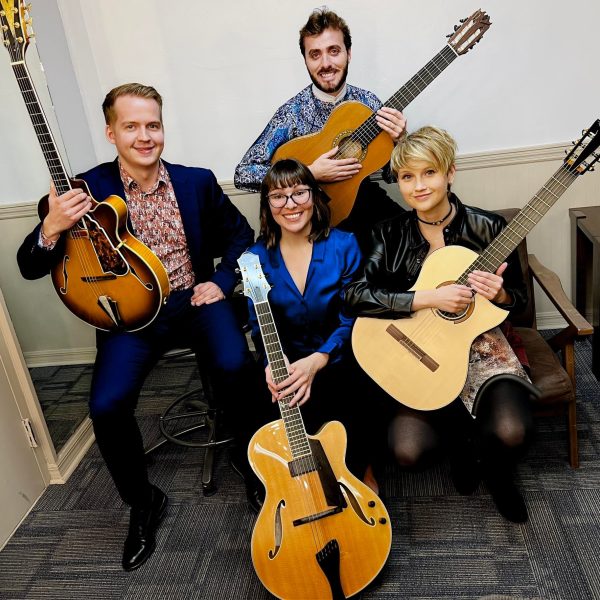 FOR IMMEDIATE RELEASE
Livermore Valley Arts
Contact: Ruth Egherman (925) 583-2306 
Take a Musical Journey Around the Globe this February at The Bankhead
Livermore, CA – (February  7, 2023) –
The Bankhead is set to take its audiences on a music trip around the world this month. From our talented neighbors to the North bringing us Canadian Brass on February 19, to a now fifth visit back to Livermore with the 23rd International Guitar Night on February 24, The Bankhead is celebrating musicality from beautiful cultures all over the globe this month. Both of these international performances will be right in the Tri-Valley at the beautiful Bankhead Theater in Downtown Livermore.
Over the President's Day holiday weekend, the Bankhead will be presenting Canadian Brass. With an international reputation as one of the most popular brass ensembles today and an imagination and consummate musicianship that has elevated the art of the brass quintet to what it is today, Canadian Brass has truly earned the distinction of "the world's most famous brass group." Masters of concert presentations, Canadian Brass has developed a uniquely engaging stage presence and rapport with audiences. Each of their concerts shows the full range from trademark Baroque and Broadway hits, to new compositions and arrangements created especially for them – from formal classical presentations to music served up with lively dialogue and theatrical effects. The hallmark of any Canadian Brass performance is entertainment, spontaneity, virtuosity, and, most of all, exploring the possibilities of an all-brass chamber group with a spirit of fun – but never at the expense of the music, performed with utmost dedication, skill, and excellence.
With a discography of over 130 albums and an extensive worldwide touring schedule, Canadian Brass is an important pioneer in bringing brass music to mass audiences everywhere. They have sold well over 2 million albums worldwide, with 1.2 million sold in the Nielsen Soundscan era alone (since 1991). They continue to score Billboard chart positions — like with their rousing recording of patriotic songs and marches, Stars & Stripes: Canadian Brass Salute America, which spent 8 weeks in the Top 25 on the Billboard Classical Chart, peaking at #2. Touring legends with an enthusiastic fan base, the Canadian Brass play to packed houses everywhere throughout the USA, Canada, Japan, and Europe, and have also toured Australia, the Middle East, and South America. They were the first brass ensemble from the West to perform in the People's Republic of China, as well as the first brass group to take the main stage at the venerable Carnegie Hall. On numerous occasions Canadian Brass has been invited by the Canadian Government to play for visiting heads of states, becoming one of Canada's greatest resources and musical ambassadors. Millions of television viewers have had Canadian Brass in their homes with appearances on The Tonight Show, Today, and Entertainment Tonight, and they have appeared as guest artists on Evening at Pops with John Williams and the Boston Pops, numerous PBS specials including a celebrated appearance on Sesame Street, and are frequent guests of many major symphony orchestras. Consummate artists, the quintet has also created unique and interactive videos including a series of DVDs featuring the brass in concert and teaching (education plays a key role in the story of Canadian Brass, as with their outreach and interaction with El Sistema, the acclaimed global music education program in Venezuela). They are on the cutting edge of technology, offering their fans multimedia airplay, downloads, and YouTube videos and streaming opportunities, as well as digital applications with iPhone and other smartphone carriers. They have truly transformed a previously neglected group of instruments with a limited repertoire into a versatile and vital ensemble that can play everything from Gabrieli to Gershwin. With four decades under their belts, Canadian Brass continues to thrill audiences around the world – and they don't look like they are letting up anytime soon. The Bankhead is proud to bring this immensely talented group to the Tri-Valley on February 19. 
A few days later, The Bankhead will be presenting International Guitar Night. For two decades, IGN has been the world's premier touring guitar festival, bringing together diverse master guitar musicians from around the world to play together. For their 23rd year of touring, they are bringing back one of their acclaimed guitarists from the COVID-postponed 2021 tour, Canadian jazz guitarist and vocalist, and recipient of the 2021 Juno (Canadian Grammy) for Jazz Album Of The Year, Jocelyn Gould. She will be joined by Flamenco master Jesús Guerrero from Spain, chamber musician and contemporary classical guitarist Stephanie Jones from Australia, and jazz guitarist Olli Soikkeli from Finland. These impressive musicians will be at The Bankhead on February 24; their full bios are as follows:
Jocelyn Gould (Canada) is a Canadian guitarist who is passionate about the tradition of jazz guitar, citing Grant Green, Kenny Burrell, Wes Montgomery, and Joe Pass as her primary influences. Originally from Winnipeg, Jocelyn's passion for music began at a very young age. Both of her parents played guitar, and she learned piano and voice from her father, who was an elementary school music teacher. Jocelyn holds a Bachelor of Jazz Studies from the University of Manitoba, studying with the likes of guitarist Larry Roy, drummer Quincy Davis, and saxophonist Jon Gordon. She later earned her Master's in Jazz Studies from Michigan State University with guitarist Randy Napoleon and bassist Rodney Whitaker. Upon graduating, she moved to New York City, where she worked as a guitarist until her relocation to Toronto in the summer of 2019 to begin a professorship at Humber College. Jocelyn maintains an active international performance career with shows at numerous Jazz festivals at home and abroad, and has played alongside many acclaimed musicians including grammy-nominated vocalist Freddy Cole, DownBeat's Rising Star trombonist Michael Dease, and the legendary Etienne Charles. In June 2021, her debut record, "Elegant Traveler," won a Juno Award for Jazz Album Of The Year.
Jesús Guerrero (Spain) was born in 1985 in San Fernando (Cádiz), Spain. He started playing guitar at the age of eleven under the tutelage of master teacher José Luis Balao, and later graduated in teaching, specializing in Musical Education at the University of Cádiz. Jesús' natural virtuosity with the instrument and his musical creativity has led to him becoming one of the most sought-after figures of the current flamenco scene, performing with his trio, in duet with his wife Alba Carmona, and also assisting many great singers, including Nina Pastori and Miguel Poveda with their records and live shows. In 2014 he won the Premio Flamenco Hoy for Best Guitar Accompaniment. Jesús has been asked to compose music for numerous dance shows and films, the latest of which is by Carlos Saura titled "Flamenco Flamenco." His passion for American folk music has also led him to collaborate with the Mexican artist Lila Downs, and also Soledad Pastorutti, one of the greatest exponents of Argentinian folk. In 2016, Jesús released "Calma," his first solo album, which beautifully displays his musical versatility.
Stephanie Jones (Australia) is an active soloist and chamber musician who is currently based in Germany. She has recently finished her Masters and is currently studying a Konzertexamen in Classical Guitar Performance with Thomas Müller-Pering at the prestigious University of Music Franz Liszt. Stephanie has participated in many renowned competitions, including winning first prize in both the Uppsala International Guitar Festival Competition and the Hannabach Guitar Competition, a finalist in both the Deutscher Gitarrenpries and the Salzburg International Guitar Festival, and in 2012, Stephanie competed in the prestigious Adelaide International Classical Guitar Competition and subsequently won second prize. In 2014, through the Fine Music Network National Competition, Stephanie was awarded Young Virtuoso of the Year. Stephanie has performed extensively around the globe, being invited to a number of festivals and concert series. She has also released two albums, "Colours of Spain" (2015), and "Bach, the Fly, and the Microphone" (2009). Stephanie is also a member of the renowned Weimar Guitar Quartet, this year releasing their debut album. Stephanie is passionate about sharing her music with others and is recognized as an innovative and deeply musical artist.
Olli Soikkeli (Finland) was born in Nurmes, Finland in 1991. He started playing guitar at age of 12 and after a few years was introduced to the music of the great Django Reinhardt, and Gypsy Jazz has been Olli's main focus ever since. Soon Olli was playing in jazz clubs and festivals all around Finland. After touring through Europe, Olli decided to move to New York City in 2014. Despite his young age, Olli has played at legendary venues such as the Birdland Jazz Club, The Blue Note, and The Lincoln Center, alongside many stars such as Bucky Pizzarelli, Stochelo Rosenberg, Tommy Emmanuel, Andreas Öberg, Cyrille Aimee, Anat Cohen, Antti Sarpila, Marian Petrescu, Paulus Schäfer, Arnoud Van Den Berg, Hot Club de Finlande, and Vitali Imereli. With several albums under his belt ("Trois Générations," Kouvola Junction," "Travels"), Olli has received rave reviews from The Huffington Post and All About Jazz. The Wall Street Journal wrote that Olli is "a riveting Finnish guitarist who combines astonishing dexterity and speed with pure soul in a way that places him among the worthiest current day successors to the legacy of the great Django."
The Bankhead Theater keeps COVID safety protocols in place with enhanced air circulation and no touch ticketing. Proof of vaccination is no longer required for entry at ticketed performances unless noted as part of a contractual obligation with the artist. Tickets for all shows in the 2022-2023 Bankhead Presents season are available online, by calling 925-373-6800, or at the box office windows. For a complete list of events, visit livermorearts.org.
#    #   #