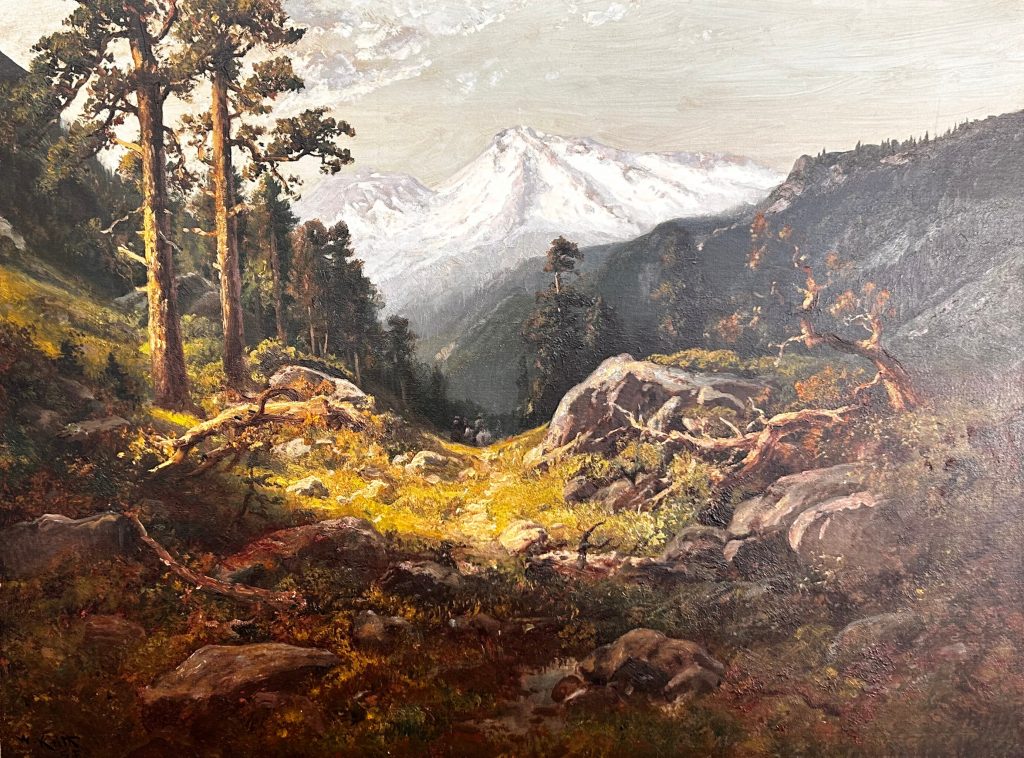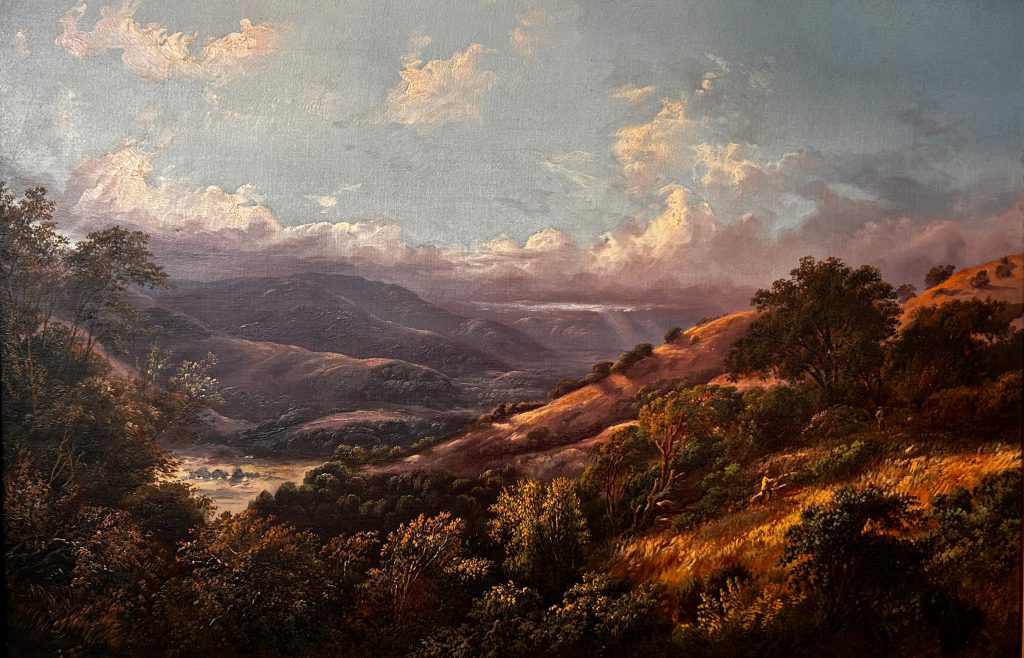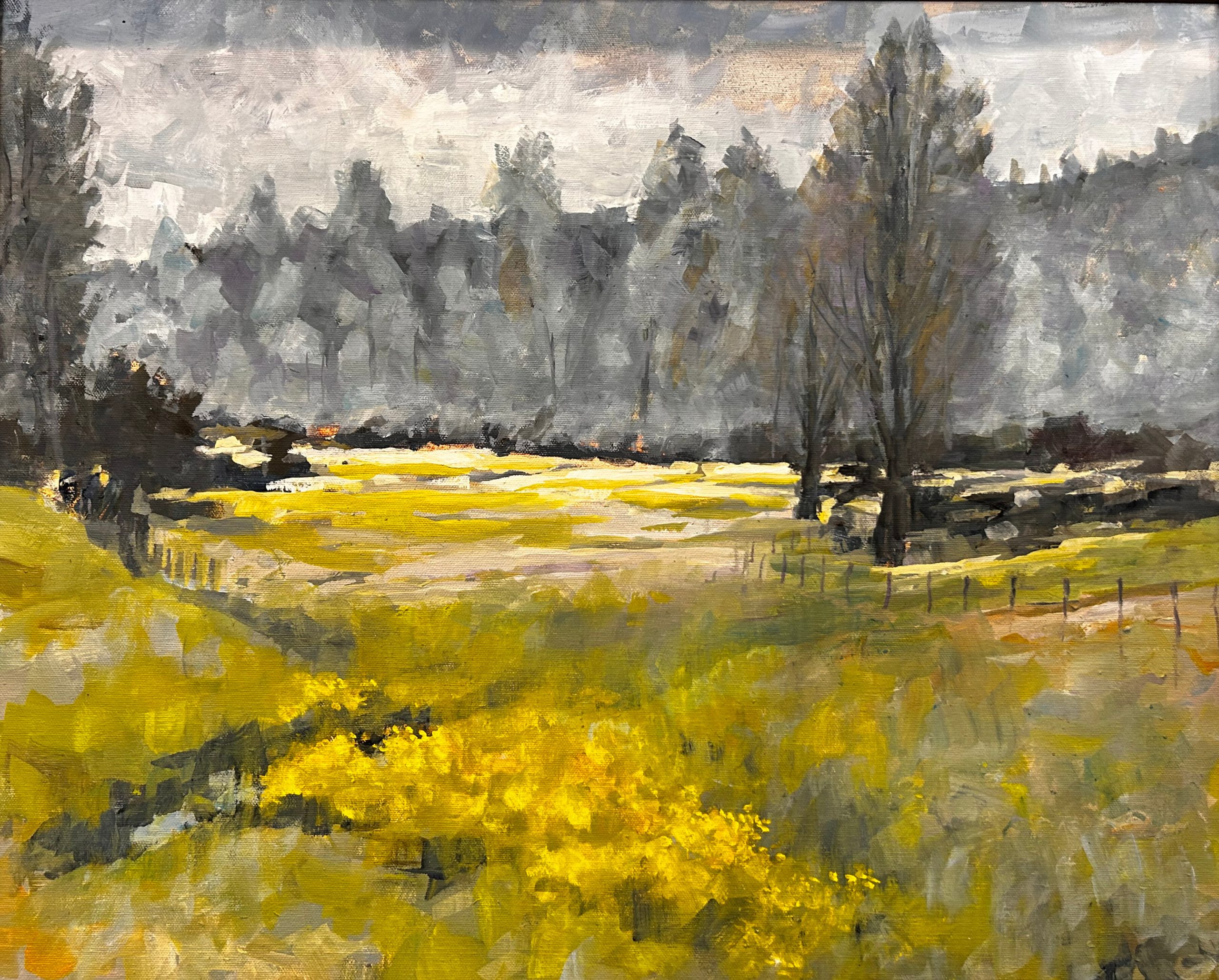 FOR IMMEDIATE RELEASE 
Livermore Valley Arts 
Contact: 
Ruth Egherman (925) 583-2306 
regherman@lvpac.org 
Anne Giancola (978) 852-6333 
agiancola@lvpac.org 
The Beauty of California Come to Life in New Gallery Exhibit at Livermore Valley Arts 
Livermore, CA – (October 16, 2023) – A breathtaking new exhibit, "150 Years of A Beautiful California: Landscapes From William Keith to Today," is on display this fall and winter at the UNCLE Credit Union Art Gallery from October 12, 2023 to January 7, 2024. This majestic exhibit showcases the beauty of our state's landscapes over the past 150 years, featuring works from William Keith to contemporary artists, in collaboration with Saint Mary's College Museum of Art. Of particular interest, additionally there is a special Artist Highlight in the Founders Room at the Art Gallery: George Staehle presents "Talking Art," featuring enchanting watercolor paintings of California scenes and beyond. The public is invited to experience these picturesque exhibits at the UNCLE Credit Union Art Gallery and Founders Room at the Bankhead Theater in Downtown Livermore. 
A 19th-century leading artist and visionary in San Francisco, William Keith (1838-1911) is most known for his impact on preserving and sharing the California landscape through paint and brush. Saint Mary's College Museum of Art cares for the most comprehensive body of work created by this California Master Landscape Painter, and Livermore Valley Arts is honored to be able to present six important works from this maestro on display at the UNCLE Credit Union Art Gallery, on loan from the Museum. 
Keith arrived at John Muir's cabin in Yosemite Valley with a letter of introduction in 1872, and a lifelong friendship quickly developed. The two Scottish immigrants took camping trips together in the High Sierra, saw each other when Muir was in San Francisco, and helped inspire each other's work. Muir's concern with scientific accuracy reinforced Keith's early training as a wood engraver in
encouraging him to reproduce the exact topography and details of a landscape early in his career. Keith had also already expressed a preference by 1870 to "study altogether from Nature," reflecting in part the admonishments of the influential writer John Ruskin. Although there was a general trend in Keith's work from tightly worked detail and bright sunlight to broader brushwork and twilight scenes, his path was not a simple, straightforward one. It seems to have reflected a waxing and waning of various influences, including his personal predilections and moods, art market forces, an interest in the "old masters" (especially Rembrandt), and allegiances to friends of different persuasions about art. 
Two lengthy sojourns in Europe, each bracketed by visits to the eastern United States, had particularly strong effects on Keith's artistic development. In 1869, three years after he first began exhibiting and selling paintings, he left San Francisco for visits to New York and Paris and art study in Dusseldorf. By the time he returned to San Francisco in 1872, his painting style had changed considerably. The abundance of foreground detail typical of early works like San Anselmo Valley Near San Rafael had been replaced by looser, sketchier brushstrokes as in Mount Lyell, California Sierra. While remaining convinced of John Ruskin's teaching that art must be a faithful rendering of nature, Keith had become enthusiastic about a more "suggestive" approach to capturing the natural world on canvas. His European experience had consisted more of looking at art, talking with artists, and painting on his own rather than of formal art education. He did not enroll in the Dusseldorf Academy, and he seems to have been influenced more by French Barbizon art than by the traditions associated with Dusseldorf, where Albert Bierstadt, Worthington Whittredge, and Sanford Gifford had studied earlier. The popularity of "modern" French painting in Boston, where Keith spent several months in 1871-72, may have reinforced this direction. Keith's second trip to Europe centered around a stay in Munich in 1883-85. There he again engaged mostly in a diligent self-directed study, focusing on portraiture. Polemics is an example of the portraits he painted in Munich. He later was commissioned to paint portraits of various prominent Californians, but his mainstay continued to be landscape. 
Probably through the influence of various German and American landscapists working around Munich (who in turn were admirers of French Barbizon art), Keith's landscapes after 1885 generally became even looser in brushwork as well as moodier in effect. He also painted some watercolors, such as Gray Rain Cloud, Cattle in Meadow, in his post-Munich years, returning to the medium in which he first had begun painting before he took up oils.
In the 1870s, Keith had established his reputation as a painter of grand panoramic landscapes, often of the High Sierra or other mountainous countries, and sometimes as large as six by ten feet. This type of painting could serve both as a document of a specific locale and as an homage to divine creation in the form of the impressive American wilderness. By the 1890s, Keith typically painted forest glades at 
sunset, with other kinds of religious overtones. Evening Glow is a rather dramatic example. Like the Eastern painter George Inness, Keith became an adherent to Swedenborgianism. He believed that his late, dark, indistinct works better suggested the spiritual reality that lay beyond the surface forms of 
nature. Although he was best known in California, Keith's achievements were noted in East Coast newspapers as early as 1872. Keith had a studio in Boston for several months, and as late as April 1911, when New York art dealer William Macbeth published "Memories of William Keith" in the Christian Science Monitor. 
A prominent New York art collector, architect Charles F. McKim met Keith in 1905. According to the San Francisco Wasp, he said, "My visit to the studio of this San Francisco artist furnished me the surprise of my life. I had heard of Keith, of course, and knew that he did good work, but I was wholly unprepared for what I saw. As I glanced around the studio, I was amazed and puzzled, for I observed pictures that at the first cursory glance suggested Daubigny and Corot and Millet and others acknowledged great masters of the poetic moods in landscape painting. But none of the pictures were in the slightest degree copies of those famous artists. A new master had arisen who could touch all the keys with which they were so familiar and use them in his own way to impress his individuality on his work. And such perfect and admirable work! Well, I bought $15,000 worth of it in ten minutes." 
The great naturalist John Muir called William Keith a "poet-painter," referring to the lyrical quality in Keith's art. As with his contemporaries George Inness, Winslow Homer, and Albert Pinkham Ryder, Keith's style gradually evolved from accurate descriptions of specific places to the use of landscape elements to express and evoke feelings. His love of nature was a common thread throughout his painting career, and one of several bonds between him and Muir, the founder of the Sierra Club and "father" of the National Parks system.
In addition to the brilliant Keith, the rest of the exhibit in the lobby is made up of contemporary artists from the Bay Area, painting and drawing California landscapes in a realistic style of art. Showcasing all the beauty around us, this exhibit exudes an aura of the hills, blue skies, and lush landscapes that surround us here in our wonderful state. Many of these artists are award-winning artists; all are noted for their exceptional landscapes: David Gates, Bettie Goosman, Charlotte Severin, Jean Sanchirico, Norma Webb, LaRhee Webster, and Jeff Hemming. 
Something unique as a sort of 2-exhibits-in-1, additionally there is a special Artist Highlight in the Founders Room at the Art Gallery: George Staehle presents "Talking Art." Staehle's watercolor paintings are presented with expanded titles that are a mixture of whimsical and thought-provoking 
invitations for viewers to find themselves in the paintings' action or content. They contain people in solitude or bliss, a fox and deer in camouflage, pelicans confronting armadas of sailboats, boat works and bridge taking showers, sandpipers adorning beaches, blackbirds and a cat inspecting fences, a dinosaur puzzled in Livermore's Sycamore Groves trees, ghostly blue rapids on the Truckee River, and a congregation of churches, one with four personalities. The paintings' origins are scattered around Monterey, Carmel, Minnesota, San Francisco, Livermore, Pleasanton, Lake Tahoe, Spain, and Venice. Staehle studied with Pleasant Hill watercolor master Jade Fon and Livermore's Margo Kirkwood in the 1970s-80s. He writes poems and short stories, makes board games and labyrinths, and was a physicist at Lawrence Livermore National Laboratory for forty years. Livermore Valley Arts is thrilled to be able to present this artist from our community, and his watercolor artworks, featuring churches from around the world and landscape and seascape scenes from the Monterey Bay Area and beyond, in a special exhibit in the Founders Room. In addition, Mr. Staehle will also host a reception on Saturday, November 11 from 2pm—4pm, where the public is invited to attend and hear more about his process from the whimsical and thought-provoking creator himself. Visitors should definitely check out this special extra exhibit in the VIP Room at the Bankhead Theater. 
The UNCLE Credit Union Art Gallery is in the lobby of the beautiful Bankhead Theater at 2400 First Street, Livermore. "150 Years of A Beautiful California: Landscapes From William Keith to Today" and George Staehle presents "Talking Art" are free and open to enjoy by ticketed patrons during performances and by the general public, Thursdays through Sundays, 1pm—5pm, October 12, 2023 through January 7, 2024. There will be an official Opening Reception on Saturday, October 21
from 1pm—4pm, in addition to Mr. Staehle's Artist Talk on Saturday, November 11 from 2pm—4pm. These events are free and open to the public, with light refreshments available for those in attendance. The public is invited to share in this magnificent exhibit and surrounding events at The Bankhead, to 
celebrate our own heritage and the beautiful state in which we are privileged to live, reveling in the beauty of scenery rendered from William Keith and others artists today. Come out to the UNCLE Credit Union Art Gallery, and evoke the timeless grandeur of nature, where every stroke whispers the secrets of the beauty of California. 
# # # 
Livermore Valley Arts is an independent 501(c)3 non-profit offering wide-ranging programs that provide access to the arts for the Tri-Valley community and beyond. The Bankhead Theater and Bothwell Arts Center are home to eight resident performing arts companies and over 40 studio artists and cultural arts instructors. LivermoreArts.org 
Exhibit: 150 Years of A Beautiful California: Landscapes From William Keith to Today Exhibit: George Staehle presents "Talking Art" 
Dates/Times: Thursdays—Sundays, 1pm—5pm, October 12, 2023—January 7, 2024 Opening Reception: 1pm—4pm, Saturday, October 21, 2023 
Artist Talk with George Staehle: 2pm—4pm, Saturday, November 11, 2023 
Tickets: Free and open to the public; light refreshments provided at special events Dates, times, and ticket prices for other events available at www.LivermoreArts.org