At the Third Annual LIVERMORE INNOVATION FAIR on Saturday, May 4th, Dr. Manu Prakash of Stanford University, a recipient of the MacArthur Genius Award, will present a keynote presentation on the use of affordable technology innovations to address difficult global education, health and science challenges.
ABOUT DR. PRAKASH
An Associate Professor in the Department of Bioengineering at Stanford, Dr. Prakash is also a member of the Biophysics Program in the School of Medicine and the Center for Innovation in Global Health, a Faculty Fellow of Stanford ChEM-H, and an affiliate member of the Woods Institute for the Environment. He completed his doctorate at Massachusetts Institute of Technology in 2008 and was a junior fellow of the Harvard Society of Fellows for three years before arriving at Stanford.  His extensive research has been driven by a curiosity about the diversity of life forms on our planet, an empathy for problems in resource-poor settings, and a passion for sharing the joy of science.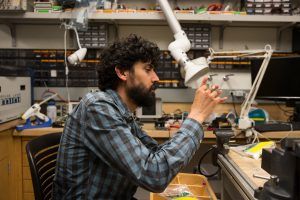 Dr. Prakash is known for his ingenious inventions in the area of "frugal science" for use in the field and classroom. One example, the Foldscope is a lightweight optical microscope that costs less than a dollar to produce and is being refined for use in public health and biomedical settings. Another recent project is a low-cost microfluidic chip that collects saliva from mosquito bites allowing rapid surveillance of data that would be critical to controlling disease outbreaks.  Dr. Prakash holds numerous patents and his research has been published in such scientific journals as PLoS One, Journal of Experimental Biology, Science, Nature, and others.
KEYNOTE PRESENTATION Saturday May 4 at 12:00 noon
Event is FREE. Registration is strongly recommended to ensure entry to the Innovation Fair.
Seating inside the Bankhead Theater for the keynote is on a first-come, first-served basis.
ABOUT INNOVATION FAIR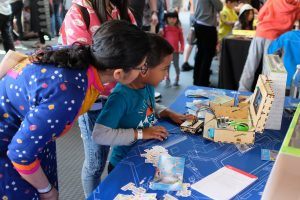 A free, family-friendly event presented by the Livermore Valley Performing Arts Center, this year's Innovation Fair honors the 50th anniversary of the Apollo 11 moonwalk with a continued exploration of the many ways imagination, art and technology intersect in the world around us. Inspired by the hands-on maker movement, the event helps draw a connection between the five STEAM disciplines (Science, Technology, Electronics, Arts, and Math).  Last year more than a thousand students enjoyed the one day event.
This year's event was developed around the theme "Building for the Moon and Beyond" and will feature the opportunity to take a "Moon Trek," touch a moon rock, visit a planetarium, and participate in hands-on workshops led by NASA Ames Research scientists. At the Bankhead Theater and on the Plaza outside, there will be more than 50 interactive visual arts, science displays, robotics, artificial intelligence, and technology experiments, as well as an exciting Flight Stimulator experience. An exhibit of artwork by Livermore school students will be on display throughout the lobby and there will be live music performances on the plaza.
SIGGRAPH COMPUTER ANIMATION FILM FESTIVAL

In conjunction with the 2019 Livermore Innovation Fair, Bits Bytes & Pixels will present an animation film festival beginning at 2:00pm inside the Bankhead Theater. The 19 award-winning short films featuring groundbreaking computer animation and visual effects technology are part of the world-renowned Computer Graphics Conference, SIGGRAPH. This will be the first time they will be screened in the Tri-Valley.
DON'T MISS THIS FREE ONE-DAY FAMILY-FRIENDLY EVENT!
Saturday, May 4, 2019 from 10:00 am to 3:00 pm
THANK YOU TO OUR SPONSORS FOR MAKING LIVERMORE INNOVATION FAIR POSSIBLE!