The Livermore Valley Arts staff is a dedicated, diverse, small team of talented individuals who bring their energy and enthusiasm for the arts to work every day.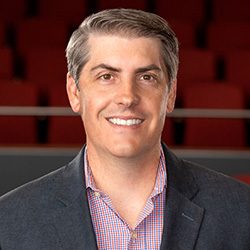 Chris Carter
Executive Director — ccarter@lvpac.org
Before being appointed as the Executive Director, Chris Carter served as the Director for Development
and Communications for the Livermore Valley Arts. In his role, Carter was responsible for all the
fundraising and marketing efforts for LVA. Since joining LVA, he has helped to raise more than $15
million for the arts in Livermore. He joined the LVA staff in 2014 after working more than eleven years at
Saint Mary's College of California, where he spent the last eight as a leader in the College's development
department. His last position held was Director of Alumni Engagement and Annual Giving.
In 2023, Chris was a recipient of the Alameda County Arts Leadership Award. Chris is a member of the
Tri-Valley Nonprofit Alliance, APAP (Association of Performing Arts Professionals), The California
Presenters Association, and WAA (Western Arts Alliance). Chris was also a founding board member of
the Tri-Valley Nonprofit Alliance. He currently serves as the Chair of the Saint Mary's College School of
Science Advisory Board, and also serves on the board of directors for Visit Tri-Valley and Livermore Jazz
Society. He is an advisory board member for Three Valleys Community Foundation and the Las Positas
College Commercial Music Advisory Board. An avid guitarist, Chris has performed steadily in the
community for the last 25 years with his bandmate, Mike Lickiss, as a member of the LK Project.
Together, they have written and recorded 4 studio albums and continue to share their love of music
with anyone who will listen. Chris lives with his wife and three children in Pleasanton, and has been a
volunteer for the Boy Scouts in various capacities over the last 12 years.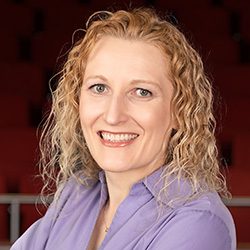 Reanna Bradford
Chief Financial Officer — rbradford@lvpac.org
Mrs. Bradford first fell in love with non-profit organizations and their unique challenges when she worked for AchieveKids, a school for special needs children in Palo Alto, California. At AchieveKids, she learned that non-profits, no matter their size, can significantly impact the community they serve. She was inspired through this experience to continue helping non-profits keep their accounting records clean, promote transparency, and remain financially stable so they can stay focused on their mission. She has over 15 years of accounting experience with expertise in small to mid-sized for-profit and not-for-profit businesses. Mrs. Bradford has an MBA specializing in Accounting from National University and resides in Brentwood, California. In her free time, she enjoys catching a show at the Bankhead Theater, working in her garden, volunteering, helping her husband run his HVAC construction business, and curling up on the couch with her two cats and a good book. Mrs. Bradford was promoted to CFO in July 2022.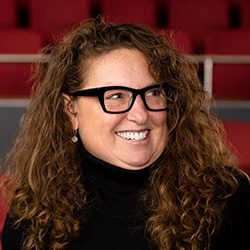 Ruth Egherman
Director of Marketing – regherman@lvpac.org
Ruth comes to Livermore Valley Arts with over 30 years of experience in building audiences for non-profit and commercial performing arts organizations all across North America. She has worked with organizations like San Francisco Ballet, Broadway San Jose, and the National Symphony Orchestra. She fell in love with the theatre at a very early age when she attended Fiddler on the Roof as a youngster with her family in Chicago, Illinois. Not only did she find the performance spectacular, especially the bottle dance, but was enchanted with the chandelier hanging in the lobby and the red velvet curtains on stage. Since that tender age, she has never looked back.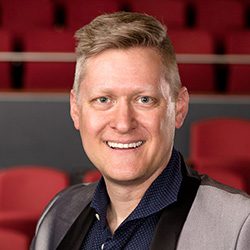 Eric Johnson
Director of Operations — ejohnson@lvpac.org
Eric has been involved in nearly every aspect of theater over the past two decades. After pursuing his early dream of performing on stage, Eric broadened his skill set, creating light designs and running sound for Broadway tours, international music and dance festivals, and corporate events. Professionally, Eric has woven his love for the arts together with his technical savvy to serve the entertainment industry at venues of all sizes, from small theaters to large-scale arenas. A Livermore native, Eric's connection to the Bankhead Theater runs deep. During its opening year 2007, he worked in marketing, accounting, as well as backstage, and returned periodically thereafter in a variety of roles. Eric officially assumed the permanent post of Director of Operations in March 2020. In addition to his ETCP Certification in Electrical & Theatrical Rigging, Eric recently completed business and leadership courses within the MIT Executive Program. His undergraduate studies encompassed both accounting and graphic design.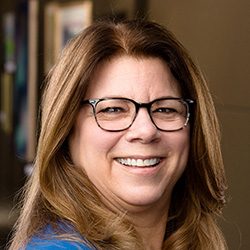 Carol Edwards
Front of House Supervising Manager/Volunteer Coordinator — cedwards@lvpac.org
Mrs. Edwards, a Livermore resident for over 25 years, has been involved with theater since the highschool drama club and was a big part of Pleasanton Playhouse, now TVRT, for almost 10 years on stage and off.  Mrs. Edwards began her time with LVPAC as a Volunteer making phone calls for the Brick Fundraiser and then moved on to coordinating tours of the Bankhead Theater in the beginning stages of construction.  Once the Theater was open for business, Mrs. Edwards continued on as a Volunteer Usher before she was hired as a back up Front of House Manager.  In 2014, she became the Front Of House Managing Supervisor and Volunteer Coordinator of almost 200 Volunteers.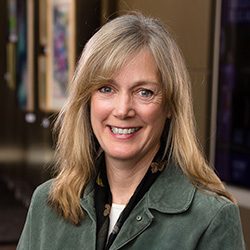 Anne Giancola
Visual Arts and Education Manager — agiancola@lvpac.org
Anne brings strong expertise and experience in community collaboration and arts communication to the Bothwell Arts Center. Prior to joining the Bothwell, she co-founded and served as studio director for Rollstone Studios, a non-profit art center near Boston, which was a lynchpin for community revitalization in the New England mill town of Fitchburg, Massachusetts. A working artist, Anne has run a mural painting business for more than 18 years.Combining her skills as a community collaborator with her affinity for working artists, Anne brings together diverse community groups to develop exhibits, performing arts, seminars, workshops and public art projects. A graduate of the University of California Santa Barbara, she has a strong arts and communications background. Anne completed her master's degree with distinction in Applied Communications from Fitchburg State University in 2013.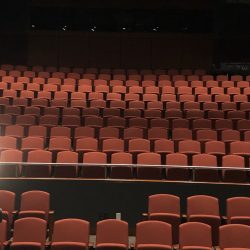 Julio Gomez
Facility Manager and IT Coordinator — jgomez@lvpac.org
Mr. Gomez brings 11 years' experience in facility and building maintenance. His previous maintenance experience included sheet rock, painting, plumbing, electricity and carpentry. Additional duties at the Bankhead involve event set up/coordination and renovations of the building. Previously, Mr. Gomez worked for The Computer History Museum in Mountain View, CA and HVAC Systems at Adaptec Inc. in Milpitas CA. He now works with outside consultants to keep all the IT needs of the organization running smoothly.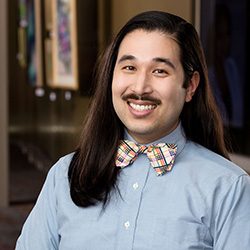 Andrew Kracht
Marketing Manager —akracht@lvpac.org
Andrew comes to Livermore Valley Arts with an extensive background in customer service, marketing, fundraising, box office, group sales, event planning, community outreach, social media, and arts administration. Highlights from his past decade in the Bay Area arts scene include marketing for the Bay Area premieres of All the Way and Big Fish at the Lucie Stern Theatre, and working in group & corporate sales with high profile shows like Best Musical Tony Award-winners In the Heights, Billy Elliot THE MUSICAL, and Memphis at the San Jose Center for the Performing Arts. Andrew is looking forward to bringing his passion for the arts and his background in administrative support, customer service, and marketing and fundraising to Livermore Valley Arts.
Allie Lopiano-Hastey
Social Media Manager— alopiano@lvpac.org
Allie is elated to be a part of Livermore Valley Arts and contribute to her community bringing her knowledge and passion for the arts through social media, customer service, marketing, box office, graphic design, community and cultural engagements, arts administration and arts education. A Bay Area performer and vocal coach, she received formal musical training at Santa Clara University, performed with local companies including West Bay Opera and worked at the non-profit SCU•Presents supporting all the arts on campus. After receiving her M.A. in Teaching, she taught choir, music theory and was the musical director at many high schools across the Bay Area. Allie believes the arts are a crucial pedestal in any community and loves being a part of Livermore's.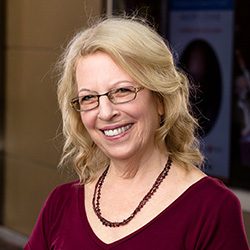 Susan Miller
Visitor Center Supervisor — smiller@lvpac.org
Theater has been a very big part of Susan's life where she sang in talent shows and was in shows such as Sound of Music, The King and I, Finnians Rainbow, Anything Go's, Guys and Dolls, Harvey, melodramas and more. When she heard a Performing Arts Center was coming to Livermore, she made sure to come out during the construction in 2007. Within the year after opening Susan started to volunteer and in 2015, Scott Kenison said he wanted to open the lobby as a visitor center and was looking to hire someone.  Susan immediately offered her services and started the process of figuring out what a visitor center was and how to make it work.  Within the year it was up and running and eventually started Art and Wine Intertwined, an event to open the lobby to everyone.  Working for the Bankhead has been a blessing for her and she is so thankful to have had the pleasure of working here for so many years.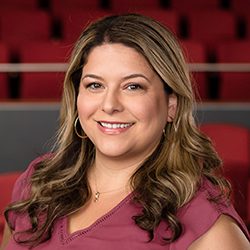 Brittany Mulgrew
Development Manager — bmulgrew@lvpac.org
Mrs. Mulgrew brings 16 years' experience in the performing arts, entertainment and ticketing. She began in ticketing at the age of 15 at Wente Vineyards and progressed to Event Management. In 2007, she joined LVA as a ticket agent for the Bankhead Theater. Later, she was given the task of Volunteer Coordinator and developed the procedure for maintaining the volunteer data base. She moved into the Development Department to oversee management of the donor database and now oversees all aspects of Membership. In addition to her career at LVA, Ms. Mulgrew has worked in fundraising with the Alameda County Fair's Volunteer Program, the Livermore Valley Winegrowers Association. She remains active as a member of the Bay Area Professional Ticketing Association.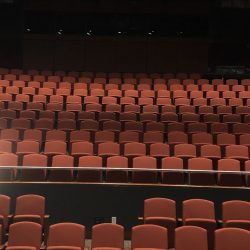 Debra Olson
Box Office Manager — dolson@lvpac.org
Mrs. Olson has been a resident of the Tri-Valley for over 40 years and in Livermore since 2001.  Before joining Livermore Valley Arts, Debra was an active volunteer in the local schools for many years. Passionate about theater and music, Debra is a strong advocate for local theater and is a true "people person" who enjoys working with our patrons and volunteers.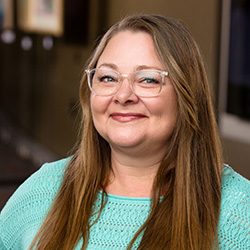 Ann Rice
Food and Beverage Manager — arice@lvpac.org
Ann was born and raised in the MidWest and moved to California in 1998. In 2005 she moved
to Livermore and absolutely loves living here with her daughter. She has a background in many
industries as an Executive Assistant but was also the Development Coordinator for the
Bankhead Theater from 2008-2014. She came back to the theater in July of 2021 to join us as a
Front of House Manager and the Food & Beverage Manager. Ann loves supporting the Arts and
believes that they are a blessing to our community.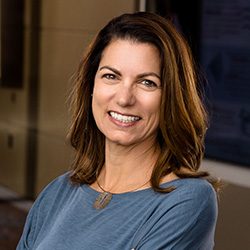 Tracy Sahn
Development Assistant— tsahn@lvpac.org
A lifelong advocate of the arts, Tracy is very excited to be working in Membership and Development at LVA, where she looks forward to fostering love for the theater to the Tri-Valley area and beyond. Tracy has her MBA in Marketing and has had a variety of professional stints, her favorites of which have been at American Airlines and at LVJUSD.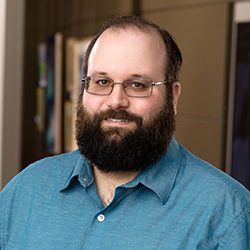 Treg Van Dyke
Bothwell Arts Center Manager — tvandyke@lvpac.org
Mr. Van Dyke was first drawn to the arts at age seven playing Jack in a stage production of Jack in the Beanstalk. He graduated from Las Positas College in 2011 with a AA degree in Theatre Arts. He founded his film company, Way Up There Productions on June 14, 2011, where he oversaw funding, software donations, and production of their first short film, Obsession (2012).  Their next film, tentatively titled Project Z is in pre-production. He has worked backstage for the Livermore Valley Performing Arts Center at the Bankhead Theater and for the city of Pleasanton at the Amador Theatre and Firehouse Arts Center.  He has been a part of hundreds of live theatre productions.