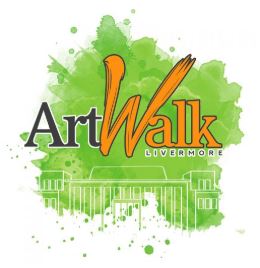 22nd Annual ArtWalk
SATURDAY, OCTOBER 14, 2023
11am - 5 pm

Welcome to ArtWalk 2023!
A community celebration of the arts, ArtWalk returns to Downtown Livermore. On October 14, the 22nd ArtWalk Livermore will expand to encompass more of our lovely downtown and connect our art park site destinations, with street booths placed strategically to allow attendees to experience both local businesses and restaurants as well as the arts. Look for ArtWalk in the Bankhead Plaza, down First Street, and through Livermorium Park.
Handmade and original works by over 200 artists can be enjoyed, as well as live music, cultural arts demonstrations, and crafts for children. ArtWalk is a priceless opportunity for artists to interact with visitors as they explore a broad range of works, ranging from contemporary to classical, abstract to realism, pottery to jewelry and mixed media. Subject matter is equally broad; from floral to figurative, and more. Art is the main focus of the day at ArtWalk: meet the artists and buy one-of-a-kind, original handmade treasures.
Artists will be centralized in Downtown locations: Bankhead Plaza and Bankhead Theater frontage, First Street, and McLeod Street. Enjoy the restaurants and shops Downtown while visiting ArtWalk Livermore and enjoy music and entertainment all day long at the Bankhead Plaza Stage and Livermorium Park.
A special thank you to Jolli Faces for the Balloon Arch.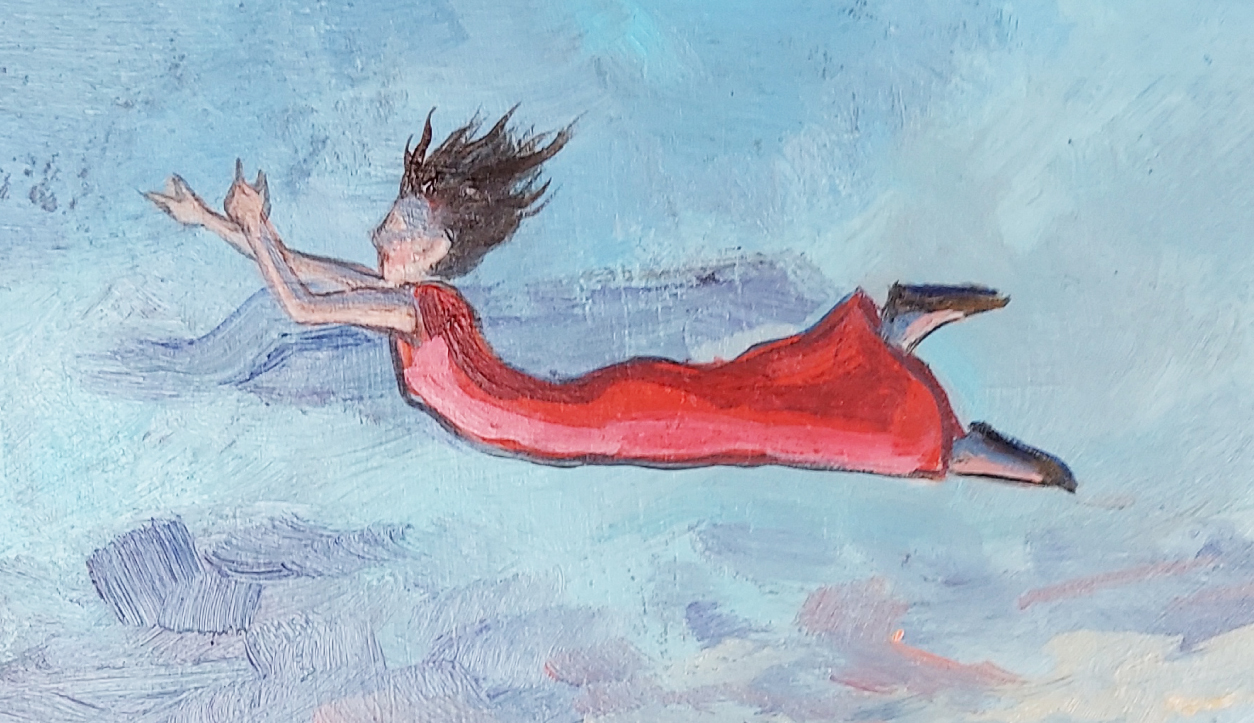 Join us at 11am on the Bankhead Stage for a Rhythm Parade. Everyone is welcome to join us in the Rhythm Parade and Celebration.
Meet at the Bankhead stage at 11 AM. Drums, percussion, and flow toys will be provided for those who arrive on time (or bring your own). The Leonardo da Vinci-inspired rhythm cart will then lead the parade and drummers will follow. This will be an improvisational jam and fun-focused. The parade will end on McLeod St where you can find our Livermore Drum Circle table for the remainder of the event. 
Destinations
Artists will be centralized in Downtown locations: 
•Bankhead Theater Lobby & UNCLE Credit Union Art Gallery
•Bankhead Plaza
•First Street between Maple and So. Livermore
•McLeod Street between First and Second Streets
•Livermorium Park
•Portrait Art "Paint Off" First Street East

Enjoy the restaurants and shops Downtown while visiting ArtWalk Livermore and enjoy music and entertainment all day long at the Bankhead Plaza Stage and Livermorium Park.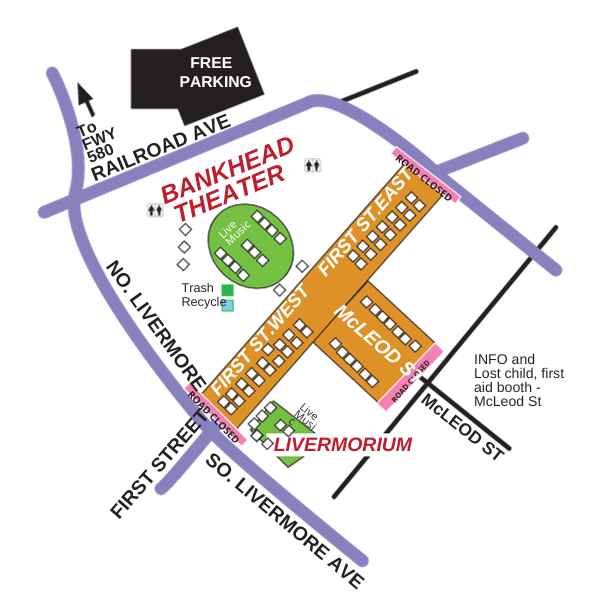 Bankhead Plaza Stage
11:15-12:15 – Matt Finders and Friends
12:15-1:15 – Meredith McHenry
1:15-1:45 – LasPo Jazz Combo
1:45-2:45 – Mark Clarin
2:45-3:30 – Element 116
3:30-4:30 – Six Penny Irish Band
4:30-5:00 – John Whitney Trio
Livermorium Park
Livermore Cultural Arts Council Music & Entertainment
11:00 – 11:45 Encore Players Interactive murder mystery
12:00 – 12:45 High School Open Strings, Jim Hurley Conducts
1:00 – 1:45 Cal State East Bay Chamber Orchestra,  Rebecca Roudman Conducts
2:00 – 2:45 Pleasanton Unified School District Youth Step Team
2:50 – 3:05 Poet Laureate Readings
3:15 – 5:00 Tim & Brad Trio
Interactive & Family Activities Throughout
McLeod Street
•Art to Explore supplies donated by Way Up Art & Frame
•Make and Take Projects for Families by Livermore Valley Arts
•Tri-Valley Climate Education
•Community sharing with 4-H
•Face Painting
First Street
•Portrait Contest
Watch artists painting portraits all day & join the fun by voting for your favorite
Bankhead Lobby
•Style Transfer Booth Quest Science Center
•Art Exhibit: 150 Years of California Beautiful: Landscapes from William Keith to Today
•Veterans Community Living Center
Veterans' art & art from Bud Donaldson
•High School Art
A Special Exhibit
•Livermore Lions Club
Crêpes at The Bankhead parking lot
Bankhead Plaza
Mariola's Art
DaintlyMade Art
H H Designs
I Am Joy Art
Chandana Srinath
Cindy Johnson
Gosia's Painting
Hudson River Inlay
Nicole Kidd Designs
SIP Seriously Imbibed Products
Tracey Lamee
William Youngblood Fine Art
Colored Pencil Society of America
Livermore Jazz Society
Larry Lagin Fine Art
Olga's Creative Corner
Michele's Jewelry Box
Jen & Alexis
Dave Manousos Fine Art
Sarah & Chloe's Unique Treasures
Barbara Nichols Reynolds
Wendy McDermott Fine Art
Big Bay Ray
Color Ur Imagination
Chrysalis Pottery
Hetal Anjaria
Sudha Anandampillai
Lumpy Doodles

First Street East
Tuan Essence Fine Art
Thom See Fine Art
Aran's Inner Artist
Neil Mitchell Fine Art
Shilpi Mittal
Jen Huber
Joann Douk
Las Positas College Art
Kimberly Adamis Art & Photography
SPARC
Lan Hodges
Sherry Ravazza Art
Jenay Grant
Wildfire Enamels
Winder Acrylic Abstracts
Michelle Magnus Brown
Eddy Frank Design
PS Painted Style
Patricia Aguinaga
First Street West
John Iacono
Ruey Syrop
Pleasanton Art League
On the Wall By Amy
Vann Thompson
CatJester
Morgan Hunnicutt Photography
Claire Tourmen
Novels and Twine
A Walk With Phil
KP Designs
The Vidhra
Anand's Photography
Maryam Kuwar
Art by YJ
Michelle Swenson Designs
Rashmi Rao Designs
Atomic Turtle
Thomasin Dewhurst Fine Art
Leta Eydelberg Art
Ghada Jamal Fine Art
Gracie Custom Creations
Doug Sandlin
Livermorium
Autumn Lane Studios
Gem Hunter Designs
J. Franklin Art Studio
Joel Salinas III Fine Art
Bettie and David Goosman
Catch the Light Jewelry
Studio Isobel
Karen Barry Printmaking
Jessica and Regina Nagel
Alliance for the Visual Arts
Livermore Art Association
LIvermore Cultural Arts Council
The Art of Jess & Regina Nagel
Caroline Powers Robinson & Megan Davenport
Vera Lowdermilk
Arthur Norcome
McLeod Street
Ryan Goldsberry
The Eclectic Stand
Valley Dance Theatre
EKAM USA
Half Price Books
Stand for the Silent
Contreras Chiropractic
Emmanuel Farhat
Tri-Valley Citizen's Climate Education
Livermore Drum Circle
Del Arroyo 4-H
Thank You to Our Sponsors!
•City of Livermore Commission for the Arts
•Way Up Art & Frame
•The Independent
The Independent will be open for a tour of its historic building during ArtWalk.