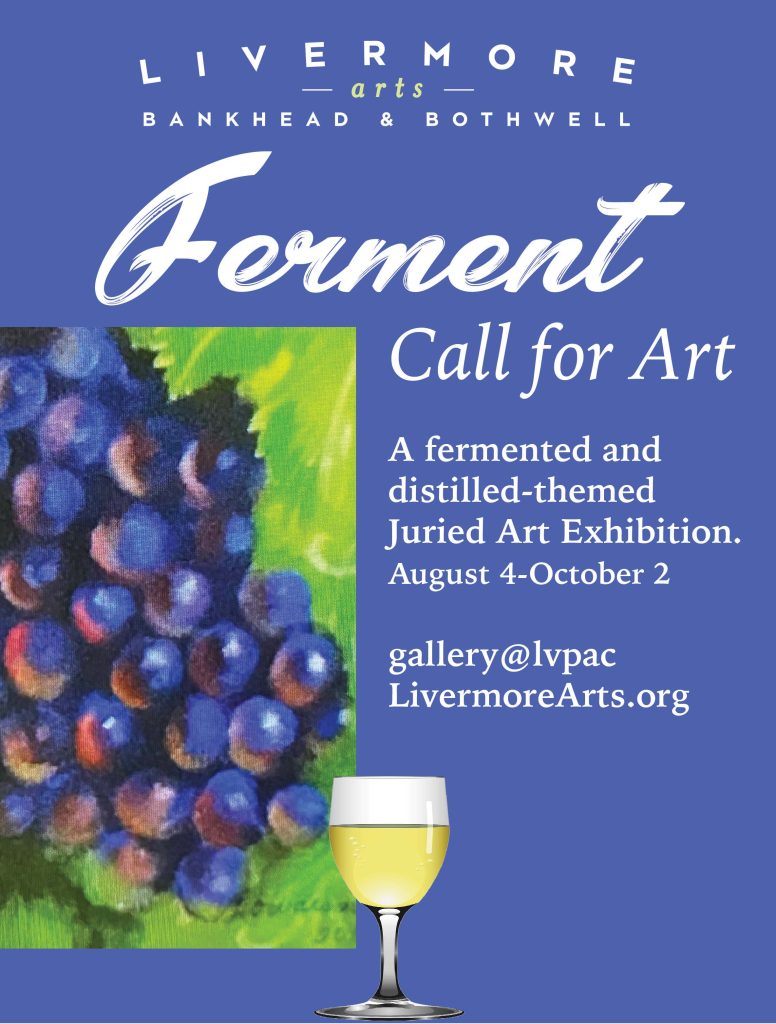 Livermore Valley Arts presents an exhibition called FERMENT at the Bankhead Gallery from August 4 – October 2, 2022. This exhibit will be in-person, with Covid-19 safety protocols in place.
FERMENT will be a spirited, fun, fermented, and distilled-themed Juried Art Exhibition. The Bankhead Gallery is seeking artwork that celebrates the rich history of beer, wine, and spirits through a visual feast for the senses. Capture the essence of the central place in our lives of all things fermented and distilled – including vistas of vineyards, and hopyards and the beauty of the growing areas.
Deadline to submit work: July 15, 2022. Participants are invited to submit works on canvas, wood panel, metal, paper, or similar substrate in any 2- or 3-dimensional medium that is suitable for hanging. All media are accepted: oil, acrylic, colored pencil, drawing, mixed media, photography, etc. In addition, there is limited space available for sculptures.
This exhibit is produced by Livermore Valley Arts.
Click here for the prospectus and entry submission details.
Click here to pay for your entry fee. 
Dates:
July 15, 6 pm – The deadline to submit images of artwork for the exhibition.
July 22 – Notification of acceptance
August 2, 10am – Noon – Delivery date
August 4 – October 2 – Exhibit Dates
August 6, 1 pm – 3:30 pm – Reception, free and open to the public
October 4, 9 am – Noon – Pick up artwork
The gallery is currently open Thursday-Sundays 1-5 pm and to ticketed patrons during performances.