About Bothwell Arts Center
The Bothwell Arts Center is a thriving arts incubator fostering the creation and sharing of artistic talent in the community. Affordable classroom, studio, rehearsal, performance and event space brings together artists and musicians of all ages, as well as theater, choral, dance and other groups, keeping the center alive with the arts. Since 2006 more than 40,000 members of the community, from grade school to adults, have attended classes, workshops and events.
The Bothwell Arts Center offers affordable and rentable live event classroom and arts studio spaces. Classrooms are ideal rehearsals, performances, activities, teaching and events. The arts studio rental space is ideal for artists, musicians, theatrics, acting, choral, literary or anything with a cultural arts focus. We also offer an inexpensive Art Classroom Program, allowing artists room to work without a large investment.

If you are interested in renting an arts studio, have need for an event or small performance space, contact Treg Van Dyke at tvandyke@lvpac.org and review our Rate Schedule to determine which room will suit your needs.

The Bothwell Arts Center is generally open Monday through Friday 9am-5pm, but it is best to make an appointment for a tour. We would be happy to show you the many options for renting the Bothwell Arts Center.


ROOMS TO RENT
Yellow Room:
28'x30' cheery, well-lit space with Bothwell artist mural works and decor. Somewhat limited availability, as a portion of the room is needed for thruway access to East End, restrooms and artist studios when other activities are occurring. Most often used as a recital space, art workshops, and as a cultural arts meeting space, or as additional rental when renting the East End for a larger event requiring meal service.

West End:
30'x40' room with stage lighting availability, portable stage from 8x8' to 12'x16' in size, seats 66+ with full stage setup. Theatrical draping backdrop. This room is also available for cultural arts classes/camps and has been used for everything from filming art videos to editing workshops to musician's birthday party jams.

Arts Classroom:
20'x18' visual arts classroom with 3'x6' tables, seating up to 12 depending on the project. Good lighting, informal & friendly arts atmosphere.

Lobby:
Small, homey room with couch and chairs, most often used in conjunction with rental of West End for ticketing and/or audience mingling before or after event; occasionally used for meeting space.

Visual Artist Studios:
Art studios range from private spaces at the main Bothwell Arts Center to open working spaces at the Downtown Art Studios and range from $120 per month to $600. Call 925.447.2787 for more information.

East End:
72'x48' fun multi-purpose room with small corner stage, expandable with 12'x16' portable stage. Stage lighting and sound services are available. The East End retains some French Quarter decor feel year-round, with silk flowers, stage prop fountain and window facades donated by the Livermore Valley Opera, and artworks donated by Bothwell artists and friends. Used often for music parties, performances, cast parties, art classes requiring large spaces, dance classes, arts & craft boutiques, fundraiser concerts, etc. Coded occupancy is 300 theatrical-seating, 225 banquet seating.

If you come off 580, take the N Livermore exit 52. Turn right onto North Livermore Avenue which eventually becomes South Livermore Avenue. Travel a little over 2 miles to 8th street. Turn right onto 8th street. Bothwell is on your right. There is parking along the streets on 8th Street, 7th Street, S H Street, and S G Street that surrounds the Bothwell Arts Center.
Outside Bothwell
Inside Bothwell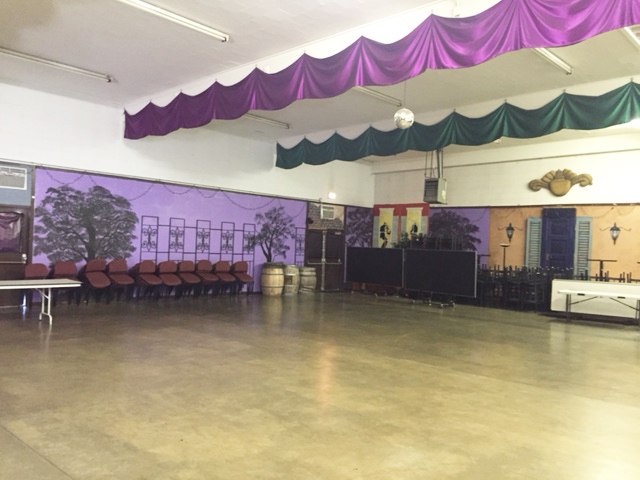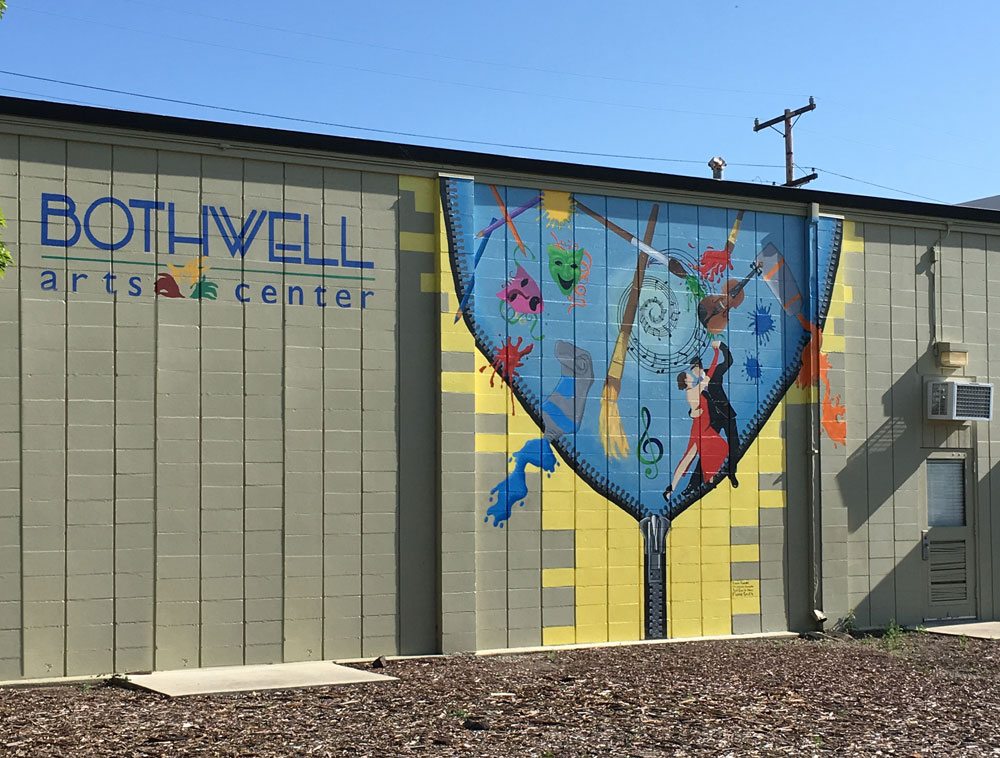 Need Additional Information?