DERIK NELSON AND FAMILY

For artists, performing on stage is often just one aspect of their love for music and the arts. Many who have appeared at the Bankhead also seek to share their passion and skills with others.  On July 12th, Derik, Riana and Dalten Nelson will again take the stage with the pure three-part-harmonies only siblings can deliver, offering creative vocal arrangements as well suited to popular jazz standards from the 40s and 50s, and pop/rock hits of the 60s and 70s, as to the chart-topping hits of today. Their jazz and folk-infused sound, combined with stunning video displays, promise audiences an exciting concert. As with the last two years, their show is just one portion of their time in Livermore. The Nelsons are also leading a singer/songwriter performance intensive for students from middle school to early college age the week prior to the show.
The intensive aligns with their personal priorities as musicians and entertainers. Raised in the Pacific Northwest, all three attended public schools and, as Riana says, are passionate about giving back so others can have the same opportunities they had to experience choir, band and theater classes. They have raised money for school music programs up and down the West Coast. Last fall they were one of just 15 groups named US Cultural Ambassadors, visiting with audiences in Moldova and Albania.
Derik, known for his recurring role as the guitarist on the television show "Glee," began performing at the age of seven and over the next decade appeared in over 60 productions. By the time he was 14 he had learned to play saxophone, guitar and piano and was already composing songs. Derik has said, "I feel most like myself when I'm at the piano or with a guitar in my lap, singing about how I feel to people who feel the same way. Music is one of the deepest expressions of emotion, and writing and performing original music is as personal and honest as you can get." By the time he graduated from the University of Southern California in 2010, Derik had produced five original albums and helped shape curriculum for USC's Popular Music program.
Riana graduated from University of Michigan in Musical Theater, where she co-directed the co-ed a cappella group "Amazin' Blue," and has appeared on television, film and stage as well as led children's music programs. Dalten has appeared in musical theater productions since the age of four. His skills in lighting design and video production, from concept to editing, contributes to the trio's mesmerizing and visually immersive concerts.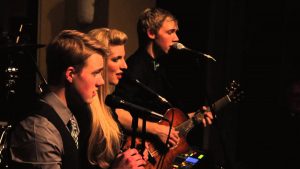 ABOUT THE CONCERT
Derik Nelson & Family's concert features pristine sound, a state of the art light show, and an integrated 20-foot video display. Derik's interactive "clones" are featured throughout the show on the five screen video "wall." The multiple "Derik clones" play many different instruments as a "virtual band." This innovative technical marvel designed by Dalten uses the latest in audio/video technology to take audiences on an aural and visual journey through time, space, an impressive array of landscapes, weather conditions, and musical "settings."
Listeners will be impressed with the perfectly blended three-part-harmony vocals, in addition to Derik's thoughtful arrangements of cover songs from a variety of genres, styles, and eras. These genuinely kind, charming, and talented siblings have a bond that's palpable, both on stage and off. Audiences of every age are sure to be mesmerized from the opening to the dazzling finish. WATCH a video preview of the Nelson's music.
All seats $10
 ABOUT THE MUSIC INTENSIVE
The week-long intensive with the Nelson's runs from 10:00am to 4:00pm, July 8 to July 12. Students with a strong interest, talent and passion for music will be able to take their skills to the next level. The week will include a mix of demonstration, small group work, and one-on-one coaching in songwriting and vocal techniques, stage performance, harmonizing, collaboration, composition, and more. Students will write a song and perform it in a showcase for family and friends on the final day.
Playing a musical instrument is not required, say the Nelsons, just "a willingness to collaborate, write lyrics, think outside the box, and improve and challenge themselves during the week." The intensive, underwritten in part by the Livermore Valley Performing Arts Center's Education Fund,.Some scholarships are available. For registration contact Kiran Guleria at 925.583.2321
 ABOUT THE NELSONS
The Nelson siblings have garnered millions of  views on YouTube, toured over 60 locations across the US and internationally, reached over 15,000 students of all ages with educational music workshops and were invited to perform the National Anthem at a Seattle Seahawks home game.
DERIK
singer, songwriter, producer, audio engineer
Lead guitarist on TV's "Glee" for four years. Singing voice heard on FOX's "Raising Hope" and "New Girl," CBS's "How I Met Your Mother," and NBC's "Go On" and "The Voice." Bachelor of Science from University of Southern California, where he helped to shape the curriculum that became the Popular Music Degree program. Derik was awarded the Brian Wilson Music Scholarship for songwriting, and received first place in the Indie International Songwriting Competition for his original song, "The Way It's Gonna Go." www.deriknelson.com
RIANA
singer, press, management
Bachelor of Fine Arts degree in Musical Theatre from the University of Michigan. Casting Associate for FOX's "Empire." Onscreen vocalist for Renee Zellweger's pilot "Cinnamon Girl." Lead vocalist for Princess Cruises. Managed summer program for Disney in China teaching children 5-7 years old. Riana serves on the Board of Directors at The Washington Center for the Performing Arts in Olympia, WA. Marketing, social media, painting, calligraphy, and empowering young women are her passions in addition to singing. www.riananelson.com
DALTEN
singer, video/light/tech designer
Attended Arizona State University with an extensive musical theatre background. Appeared on several episodes of television's "Glee." Conceptualized, designed, filmed, edited, & executed over 150 separate videos in perfect sync, to create visual "immersion" to the musical experience. www.daltennelson.com