Livermore Valley Performing Arts Center Receives Generous Legacy Gift
from Estate of Long-Time Patrons Jene and Isabelle Dupzyk
LIVERMORE, CA – (August 10, 2020) – Livermore Valley Performing Arts Center (LVPAC) announced that a very generous legacy gift has been received from the estate of long-time patrons Jene and Isabelle Dupzyk. The gift, a home the Dupzyk's owned in Livermore appraised at approximately $700,000, marks the very first legacy gift LVPAC has received and one of the largest single gifts in the organization's history. The Dupzyk's were regular Bankhead Theater attendees from the early years and appreciated a wide range of the arts, from African drumming and Mariachi music, to Russian ballet and Chinese acrobats. They enjoyed most genres of music, from the blues guitar of Jimmie Vaughn, to the Western songs of Riders in the Sky, and were particularly loyal to the classical music concerts presented by Del Valle Fine Arts and Livermore-Amador Symphony.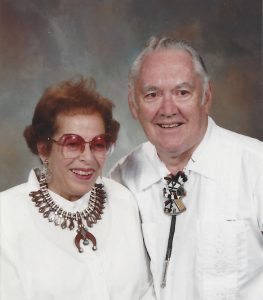 While the Dupzyks made routine contributions over the years and purchased numerous tickets to shows at the Bankhead, as LVPAC's Executive Director Chris Carter said, in the end "they chose the most meaningful way possible to make an impact." A legacy gift typically generates relatively little upfront recognition. Instead, it generously provides support after the donor is no longer there to enjoy the results. Any gift as substantial as the Dupzyk's would be remarkable regardless of when it arrived, but that this gift comes at a time when the organization faces such tremendous challenges makes it all the more momentous. The performing arts industry has been especially hard hit by the COVID-19 pandemic. The Bankhead Theater has been closed since early March and will remain so until the County of Alameda determines it is safe to resume theatrical events. Although LVPAC is not in immediate financial danger and operating costs were quickly reduced under careful management, ticket revenue ordinarily generates close to half of LVPAC's annual income. "The Dupzyk's gift could not have come at a more critical time for us," says Carter.
According to Rich Buckley, their friend and neighbor of 40 years, the timing is symbolic of the Dupzyk's generosity. "Jene and Isabelle loved the performing arts. Going out to the theater was a special event for them. And Isabelle had an expansive heart, she always wanted to take care of the people and things that mattered to her if they were in need. It would have meant so much to them to know just how big a difference they've made with this gift."
Scientists who met in graduate school, Jene and Isabelle both had long careers at Lawrence Livermore Labs and were fascinated by the intersection of science with the world. Jene's broad interests included classic cars and his own hand-built seismograph, while Isabelle was a deft seamstress in her spare time, and they both loved and raised German Shepherd dogs. Married for 60 years, they enjoyed doing everything together, especially going to concerts and shows. Long-time friend Joan Intersimone says the Dupzyks were delighted when the Bankhead Theater opened so they "no longer had to go into the city" and they looked forward to the announcement of each season, carefully picking which shows they wanted to attend. "Jene and Isabelle would dress up and drive over, sometimes as much as two hours early to get the best parking spot, then head into the theater, greeting staff, volunteers and friends as they made their way to their favorite seats," she remembers.
Now the Dupzyk's names will be engraved on those seats up in row R where they spent so many pleasurable hours. While Jene and Isabelle will no longer grace the Bankhead Theater with their presence, they will be forever remembered with gratitude for the profound and timely difference they made to the future of the arts in Livermore.
~~~~~~~~
Livermore Valley Performing Arts Center offers wide-ranging programs that provide access to the arts for the Tri-Valley community and beyond. Located in the heart of downtown Livermore, the Bankhead Theater welcomes artists from diverse musical genres, as well as theater, dance, comedy and entertainment for all ages. The Bothwell Arts Center on Eighth Street is an arts incubator, offering affordable studio, classroom, rehearsal, performance and event space. Exhibits curated by the Bothwell are on display year round in the Gallery at the Bankhead. Together the Bankhead and Bothwell are home to eight resident performing arts companies and over 40 studio artists and cultural arts instructors. www.livermorearts. org
#   #   #