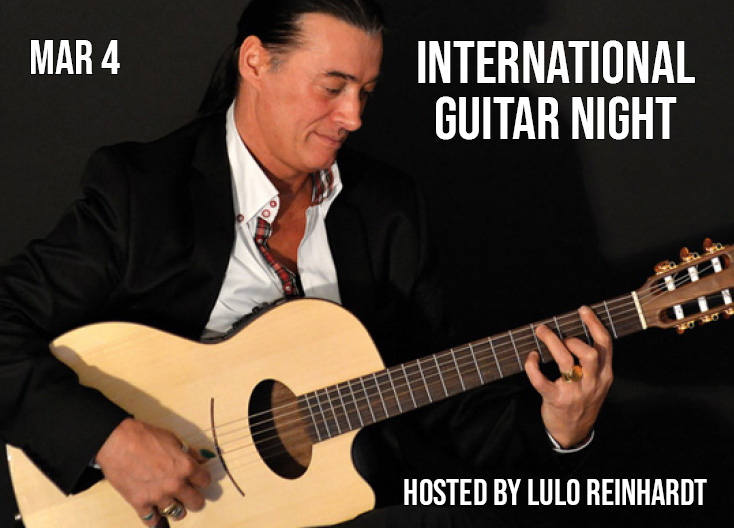 International Guitar Night
When
Fri, March 4, 2022 @ 8:00 pm
Email
boxoffice@bankheadtheater.org
Where
Bankhead Theater - 2400 First Street Livermore,

Phone
925.373.6800

Bankhead Presents International Guitar Night
Now celebrating 21 years of International Guitar Night tours, founder Brian Gore brings together four talented artists from around the world to explore the diversity of the acoustic guitar through individual flair and creative collaboration. Returning to the Bankhead in 2022, Germany's Latin Swing master Lulo Reinhardt will serve as guest host, joined by contemporary classical guitarist Stephanie Jones from Australia, Russian two-hand "tapper" Alexandre Misko, and traditional jazz guitarist Jocelyn Gould from Canada.
Originally from Winnipeg, Jocelyn Gould first studied voice and piano, as well as science, before following in her parent's footsteps to take up the guitar. Since earning her Master's degree in Jazz Studies from Michigan State University, she has pursued an international performance career at prestigious festivals and clubs worldwide. She currently holds the guitar chair of Detroit's big band, The Gathering Orchestra, and in 2018, won first place in the Wilson International Jazz Guitar Competition.
 Stephanie Jones, a soloist and chamber musician, is the recipient of numerous awards including 2014's Young Virtuoso of the Year through the Fine Music Network National Competition, and first prize in both the Uppsala International Guitar Festival Competition and the Hannabach Guitar Competition. She has released two albums, "Colours of Spain" (2015), and "Bach, the Fly, and the Microphone" (2009) and, as a member of the renowned Weimar Guitar Quartet, will perform on their debut album this year.
 Alexandr Misko is a dazzling new breed of modern fingerstyle guitarist. The 21-year-old Russian performs in concerts all over the world and appears often on television in his homeland and other countries. He has achieved worldwide fame and over a million followers on YouTube since his original tune "Guitar & Pen Tapping Song" became popular. Since 2016 he has released three studio albums and was named the "Guitarist of the Year" at the prestigious UK Guitar Show in 2018.
A guitar virtuoso with unmistakable roots, Lulo Reinhardt built on his legendary grand-uncle Django's passionate style of Gypsy Jazz to create his own unique Latin swing style. As a young man, Lulo's interest in flamenco roots music took him to southern Spain and to South America, where his fascination for Latin music soon emerged in his now trademark swing-infused jazz style. He played for decades in his family's band before starting his own in 2002 to perform only his own original compositions. Lulo has released three solo albums, as well as numerous collaborative recordings. Before serving as host for IGN, he appeared previously as a soloist on multiple tours.
"These four talented musicians bring so much diversity and passion to each performance – a treat for every acoustic guitar fan."
–Arizona Reporter
Friday, March 4, 2022 at 8 pm
RELATED PERFORMANCES/SHOWS