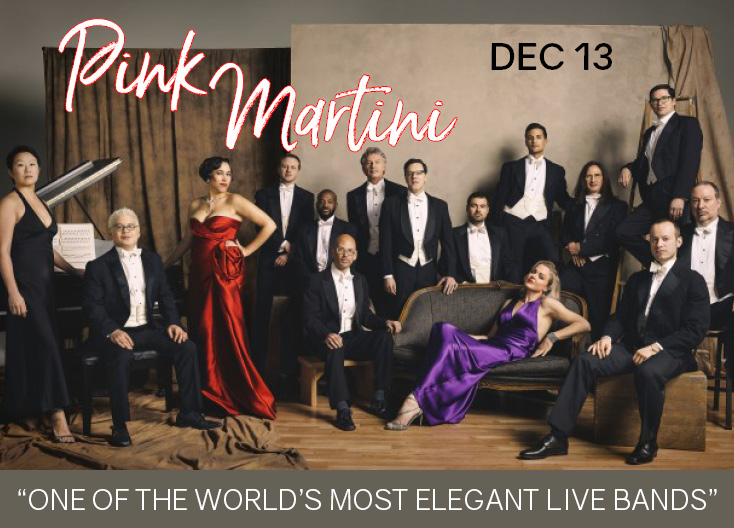 Pink Martini
When
Mon, December 13, 2021 @ 7:30 pm
Email
boxoffice@bankheadtheater.org
Where
Bankhead Theater - 2400 1ST ST LIVERMORE, CA 94550

Phone
925.373.6800

Bankhead Presents Pink Martini
"Pink Martini is a rollicking around-the-world musical adventure… if the United Nations had a house band in 1962, hopefully we'd be that band." – Thomas Lauderdale
Since 1994, Portland's sensational "little orchestra" has been delighting audiences with their engaging take on multilingual pop, jazz and classical tunes. Called "utterly cosmopolitan yet utterly unpretentious" by The Washington Post, Pink Martini has staked out a unique place in the hearts of music fans with their appealing blend of old-school elegance and modern day humor.
Although he started piano lessons at age six, band leader Thomas Lauderdale was heading for a career in politics before music swept him in another direction. After attending too many political fundraisers with loud and lackluster music, he was inspired to start Pink Martini believing he could provide a more attractive and bipartisan soundtrack. A year later, he began to collaborate with Harvard classmate China Forbes and their hit song "Sympathique" became an overnight sensation in France. Nominated there for Song of the Year, it remains a mantra for striking French workers with its irresistible chorus "Je ne veux pas travailler" ("I don't want to work.")
More than 25 years, nine studio albums, several EP releases, numerous songs, and countless shows later, Pink Martini continues to be a sensation. A genuinely American band, they have the opportunity as Lauderdale says, "to represent a broader, more inclusive America … comprised of people of every country, every language, every religion" through their music. Featuring a dozen musicians with songs in 25 languages, Pink Martini has performed on concert stages and with symphony orchestras around the world. They have toured and recorded with such guests as the four Von Trapp siblings, great-grandchildren of The Sound of Music family, Rufus Wainwright, and Portland-native NPR White House correspondent Ari Shapiro.
With their sizzling vocals, smooth instrumentals, and infectious rhythms, a Pink Martini concert is to be sipped, savored, and remembered long after it's over.
"The kind of band that can break the space-time continuum…
at once transports listeners both back in time
and around the world with their vintage sound."
– Staten Island Advance
RELATED PERFORMANCES/SHOWS