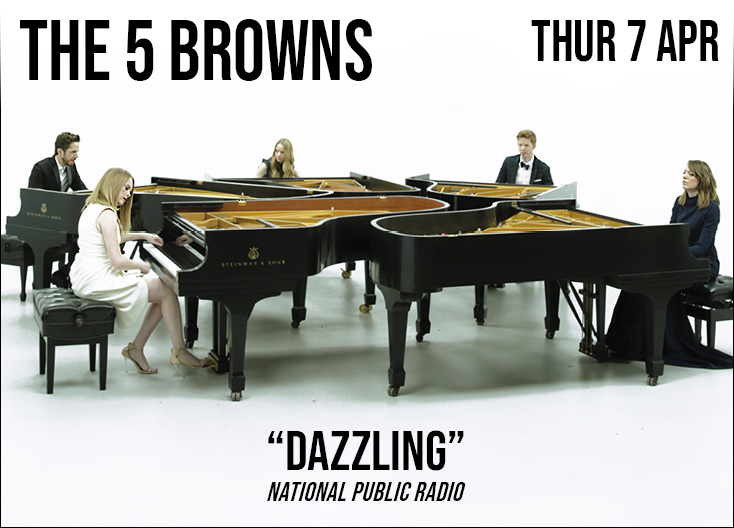 The 5 Browns
When
Thu, April 7 @ 7:30 pm
Email
boxoffice@bankheadtheater.org
Where
Bankhead Theater - 2400 1ST ST LIVERMORE, CA 94550

Phone
925.373.6800

Del Valle Fine Arts and Bankhead Presents:  The 5 Browns
The 5 Browns are delivering on their dream to wake up classical music by introducing it to the widest, largest and most excited audience they can find. Whether performing individually or together in various combinations from duo to complex five-piano arrangements, The 5 Browns reveal a deep connection to the intent of their material, while bringing a fresh energy and dynamic character to the color and tonal spectrum of their sound. Their performance is a not-to-be-missed immersive musical experience.
Ryan, Melody, Gregory, Deondra and Desirae Brown all attended New York's Juilliard School. In fact, they became the first family of five siblings ever accepted simultaneously. As a group, they first came to attention in 2002 and have since performed extensively on stage, film and television. In 2010 they were featured in a PBS television special "The 5 Browns in Concert" and made their debut at Carnegie Hall in 2013. Each of the 5 Browns first three CDs reached #1 on Billboard Magazine's Classical Album Chart. Their most recent album, "Christmas with the 5 Browns," was just released last December.
The quintet commissioned a five-piano concerto by famed composer Nico Mühly which premiered in 2011 at the Ravinia Festival with the Chicago Symphony Orchestra under the direction of Maestro James Conlon.
In addition to touring, The 5 Browns are published writers. Their book, Life Between the Keys, a lighthearted collection of personal stories, was published in 2009. All five siblings received honorary doctorates from Utah Valley University in 2019. The 5 Browns are exclusive Steinway Artists.
"A 5 Browns performance is dazzling. There's something about watching five brothers and sisters, each only one year apart, playing such challenging music together and having a blast in the process."
— National Public Radio
WATCH a video (or two!) and be MESMERIZED by The 5 Browns:
Thursday, April 7, 2022 at 7:30 pm
RELATED PERFORMANCES/SHOWS