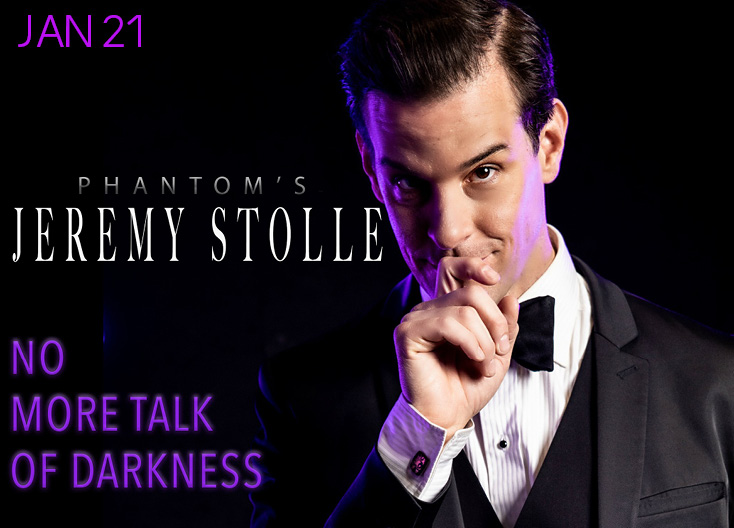 The Phantom's Jeremy Stolle
When
Fri, January 21, 2022 @ 8:00 pm
Email
boxoffice@bankheadtheater.org
Where
Bankhead Theater - 2400 First Street Livermore,

Phone
925.373.6800

Bankhead Presents The Phantom's Jeremy Stolle
The famous quote from the world renowned musical "The Phantom of the Opera", "No more talk of darkness" perfectly describes this wonderful evening with Jeremy Stolle, who has worn the Phantom's mask for more than a decade. You'll hear Phantom like you have never heard it before, but also much more beyond the darkness of the Phantom's lair.  With his unparalleled voice and extensive musicianship, Stolle brings together a team of musical artists to deliver a unique look at your favorite musicals in a night packed with show-stopping Broadway songs, soaring high notes, classic music, and hilarious stories of making a life on the stage. You may just find yourself singing along to The Greatest Showman or tearing up to the classic ballads of Rodgers and Hammerstein. Jeremy's approachable, energetic demeanor and comedic charm has enchanted audiences worldwide. A heartfelt concert – about life, love, and the perseverance it takes to make it on Broadway – that's perfect for all ages.
Since 2010, Jeremy Stolle has appeared in the Broadway production of The Phantom of the Opera in the roles of the Phantom, Raoul, and Piangi. He recently starred in the Disney theatricals pre-Broadway production of The Hunchback of Notre Dame and appears as Jehan on the original cast recording. Among his many other theater credits are the workshop production of Broadway's A Tale of Two Cities, Music Theater Wichita's Seven Brides For Seven Brothers and Thoroughly Modern Mille, North Shore Music Theater's Camelot, as well as Carousel, Brigadoon, and multiple national productions of Beauty and the Beast as Gaston. He won an Elly Award for "Best Actor in a Musical" for the title role in The Scarlet Pimpernel.

"Magical is the perfect description of this one-man cabaret show, and the lanky, funny, charming, and talented man with a voice that could easily melt butter – who helmed it." – Broadway World
Watch a clip from a documentary about Modesto-native Jeremy Stolle:
Friday, Jan 21, 2022 at 8:00 pm
RELATED PERFORMANCES/SHOWS