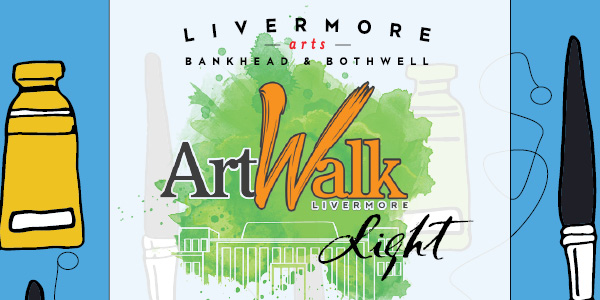 ArtWalk Light Livermore 2020
When
Sat, October 10, 2020 @ 10:00 am
Email
boxoffice@bankheadtheater.org
Where
Bankhead Plaza - 2400 First Street Livermore, CA 94550

Phone
925.373.6800

Livermore Valley Performing Arts Center Presents ArtWalk Livermore 2020
See what our thriving, creative community has been up to in their studios while adhering to Covid restrictions. Visit this one-day outdoor art fair where Art is the main focus of the day. Meet the artists and buy one-of-a-kind, original hand made treasures. Purchase new art or hand made jewelry for yourselves or plan ahead for the holiday season and pick up beautiful, unique gifts. Support the individual, original artists of the Tri-Valley at ArtWalk Light Livermore. COVID-safety protocols will be in place and enforced – so bring your masks, leave your pets at home, and come out to visit ArtWalk "Light" – a scaled-back version of our traditional ArtWalk on Sat Oct 10 from 10am to 4pm.
ART ON DISPLAY
This year, to reflect on the many challenges we face, a temporary public art sculpture will be located on the plaza. Titled "Where Do We Go From Here?" two eight-foot wood posts will feature signs pointing in all directions, created in response to the theme's question by artists of the Tri-Valley. Among the exhibitors at ArtWalk this year will be Autumn Lane Studio's fine art pieces, KathieStudio's hand-printed pieces, and Hudson River Inlay's fine inlaid wood products, as well as other ArtWalk favorites. Most artwork on display will be available for purchase. See the full list below. Attendees are invited to stop by and support Las Positas College music alumni, who plan to provide live music during the event.
IN THE GALLERY
For the first time since closing in March, the Bankhead Gallery, located in the lobby of the Bankhead Theater, will be open for very limited access to view a new exhibit, the "Best of the Bothwell." It will showcase more than two dozen pieces in a range of styles by studio artists who currently work or teach at the Bothwell such as Elinor Cheung, Steve Hollmeyer, Larry Lagin, Linda Ryan and Barbara Stanton.
Livermore Valley Joint Unified School District will also display the work of young artists from Livermore, Granada, and Del Valle High Schools. The LVJUSD exhibit will only be on display during ArtWalk Light. "Best of the Bothwell" will remain in the Gallery after October 10 with very limited hours. In October, the LivermoreArts.org Online Gallery is hosting a new exhibit featuring the work of local artist, Larry Lagin.
ENTER TO WIN!
While ArtWalk Light is a free community event, attendees who register online  or sign up at the Livermore Arts booth on McLeod Street, will be automatically entered into a drawing for a signed, limited edition print by Tim Bowles, as well as ticket vouchers, and other prizes. The drawing will be held at the close of the event and winners will be notified.
Drawing for a voucher for two tickets to a future performance at the Bankhead Theater
to be held at the close of ArtWalk Light from among registered attendees.
Winner will be notified. Need not be present to win.
---
ArtWalk Light Exhibitors
Fine Artists
Cynthia Biles
Yvette Head
Brenda Striksma
Joel Salinas III
Larry Lagin
Karen Barry
Kathie Chan
Thomasin Dewhurst
Julia Minasian
Meghana Mitragotri
Hudson River Inlay
Mariola Wistenecki
Gosia Kuraczyk
Nana-Dictta Graves
Barbara Nichols Reynolds
Leta Eydelberg
Jewelers
Helen Harrison
Jeanette Boitreaux
Julie Gordon
Sarah Moore
Organizations and Individuals
Livermore Poet Laureate Cynthia Patton
Livermore Lions Club
Livermore Shakespeare Festival
Las Positas College
Tri Valley Citizens for Climate Change
Farm Fresh
---
ArtWalk Light supports the efforts of the Bothwell Arts Center. Located at 2466 Eighth Street, the Bothwell has served as an arts incubator since 2006, offering affordable and rentable classroom, rehearsal, performance, event, and studio rental space for artists, musicians, actors and others with a cultural arts focus. The Bothwell Arts Center and the Bankhead Theater are run by Livermore Valley Performing Arts Center.
RELATED ART EXHIBITS/GALLERY