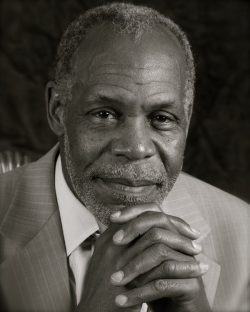 An Evening with Danny Glover
When
Fri, October 1, 2021 @ 8:00 pm
Email
boxoffice@bankheadtheater.org
Where
Bankhead Theater - 2400 1ST ST LIVERMORE, CA 94550

Phone
925-373-6800

Actor, producer, and humanitarian Danny Glover has been a commanding presence on screen, stage, and television for more than 30 years. As an actor, his film credits range from the blockbuster Lethal Weapon franchise to smaller independent features, some of which Glover also produced. He has starred in an array of motion pictures in recent years, including the critically-acclaimed Dreamgirls directed by Bill Condon and in the futuristic 2012 for director Roland Emmerich. In addition to his film work, Glover is highly sought after as a public speaker, delivering inspirational addresses and moving performances in such diverse venues as college campuses, union rallies, and business conventions.
Most recently Glover appeared in the Sony Pictures box office hit Jumanji: Welcome to The Jungle co-starring Dwayne Johnson, Jack Black, and Danny DeVito. He just completed filming the independent feature Press Play on location in Hawaii.
Glover has gained respect for his wide-reaching community activism and philanthropic efforts, with a particular emphasis on advocacy for economic justice and access to health care and education programs in the United States and Africa. For these efforts, Glover received a 2006 DGA Honor and was honored with a 2011 "Pioneer Award" from the National Civil Rights Museum. Internationally Glover has served as a Goodwill Ambassador for the United Nations Development Program from 1998-2004, focusing on issues of poverty, disease, and economic development in Africa, Latin America, and the Caribbean. Glover was presented in 2011 with the prestigious Medaille des Arts et des Letters from the French Ministry of Culture and was honored with a Tribute at the Deauville International Film Festival. In 2014 Glover received an Honorary Doctorate of Humane Letters from the University of San Francisco. Currently, Glover serves as UNICEF Ambassador and Ambassador for the United Nations International Decade for People of African Descent along with Harry Belafonte and Forrest Whittaker.
A native of San Francisco, Glover trained at the Black Actors' Workshop of the American Conservatory Theatre. His Broadway debut in Fugard's Master Harold…and the Boys brought him to national recognition and led director Robert Benton to cast him in his first leading role in 1984's Academy Award-nominated Best Picture, Places in the Heart. The following year Glover starred in two more Best Picture nominated films: Peter Weir'sWitness and Steven Spielberg's The Color Purple. In 1987 Glover partnered with Mel Gibson in the first Lethal Weapon film and went on the star in three hugely successful Lethal Weapon sequels. Glover starred in The Royal Tenenbaums and To Sleep With Anger which he executive produced and for which he won an Independent Spirit Award for Best Actor.
On the small screen, Glover won an Image Award, a Cable ACE Award, and earned an Emmy nomination for his performance in the title role of the HBO Movie Mandela. He has also received Emmy nominations for his work in the acclaimed miniseries Lonesome Dove, the telefilm Freedom Song, and as a director, he earned a Daytime Emmy nomination for Showtime's Just a Dream. Glover also appeared in the HBO Original Movie Muhammad Ali's Greatest Fight.
RELATED