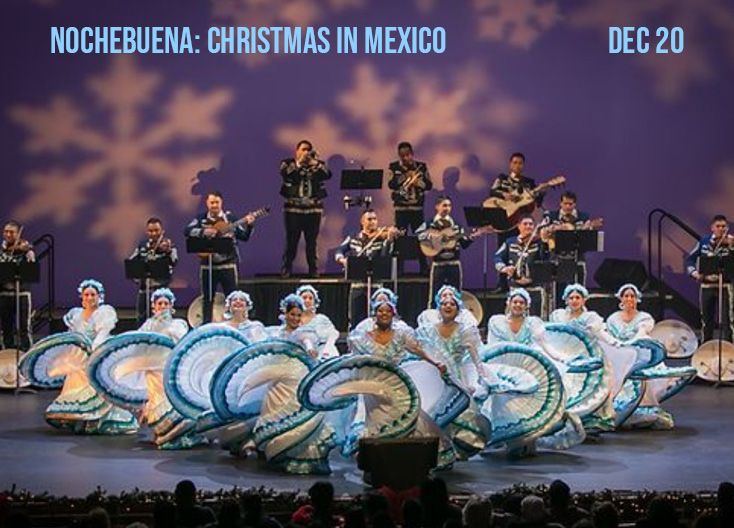 Nochebuena: Christmas Eve in Mexico
When
Mon, December 20, 2021 @ 7:30 pm
Email
boxoffice@bankheadtheater.org
Where
Bankhead Theater - 2400 1ST ST LIVERMORE, CA 94550

Phone
925.373.6800

Bankhead Presents Nochebuena: Christmas Eve in Mexico
"A lively holiday spectacular" – Los Angeles Times
The acclaimed Ballet Folklórico de Los Ángeles and Mariachi Garibaldi de Jaime Cuéllar brings together an all-star cast of music and dance in a dazzling presentation of the traditions and customs celebrated by the people in Mexico during the Christmas season. ​This spectacular show focuses on Nochebuena (Christmas Eve) when Mexican families attend midnight Mass before returning home to a late-night feast. Foods like bacalao, ham, turkey, tamales, and mole, with ponche to drink and lots of music, create a festive and spirited night of fun. In Mexico, the holiday means a full season of Christmas-related celebrations, representing a blend of indigenous culture, Spanish heritage, and other cultural influences.
Acerca de Nochebuena: En Mexico, La Navidad no es solo un día, sino toda una temporada de festejos y celebraciones. La Navidad mexicana es una mezcla de tradiciones, símbolo de la herencia mestiza que las culturas indígenas, africanas y europeas nos han dejado.En Nochebuena, la víspera de Navidad, las familias mexicanas se reúnenal calor del hogar después de haber asistido a la misa de gallo para disfrutar de un festín preparado especialmente para esta fecha. Con los romeritos, el bacalao, el jamón horneado, el pavo, los tamales, el mole y otros platillos propios de la temporada,el tradicional ponche de frutas con piquete y la infaltable música se vive el ambiente festivo navideño. Normalmente los regalos son recibidos hasta el 6 de enero, con la llegada de los Reyes Magos. En los últimos años esto ha ido cambiando un poco por lainfluencia cultural de Estados Unidos, por lo que Santa Clos ya comienza a repartir regalos también en México. En este concierto haremos un recorrido por algunas de las tradiciones que se viven en México durante la época navideña, no olvidemos que muchas tradiciones varían a lo largo y ancho del país según cada región, las celebraciones siguen vivas y algunas de ellas continúan cambiando por la influencia de otras culturas, más notablemente de Estados Unidos.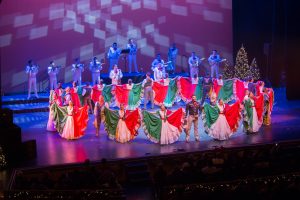 Ballet Folklórico de Los Ángeles catapulted to international fame when they danced at the 90th Annual Academy Awards in celebration of the Pixar movie, Coco. They also performed at the D23 Expo, the Coco Premiere at the El Capitan Theater, and "Disney Night" on Dancing With The Stars, working alongside Natalia Lafourcade, Gael Garcia Bernal, and Miguel as they sang the award-winning "Remember Me" from the film. Founded in 2011 by Kareli Montoya, BFLA has worked on stage with Grammy Award winners Lila Downs, Pepe Aguilar, Mariachi Divas and Mariachi Camperos. This versatile group performs both traditional and modern regional dances in world-class venues including the Dolby Theatre, the Greek Theater, and the Ford Amphitheater with as many as forty-eight dancers.
​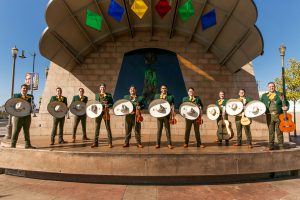 Mariachi Garibaldi de Jaime Cuéllar has captivated and delighted audiences at both intimate venues and major theaters throughout the United States, including the John Anson Ford Amphitheatre, Bakersfield Fox Theatre, and the Auditorium Theater in Chicago. Founded in 1994 by Jaime Cuéllar, the ensemble of 8-12 mariachi musicians is now led by his son, Jimmy K. Cuéllar, a three-time Grammy award winner in his own right. The group frequently collaborates with other artists such as Pedro Fernandez, Ana Barbara and Angela Aguilar. In 2017 they teamed with Ballet Folklórico de Los Ángeles to recreate "Tale as Old as Time" from Disney's Beauty and the Beast, which went viral with over 15 million views. Most recently, Mariachi Garibaldi de Jaime Cuéllar were featured artists in Center Stage Opera's 2019 production of Mozart's Le Nozze de Figaro. Avid proponents of music education, the group teaches mariachi for all ages at their own Academy for Performing Arts.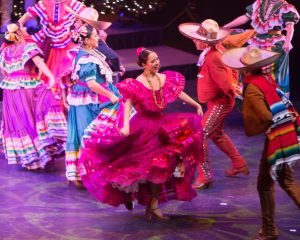 Ballet Folklórico de Los Ángeles Se funda en el año 2011 por Kareli Montoya, desde entonces ha trabajado con ganadores del Grammy como son Lila Downs, Pepe Aguilar, Mariachi Divas y Mariachi Los Camperos de Nati Cano.Se catapulta a la fama internacional al presentarse en la 90ª Entrega anual de los premios Oscar de la Academia como festejo de la película de Disney Pixar, Coco. También por su presentación en la Expo D23, El estreno de Coco en el Teatro El Capitan y "Disney Night" en DWTS trabajando al lado de Natalia Lafourcade, Gael García Bernal y Miguel mientras cantaban la premiada canción "Remember me". BFLA es también parte de la nueva producción de Coco en vivo de Disney, la cual fue estrenada en elHollywood Bowlen noviembre del 2019 y actualmente es transmitida en la plataforma digitalDisney+Es un grupo muy versátil que ha interpretado y presentado danzas y bailes regionales tanto tradicionales como contemporáneos en escenarios de clase mundial incluyendo entre estos el Dolby Theatre, elGreek Theatery elFord Amphitheatercon más de cuarenta y ocho bailarines en escena. Con coreografías bien ejecutadas, movimientos precisos y coloridos vestuarios diseñados por Kareli Montoya y su abuela Teresa, acompañados de prestigiosas agrupaciones de mariachi como son Mariachi Vargasy Mariachi Garibaldi de Jaime Cuéllar han logrado maravillar a su público.Teniendo en cuenta la importancia de la educación dancística, el Ballet Folklórico de Los Ángeles ofrece clases de danza para personas de todas las edades en su escuela: Academy for Performing Arts.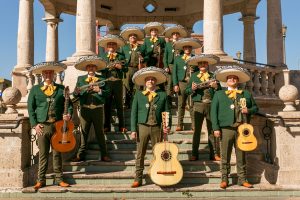 Mariachi Garibaldi de Jaime Cuéllar Se encuentra celebrando su 25º aniversario y continúa cautivando y deleitando a su público tanto en escenario íntimosy privados, así como en los grandes teatros de Estados Unidos incluyendo elJohn Anson Ford Amphitheatre, elBakersfield Fox Theatrey elAuditorium Theateren Chicago. Fundado en 1994 por Jaime Cuéllar, el ensamble de 8–12 músicos mariachis son ahora dirigidos por su hijo, el tres veces ganador del Grammy Jimmy K. Cuéllar.Frecuentemente colabora con otros artistas como Pedro Fernández, Ana Bárbara y Ángela Aguilar. En 2017, en una producción de la cadena "mitú" en conjunto con el Ballet Folklórico de LosÁngeles recrearon "Tale as Old as Time" del clásico de Disney La Bella y la Bestia, mismo que se hizo viral con más de 15 millones de vistas. Recientemente Mariachi Garibaldi de Jaime Cuéllar fue artista invitado en la producción delCenter Stage Operadel 2019Le Nozze de Figarode Mozart.Conocedores de la importancia de la educación musical, Mariachi Garibaldi de Jaime Cuéllar ofrece clases de música de mariachi a personas de todas las edades en su escuela: Academy for PerformingArts.
RELATED PERFORMANCES/SHOWS