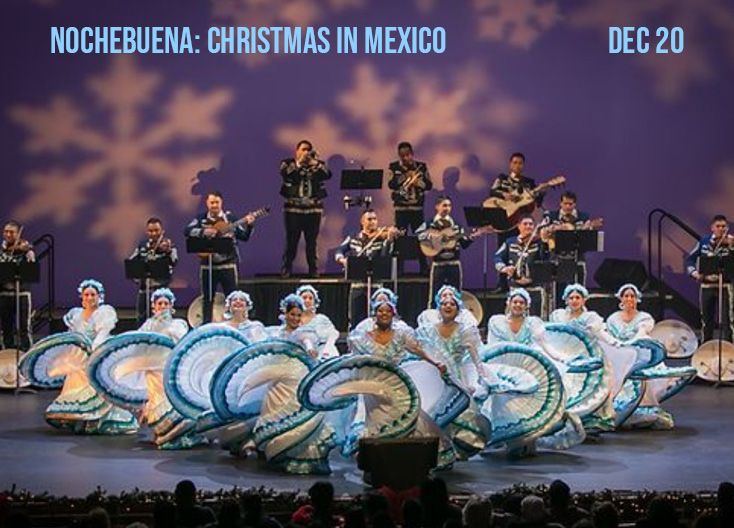 Nochebuena: Christmas Eve in Mexico
When
Mon, December 20 @ 7:30 pm
Email
boxoffice@bankheadtheater.org
Where
Bankhead Theater - 2400 First Street Livermore,

Phone
925.373.6800

Bankhead Presents Nochebuena: Christmas Eve in Mexico
The acclaimed Ballet Folklórico de Los Ángeles and Mariachi Garibaldi de Jaime Cuéllar bring together an all-star cast of music and dance in a dazzling presentation of the traditions and customs celebrated by the people in Mexico during the Christmas season.
​This spectacular show focuses on Nochebuena (Christmas Eve), when Mexican families attend midnight Mass before returning home to a late-night feast. Foods like bacalao, ham, turkey, tamales, and mole, with ponche to drink and lots of music create a festive and spirited night of fun. In Mexico, the holiday means a full season of Christmas-related celebrations, representing a blend of indigenous culture, Spanish heritage, and other cultural influences.
Ballet Folklórico de Los Ángeles catapulted to international fame when they danced at the 90th Annual Academy Awards in celebration of the Pixar movie, Coco. They also performed at the D23 Expo, the Coco Premiere at the El Capitan Theater, and "Disney Night" on Dancing With The Stars, working alongside Natalia Lafourcade, Gael Garcia Bernal, and Miguel as they sang the award-winning "Remember Me" from the film. Founded in 2011 by Kareli Montoya, BFLA has worked on stage with Grammy Award winners Lila Downs, Pepe Aguilar, Mariachi Divas and Mariachi Camperos. This versatile group performs both traditional and modern regional dances in world-class venues including the Dolby Theatre, the Greek Theater, and the Ford Amphitheater with as many as forty-eight dancers.
​Mariachi Garibaldi de Jaime Cuéllar has captivated and delighted audiences at both intimate venues and major theaters throughout the United States, including the John Anson Ford Amphitheatre, Bakersfield Fox Theatre, and the Auditorium Theater in Chicago. Founded in 1994 by Jaime Cuéllar, the ensemble of 8-12 mariachi musicians is now led by his son, Jimmy K. Cuéllar, a three-time Grammy award winner in his own right. The group frequently collaborates with other artists such as Pedro Fernandez, Ana Barbara and Angela Aguilar. In 2017 they teamed with Ballet Folklórico de Los Ángeles to recreate "Tale as Old as Time" from Disney's Beauty and the Beast, which went viral with over 15 million views. Most recently, Mariachi Garibaldi de Jaime Cuéllar were featured artists in Center Stage Opera's 2019 production of Mozart's Le Nozze de Figaro. Avid proponents of music education, the group teaches mariachi for all ages at their own Academy for Performing Arts.
​
"A lively holiday spectacular"
– Los Angeles Times
Monday, Dec. 20, 2021 at 7:30 pm
RELATED PERFORMANCES/SHOWS