While we await the opportunity to open the theater, we're continuing our series with  VINEYARD VIBES & MORE, an opportunity to share more excellent entertainment from local musicians and comedians. These concerts are FREE, although registration is required for online access. Your virtual ticket allows access for a 24-hour period beginning each Sunday at 6pm.  A Virtual "Tip Jar" for performers is available online during the performance and, to support the series, you can add a donation when you get your ticket or anytime at livermorearts.org/donate.
So grab some food and your favorite beverage and get ready to be entertained!
VINEYARD VIBES & MORE SCHEDULE (click on name for more information)
FREE EVENTS — SUNDAYS at 6PM*
 MAR 14 – Sunny & The Black Pack
The refreshingly unique and authentic music of Sunny Promyotin and his band defies classification, reaching across genres with a soulful and captivating sound.  Recorded for Vineyard Vibes at their studio.
MAR 21 – "Black Girl, Funny World"
Faith Alpher's powerhouse one-woman autobiographical comedy takes audiences on an uplifting and entertaining journey as she relates her humorous and heartwarming story.  Free screening of 2017 performance.
MORE INFO                    FREE TICKETS
MAR 28 – Michael McNevin
With heartfelt lyrics and a keen eye for detail, award-winning singer/songwriter Michael McNevin has toured both solo and as an opening act for a Who's-Who of legendary names in folk, blues and more. Recorded at Retzlaff Vineyard.
MORE INFO                    FREE TICKETS
APR 4 – No Event
APR 11 –  LunaFish
With an authentic psychedelic rock sound, LunaFish brings back all the joy of the timeless hits of the late 1960s and 1970s, refreshing favorites and making them their own. Recorded at Retzlaff Vineyard.
MORE INFO                    FREE TICKETS
APR 18 – Comedy in the Vineyard: Regina Stoops & Stacey Gustafson
Regina Stoops, who redefines "normal" in her own comedic terms, and Stacey Gustafson, who quips "Are You Kidding Me?" on a daily basis, join together for a fun fest of laughs.  Recorded at Retzlaff Vineyard.
MORE INFO                    FREE TICKETS
---
A THANK YOU TO OUR COMMUNITY SUPPORTERS
VINEYARD VIBES AND MORE is a local effort to support the survival of the arts in the Tri-Valley area. Retzlaff Vineyards made their outdoor stage available for safe, socially distant performances. Advance Creative Group donated their services to record and edit each event. Performers donated their time and Faith Alpher offered the screening of "Black Girl Funny World," typically available for rent on Netflix and Amazon. In addition, VINEYARD VIBES AND MORE is sponsored in part by the Bankhead Theater's 2020-2021 Season Sponsor, UNCLE Credit Union.
In the spirit of supporting the community, audiences are encouraged to pick up a bottle of Retzlaff Vineyards wine and dinner from one of many local restaurants that are open for takeout, including Bankhead Theater ticketback sponsors – Uncle Yu's at the Vineyard, Dimitri's Taverna, or Hops and Sessions – to enjoy while watching the virtual concert!
---
*Note: Registration is free and allows access to the complete broadcast beginning at 6pm on each concert date and extending for 24 hours.
Be sure to look for the "tip guitar" below the screen during the event to support the artists!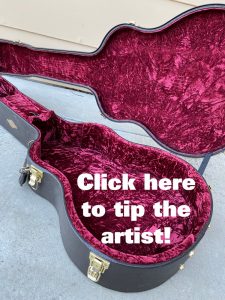 Consider supporting the series by adding a donation when you register for free tickets!