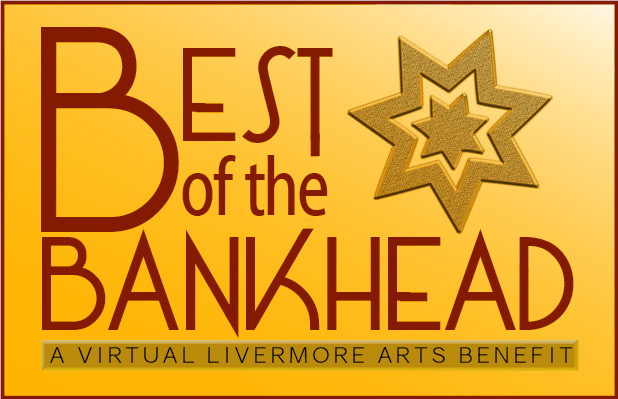 Best of the Bankhead 2020
When
Sat, November 21, 2020 @ 6:00 pm
Email
boxoffice@bankheadtheater.org
Where
Online Event -

Phone
925.373.6800

VIRTUAL BENEFIT FOR LIVERMORE VALLEY PERFORMING ARTS CENTER
Celebrate the wonder and beauty of the Arts and help us set the stage for a return to live entertainment! "Best of the Bankhead" will be hosted by LVPAC Executive Director Chris Carter and emceed by Freddie Silveria, who will appear live from the Bankhead stage, and will feature cameo video performances by some of the most popular artists who have appeared at the Bankhead since it opened in 2007. Tickets for the event include dinner and wine delivered to attendees' homes prior to the event.
A FAMILY OF FAVORITES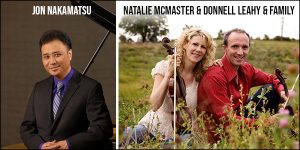 We've just added to the audience favorites scheduled to perform at the "Best of the Bankhead." Pianist Jon Nakamatsu and Celtic fiddlers Natalie McMaster, Donnell Leahy and their Family will join comedian Paula Poundstone, ukulele master Jake Shimabukuro, and smooth jazz legend Keiko Matsui for this entertaining evening.
Winner of the prestigious Van Cliburn Competition, Jon Nakamatsu has a long history with the Bankhead Theater. He was the first to perform a full concert on the venue's original grand piano in 2007 and he helped with the selection of the new Steinway grand piano which was installed last fall.
Canadian fiddler Natalie McMaster has thrilled Bankhead audiences several times both solo and with members of her talented family. In addition to appearing at the virtual "Best of the Bankhead," Natalie and her family will offer a livestream performance, "A Celtic Family Christmas at Home," in December, with a portion of ticket sales also benefiting the Bankhead.
Poundstone, Shimabukuro and Matsui have each appeared at the Bankhead more than four times each, consistently filling the house, and are currently booked for live performances at the Bankhead in 2021. Jake Shimabukuro appeared in the Bankhead's inaugural season shortly after he became one of the first YouTube artists to go viral. The Choir of Man, the rollicking pub show that sold out the theater twice in less than a year, will make a video appearance from London, and there will be other surprise guests as well.

FANCY DRESS OPTIONAL — FOOD & FUN GUARANTEED

During this "fancy dress optional!" evening, two "Best of the Bankhead" prizes will be raffled: a sparkling Circle of Diamonds necklace pendant donated by Lance Cavalieri Jewelers valued at just over $5,000, and a pair of tickets to the upcoming 2021 Brilliance at the Bankhead Gala starring Vanessa Williams.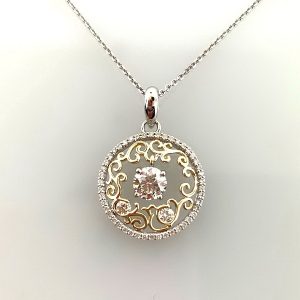 The diamond pendant is set in 14K yellow and white gold and features one round brilliant cut 0.62 ct diamond, plus 48 round brilliant cut diamonds with total weight 0.32 ct. Raffle tickets are $20 each or 10 tickets for $150 and no more than 1000 will be sold. Must be purchased by calling the box office 925-373-6800 or via email boxoffice@livermorearts.org. Need not be present to win, although the winner will be announced at the event so get your tickets now!
Bidding on live and silent auction items will also be an exciting part of the evening. See the LIST of auction items here.  And sign up NOW for BidPal so you can bid during the event.
The "Best of the Bankhead" will also highlight other initiatives of the Livermore Valley Performing Arts Center, including a new exhibit in the Bankhead Gallery, the "Best of the Bothwell," a showcase of works by local artists who create or teach at the Bothwell Arts Center.

Full price tickets for "Best of the Bankhead" which include a 4-course catered dinner are now sold out. A suggested minimum donation in support of the Arts is $25 for "Pay What You Want" tickets, which include show access only.
ONLY FUNDRAISING EVENT IN 2020!
Due to the closure of the Bankhead and Bothwell for COVID-19 safety, "Best of the Bankhead" will be Livermore Valley Performing Arts Center's only major fundraising event in 2020. The annual Brilliance at the Bankhead Gala, typically held each September, will now not occur until 2021. "While we continued to offer virtual performances such as Vineyard Vibes and online art classes, our ability to deliver on our mission to serve the community through the arts has been severely restricted, far beyond anything we could have imagined," says Executive Director Chris Carter. "We took quick action to preserve our financial situation, but in order to come back strong when we're able to open again, we must continue to rely on the support of the community. We are so grateful to everyone, from "Best of the Bankhead" lead event sponsors such as Fremont Bank, to individual donors who have sent us whatever they could. We are focused on how we can help restore the arts in downtown Livermore as soon as it is safely possible." Interested in sponsorships? Sign up HERE!
ATTEND THE "BEST OF THE BANKHEAD" A VIRTUAL LIVERMORE ARTS BENEFIT
Saturday, November 21
6:00pm   PRE-SHOW
6:30pm  EVENT

---
THANK YOU!
GALAXY SPONSORS

Priem Family Foundation
Jean King.  Lynn & Joan Seppala
COMET SPONSORS
Lance Cavalieri Jewelers
Denise Watkins
Faye & Lee Younker
Bob & Patricia Zollars

STAR SPONSORS
 The Independent. Pleasanton Weekly. Shea Homes.
Topcon. Trutner Law Offices. UNCLE Credit Union
Dona Crawford. Phil & Muriel Dean.
Steve & Melody O'Shea. Michael & Denise Weiner.Pat Wheeler

EVENT PARTNERS
Advance Creative. Beets + Eats. Freddie Silveria Auctions. Wente Vineyards
---
All proceeds will support the extensive performing and visual arts activities and educational outreach offered at the Bankhead Theater and Bothwell Arts Center by Livermore Valley Performing Arts Center, a 501(c)3 independent non-profit arts organization.
For sponsorship questions, email development@livermorearts.org or sign up HERE.
For raffle tickets, email your request to the Box Office boxoffice@livermorearts.org and they will call to confirm. Or call 925-373-6800 directly.
RELATED PERFORMANCES/SHOWS