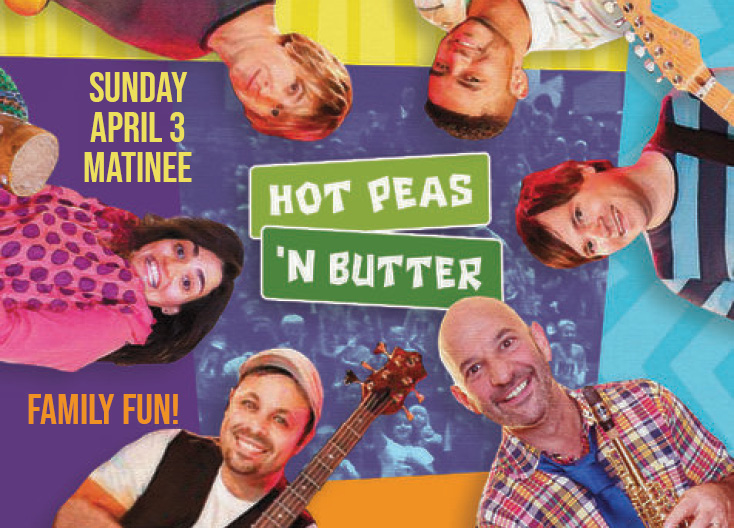 Hot Peas N Butter
When
Sun, April 3 @ 3:00 pm
Email
boxoffice@bankheadtheater.org
Where
Bankhead Theater - 2400 1ST ST LIVERMORE, CA 94550

Phone
925.373.6800

Bankhead Presents Hot Peas N Butter
They might not like to eat their peas, but children have a hard time resisting the engaging mix of Latin jazz, Afro-Caribbean rhythms, folk and rock music served up by Hot Peas N Butter. Their innovative music and energetic style has won them four Parents' Choice Awards since they were founded in New York more than a decade ago.  Often seen on Nick Jr. and Nickelodeon TV, the multi-cultural band is known for their joyful, upbeat bi-lingual music and an interactive stage style that inspires audiences of all ages to clap and sing along in both Spanish and English.  With eight award-winning albums and numerous music videos, Hot Peas 'n Butter makes new friends everywhere they go.
Named for the playground game they played as kids, Hot Peas 'n Butter incorporates many languages into their performances – English, Spanish, French, Korean and Hebrew just to name a few. Songs like "Number 1" and their signature Latin beat tracks "Somos Familia," "Amistad," "Que Llueva," and "Round the World" enjoy radio play nationwide. Hot Peas 'N Butter make it impossible not to respond to what The Los Angeles Times called "a satisfying mix of good-for-you messages, infectious tunes and a hot, multicultural groove."
Their rootsy 2018 album "Back to the Land" celebrates our connections to one another as a society, as well as our connection to our planet and its health and features special guests, Laurie Berkner , Dan Zanes, and Peter Yarrow.
Hot Peas 'N Butter was founded by lifelong friends and professional musicians Danny Lapidus and Francisco Cotto in 2000 when they were inspired to bring to other families the joy they found in sharing music with their own children. Born in Belgium, Lapidus grew up in Brooklyn and met Cotto, a native of Puerto Rico who moved to the Bronx at age seven, at the High School of Music and Art in New York City.
"A satisfying mix of good-for-you messages, layered arrangements of traditional songs, infectious tunes and a hot — and mellow — multicultural groove."
–New York Times
Sunday, April 3, 2022 at 3:00 pm
RELATED PERFORMANCES/SHOWS