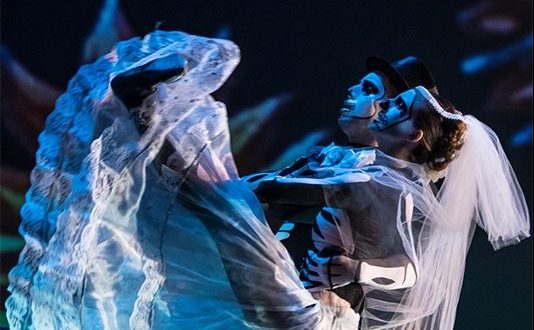 Oakland Ballet: Luna Mexicana
When
Thu, October 17, 2019 @ 7:30 pm
Email
boxoffice@Bankheadtheater.org
Where
Bankhead Theater - 2400 First Street Livermore,

Phone
925-373-6800

Celebrating Dia de los Muertos
Spirited dance, lively music and colorful costumes help celebrate Dia de los Muertos (Day of the Dead) in this festive, family-friendly show created by artistic director Graham Lustig. An exhilarating array of dances light up the stage including Lustig's "Luna Mexicana" ballet which highlights the traditions surrounding Dia de los Muertos, as well as the return of "Viva la Vida," a collaboration between Lustig and Martin Romero, artistic director of Ballet Folklórico México Danza. "Viva la Vida!" honors the life and singular vision of Mexican artist Frida Kahlo with a striking visual energy that draws on her love for animals and the passionate, bright colors that animate her work. Mexican contemporary and folkloric dance works performed by Ballet Folklorico, as well as Nahui Ehekatl & Co. Aztec dance company, complete a joyful celebration for all ages.
About Dia de los Muertos: Celebrated on the first two days of November every year, Dia de los Muertos is a traditional Mexican celebration that brings families together as they welcome the souls of their deceased relatives for a brief reunion in the real world. Although the symbols of the holiday feature skeletons and skulls, and there are costumes and parades, Dia de los Muertos is not a Mexican Halloween. Instead the celebration honors traditions that derive from early Aztec beliefs. On that date, the border between the spirit world and the real world was believed to be dissolved and the souls of the dead would awaken and return to the living world to feast, drink, dance and play music with loved ones. The colorful and lively celebration has evolved to include fancy costumes, intricate paper decorations, and the tradition of leaving food or other offerings on graves or on small altars called ofrendas.  
"Pulse-quickening … a joyous feast of color and vivacity" – ArtsSF
"The performance pace was breath-taking, the caliber of dance and music unassailable." – ArtsSF
"A lively street festival transported to the stage. The entire evening was enveloped in a sense of pageantry: a mélange of traditions, exhibition and celebration." – Critical Dance
RELATED PERFORMANCES/SHOWS