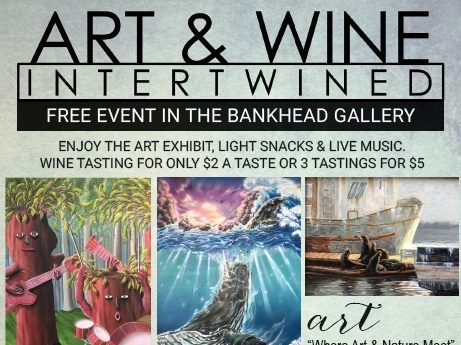 ART & WINE INTERTWINED: WHERE ART AND NATURE MEET
When
Sat, October 19, 2019, 1:30 pm
Email
boxoffice@bankheadtheater.org
Where
Bankhead Theater - 2400 1ST ST LIVERMORE, CA 94550

Phone
925.373.6800

"Art and Wine Intertwined" will bring together art, live music and local wineries at
the Bankhead Theater on October 19, 2019. Singer/songwriter James Bacon returns
by popular demand for another entertaining afternoon filled with songs, stories and
wry observations on life. Local offerings from Big White House, Darcie Kent
Vineyards, Wood Family Vineyards and Nella Terra Vineyards will be available for
tasting.
Currently on exhibit at the Bankhead Gallery is "Where Art & Nature Meet," more
than 60 works of art including 20 by featured artist Bettie Goosman on display in
the Founder's Room. The exhibit reflects the wonders of the natural world with
birds, animals, flora and landscapes portrayed in a wide-range of medium including
drawings, paintings, photographs and mixed media works. Goosman's watercolor
paintings have a rich quality of light and highlight the beauty of landscapes from her
native South Africa to the glorious canyons of the west, as well as local Livermore
vineyards.
"Art and Wine Intertwined" marks the beginning of the final week to enjoy "Where
Art and Nature Meet" before it closes at the end of the month to make way for a new
exhibit. Many pieces are available for sale and can be purchased during the event.
Entries can also be submitted for a drawing to win tickets for one of two holiday
shows at the Bankhead.
Hosted by Livermore Valley Performing Arts Center, "Art and Wine Intertwined" is
free and open to the public. Tastings are $2 each or three for $5 and light appetizers
will be served. The event runs from 1:30 to 4:30 p.m.
RELATED ART EXHIBITS/GALLERY