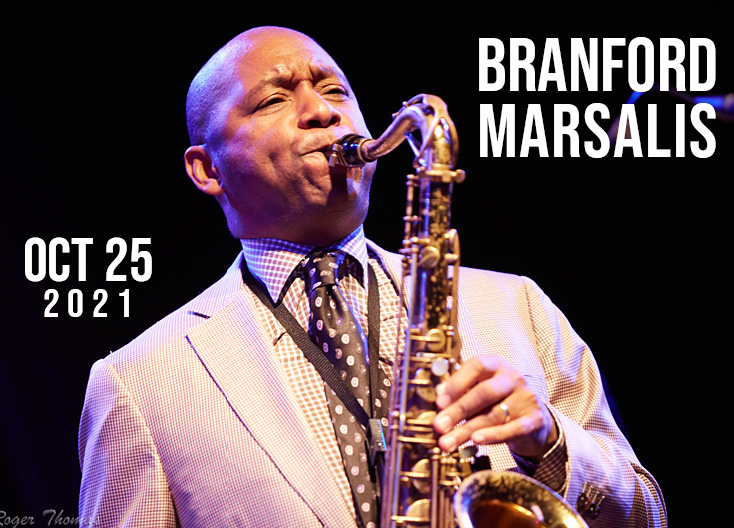 Branford Marsalis Quartet
When
Mon, October 25, 2021 @ 7:30 pm
Email
boxoffice@bankheadtheater.org
Where
Bankhead Theater - 2400 1ST ST LIVERMORE, CA 94550

Phone
925.373.6800

Bankhead Theater Presents Branford Marsalis Quartet
Branford Marsalis has stayed the course. From his early acclaim as a saxophonist bringing new energy and new audiences to jazz, he has refined and expanded his talents and his horizons as a musician, composer, bandleader and educator – a 21st Century mainstay of artistic excellence.
Branford grew up in the rich musical environment of New Orleans, the son of the late famed pianist and educator Ellis Marsalis and the oldest of his three jazz-playing siblings. He formed his own quartet in 1986 and has taken guest turns with such giants of the jazz world as Miles Davis, Dizzy Gillespie, Herbie Hancock and Sonny Rollins. Among his many credits, Branford has composed for Broadway, toured with Sting, served as musical director for The Tonight Show with Jay Leno, and appeared on numerous other television and radio programs. He is a frequent soloist in jazz performance and, increasingly, in the classical universe as well.
Known for the telepathic communication among its uncommonly consistent personnel, its deep book of original music replete with expressive melodies and provocative forms, and an unrivaled spirit in both live and recorded performances, the Branford Marsalis Quartet has long been recognized as the standard to which other ensembles of its kind must be measured. Their most recent album "The Secret Between the Shadow and the Soul" was released in 2019 and earned two Grammy nominations.
"One of the most cohesive, intense small jazz ensembles on the scene today."
— Associated Press
RELATED PERFORMANCES/SHOWS