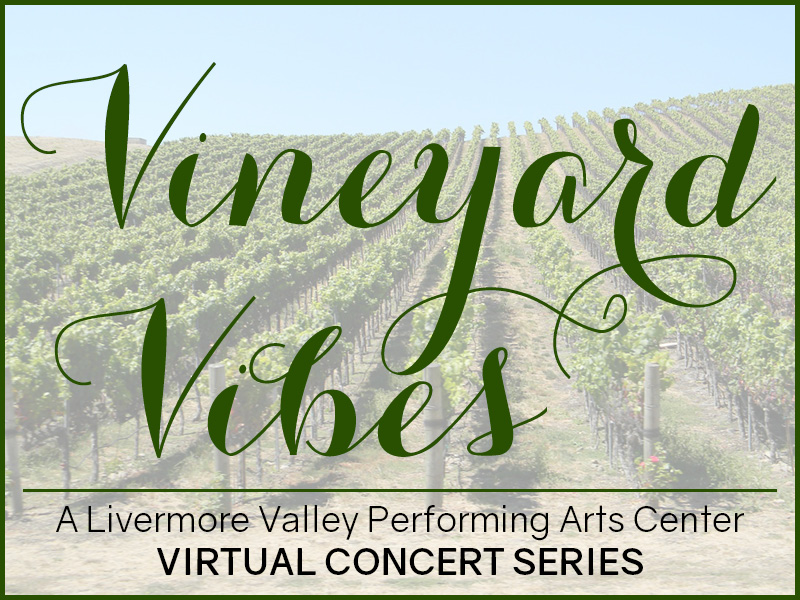 Vineyard Vibes – A Virtual Concert Series
When
Sun, November 8, 2020, 6:00 pm
Email
boxoffice@bankheadtheater.org
Where
Online Event -

Phone
925.373.6800

Beginning in mid-September start your Sunday evenings with the music of VINEYARD VIBES, a free, virtual concert series featuring local musicians across a range of musical genres. These concerts are free, although registration is required for online access. A virtual "Tip Jar" for performers will be available online and donations to Livermore Valley Performing Arts Center can be made anytime during the performance and immediately afterwards.
VINEYARD VIBES SCHEDULE (select name for more information)
SEP 13 – Matt Finders and Friends 
Enjoy the original sound of blues, jazz, Latin and funk with this locally-based sextet of professional musicians.
SEP 20 – Livermore Valley Opera
Soprano Krista Wigle and tenor Joseph Meyers will be accompanied by Maestro Alexander Katsman in a selection of opera arias and musical theater songs.
SEP 27 – The LK Project
Singer-Songwriter Duo, Chris Carter and Mike Lickiss, offer an acoustic-based blend of strong melodies and heartfelt lyrics.
OCT 4 – Crawdad Republic
Popular local band Crawdad Republic delivers their unique and engaging take on American folk and bluegrass-inspired sounds.
OCT 11 – Lauryn Marie
An emerging talent, singer/songwriter Lauryn Marie's evocative music won the recent StarsDay Dreamcatcher Competition.
OCT 18 – Livemore-Amador Symphony Members
Joined by Maestro Lara Webber, The Wine Break Brass Quintet and the Whirlwinds Trio offer favorite pieces.
OCT 25 – David Victor
Former vocalist/guitarist of the band Boston, David Victor offers his own original songs in an acoustic guitar set.
NOV 1 – Dirty Cello
Blues meets bluegrass with a faint classical twist in this energetic SF-based band led by crossover cellist Rebecca Roudman.
NOV 8 – Brian Maggi & More
Bay Area comedian Brian Maggi finds plenty to laugh at even in these challenging times.
NOV 15 – Echo Trail
A mix of Americana, Roots, Country and Bluegrass styles with a unique sound that is both authentic and heartfelt.
CELEBRATE COMMUNITY
The performing arts world has been hard hit by the pandemic, significantly affecting artists across the spectrum as well as venues and theaters such as the Bankhead. "Vineyard Vibes" is a truly local effort to support the survival of the arts in the Tri-Valley. Retzlaff Vineyards has made their stage available for the events, which will be recorded and edited by Advance Creative, a full service video production agency located in Livermore. LVPAC's staff now includes a trained COVID-19 compliance officer to ensure safety requirements are met during recording at the private facility. Advance Creative is donating their services to support the effort, as are the performers. "Vineyard Vibes" is sponsored in part by the Bankhead Theater's 2020-2021 Season Sponsor, UNCLE Credit Union.
In the spirit of supporting the community, audiences are encouraged to pick up a bottle of Retzlaff Vineyards wine and dinner from one of many local restaurants that are open for takeout, including Bankhead Theater ticketback sponsors – Uncle Yu's at the Vineyard, Dimitri's Taverna, or Hops and Sessions – to enjoy while watching the virtual concert!
Note: Registration allows access to the complete concert broadcast beginning at 6pm on each concert date and extending for 24 hours.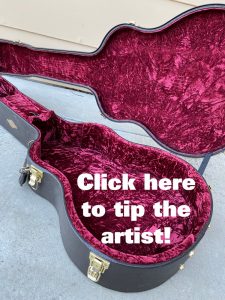 Be sure to look for the tip guitar below the screen during the event!
RELATED PERFORMANCES/SHOWS