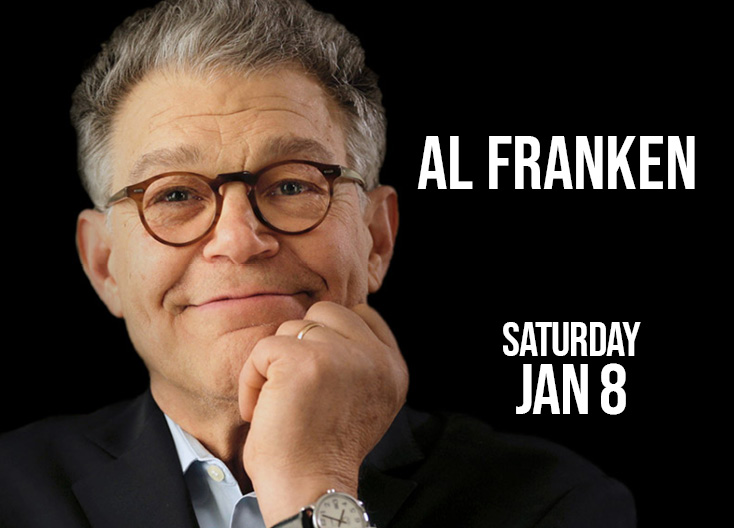 Al Franken
When
Sat, January 8, 2022 @ 8:00 pm
Email
boxoffice@bankheadtheater.org
Where
Bankhead Theater - 2400 First Street Livermore,

Phone
925.373.6800

Bankhead Theater Presents An Afternoon with Al Franken/An Evening with Al Franken
Take this rare opportunity to hear from the only speaker on the lecture circuit whose career spans from winning four Emmy Awards during 15 seasons on Saturday Night Live, to serving 10 years as a United States Senator for the State of Minnesota. Along the way, Al Franken has also written four New York Times #1 best-sellers, taken home two Grammy Awards, topped the list of progressive talk show hosts, and delighted audiences everywhere with his dry wit and unique perspective.
Franken was at Saturday Night Live during the early days with Gilda, Chevy, Belushi, and Aykroyd and stayed as a host of newcomers arrived including Chris Rock and Chris Farley. While there, he joined with Jim Downey, a Republican, to write much of Saturday Night Live's political satire, the two finding common ground with observations that made audiences laugh regardless of their political views. After leaving SNL, he took a far more acerbic approach with such best-selling books as "Rush Limbaugh Is a Big Fat Idiot and Other Observations," and "Lies and the Lying Liars Who Tell Them: A Fair and Balanced Look at the Right." From 2004-2007, he was the top progressive radio talk show host in the country.
In 2008, Franken was elected to the US Senate and then re-elected in 2014, leading on such issues as health care, education, privacy, and arbitration. Since leaving that post, he has focused his Al Franken Podcast on important issues facing the country, from the Supreme Court to climate change, voicing his ideas with his trademark intelligence and humor and never ever afraid to "tell it like it is."
Saturday, Jan. 8, 2022 at 2 PM
Saturday, Jan. 8, 2022 at 8 PM
RELATED PERFORMANCES/SHOWS