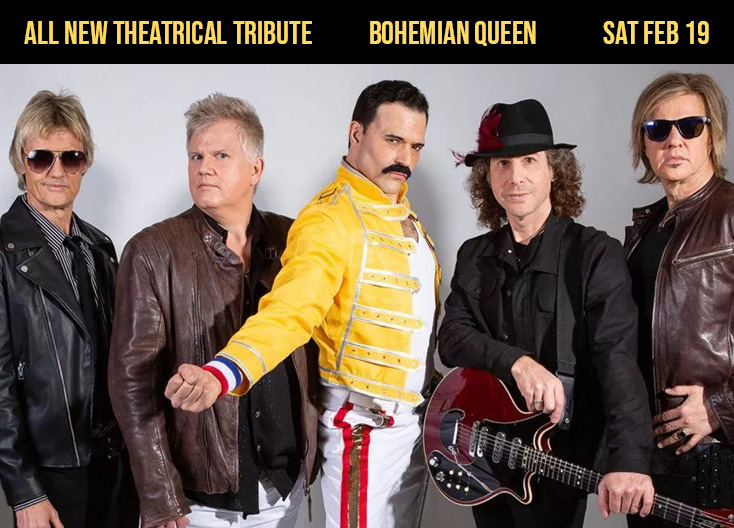 Bohemian Queen
When
Sat, February 19, 2022 @ 8:00 pm
Email
boxoffice@bankheadtheater.org
Where
Bankhead Theater - 2400 First Street Livermore,

Phone
925.373.6800

Bankhead Presents Bohemian Queen
In an all-new theatrical tribute to a legendary band, Bohemian Queen features lead vocalist Paulie Z as the amazing Freddie Mercury. Paulie Z brings all the theatricality and vocal gymnastics of the late, great Queen frontman to life in this rock spectacle. He heads up a national caliber line-up of accomplished artists who have fronted their own bands and now turn their talents to this night of Queen hits. Bohemian Queen brings blockbuster full-band sound to such favorites as "We Will Rock You," "Stone Cold Crazy," "Don't Stop Me Now," and, of course, an unforgettable rendition of  "Bohemian Rhapsody."
Be sure to check out Paulie Z's star-turn with Brian May of Queen in their "Hammer to Fall" video, and with both Brian May and Roger Taylor in the epic "We Are the Champions" videos. For Bohemian Queen, Paulie Z is backed by drummer/vocalist Glenn Jost (ReLoVe, Bostyx), keyboardist/guitarist Victor Bender (Sheer Heart Attack, Bostyx), guitarist Steve Zukowsky (Sheer Heart Attack, Led Zeppalive, Dog 'n Butterfly, Acoustic Graffiti) and bassist/vocalist Aaron Samson (Steven Adler, BulletBoys, Gene Loves Jezebel, John 5 & George Lynch).
Saturday, Feb. 19, 2022 at 8:00 pm
RELATED PERFORMANCES/SHOWS