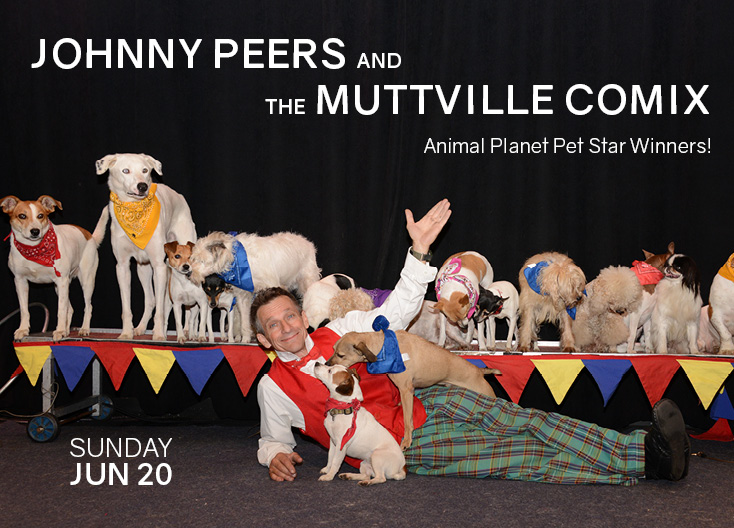 Johnny Peers & the Muttville Comix
When
Sun, May 8 @ 3:00 pm
Email
boxoffice@bankheadtheater.org
Where
Bankhead Theater - 2400 1ST ST LIVERMORE, CA 94550

Phone
925.373.6800

Bankhead Presents Johnny Peers & the Muttville Comix
A hilarious comedy act like no other, Johnny Peers and the Muttville Comix have jumped their way into audience's hearts in appearances from Ringling Brothers & Barnum and Bailey Circus, to The Late Show with David Letterman. Johnny leads over a dozen dogs through challenging tricks, playing the straight man to their comic cleverness and charm.
A graduate of the Ringling Brothers Clown College, Johnny has been working with dogs since he got his first puppy from the Humane Society – a Beagle mix named Freckles. Since their debut, the Muttville Comix have appeared on Primetime Live and Circus of the Stars, at Disneyland, Busch Gardens, Big Apple Circus, Royal Hanneford Circus, and even the White House!
The 2003 Animal Planet Pet Star Winners include Murphy, a ladder climbing Fox Terrier, and Willy, a charming Border Collie who only answers to "Sir." Starring talented dogs primarily rescued from shelters and pounds, the Muttville Comix is a show made for the whole family, perfect for the dog lover in all of us.
 "A truly funny, slapstick dog act."
– Providence Journal-Bulletin
Sunday, May 8, 2022 at 3 pm
RELATED PERFORMANCES/SHOWS