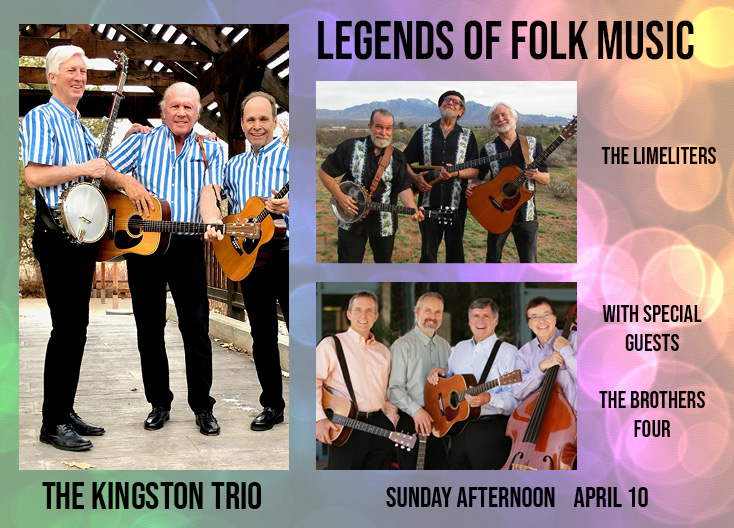 Legends of Folk
When
Sun, April 10, 2022 @ 3:00 pm
Email
boxoffice@bankheadtheater.org
Where
Bankhead Theater - 2400 First Street Livermore,

Phone
925.373.6800

Bankhead Presents Legends of Folk
Three of the most popular folk groups of all time come together in one show! Awarded the Lifetime Achievement Grammy Award in 2011, The Kingston Trio are considered one of the most popular singing groups of the 60's with the hits Tom Dooley, Scotch and Soda, Sloop John B, MTA and more. The Limeliters are one of the most in demand folk groups of the last 50 years, they have had several charted albums starting in the early 1960's and were the musical representatives for Coca Cola for 3 years.  The Brothers Four feature founding member Bob Flick and perform their hits Greenfields, The Green Leaves Of Summer, and many others. All three groups fill the stage with tight harmonies and smooth vocals, bringing back old memories and making new ones.
"They have achieved a fine musical patina that never grows old, only finer, sweeter and more pleasing."
— Chicago Tribune
Sunday, April 10, 2022 at 3 pm
RELATED PERFORMANCES/SHOWS