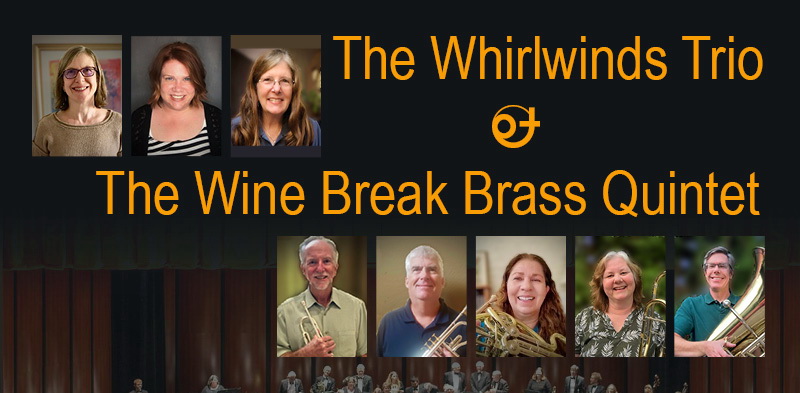 Livermore-Amador Symphony-Virtual
When
Sun, October 18, 2020 @ 6:00 pm
Email
boxoffice@bankheadtheater.org
Where
Online Event -

Phone
925.373.6800

Livermore Valley Performing Arts Presents 
Vineyard Vibes with Livermore-Amador Symphony
Musicians of the Livermore Amador Symphony perform a variety of beautiful chamber music rooted in English and American folk songs and dances encompassing a range of imagery, expression and fun.
The Wine Break Brass Quintet
Christine-Ann Immesoete, LAS Principal Horn
Diane Schildbach, LAS Principal Trombone
Marcus Schildbach, LAS Tuba
Robert Bryant, LAS Trumpet
Rick Fleer, Trumpet: (LAS guest musician)
PROGRAM:
Prelude to Te Deum, by Marc Antoine Charpentier, arranged by William Picher
Second Suite in F major by Gustav Holst, arranged David Sabourin
March
Song Without Words
Song Of The Blacksmith  ("Blacksmith" is represented by Lara playing a nuclear fuel rod assembly)
Fantasia on the Daragason
Just a Closer Walk with Thee, arranged Zack Smith
---
The Whirlwinds Trio
Marianne Beeler:  LAS Principal Flute
Eva Langfeldt:  LAS Principal Oboe
Chris Diggins:  Clarinet (LAS guest musician)
Seven Appalachian Melodies, by Alfred Loeffler
Married and Single Life
George Reilly
Old Joe Clark
The Sheffield Apprentice
Putnam's Hill
William and Polly
If You Want to Go-A-Courting
This performance is dedicated to the memory of Walter Davies, one of the founding fathers of the cultural arts community in Livermore.
---
The Livermore Amador Symphony, and all volunteer community orchestra, is a resident company of the Bankhead Theater and has served the region for 56 years through its concert series performances and Free Family Concerts at the Bankhead, POPS at the community center, and annual in-school outreach concerts in Livermore, Pleasanton and Dublin schools.  The LAS has performed annually with artist like Judy Collins, Matthew Morrison and The Indigo Girls at LVPAC's Brilliance at the Bankhead Gala.  Our musicians are your neighbors, your colleagues and co-workers, your area teachers and public servants.  We are thrilled to bring you the joy of symphonic music, and look forward to new and innovative ways of serving our community during the 2020-2021 season.  Find us at www.livermoreamadorsymphony.org and on Facebook, Instagram and Twitter.
---
This virtual concert will be recorded live outdoors at Retzlaff Vineyards, a private venue, with appropriate COVID safety measures in place.
EVENT IS FREE, REGISTRATION IS REQUIRED FOR ACCESS
Note: Registration allows access to the complete concert broadcast beginning at 6pm on each concert date and extending for 24 hours.
RELATED PERFORMANCES/SHOWS