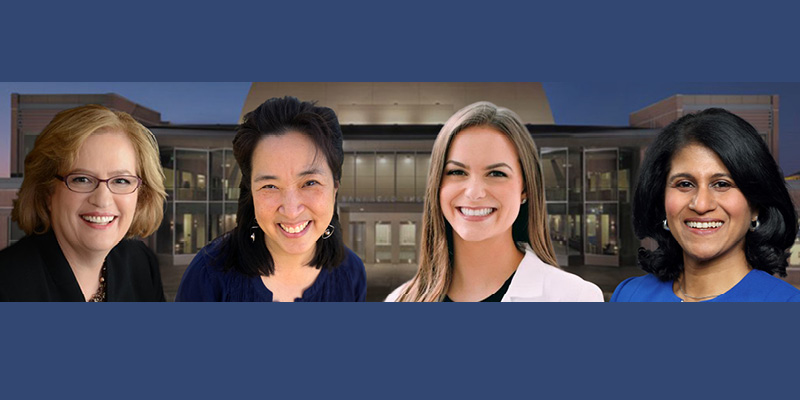 Paving the Way: A Virtual Conversation
When
Tue, December 1, 2020 @ 4:00 pm
Email
boxoffice@lvpac.org
Where
Online Event -

Phone
925-373-6800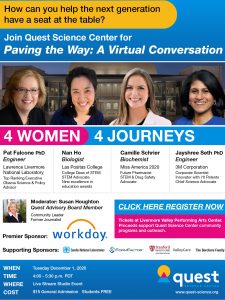 Quest hopes that you will consider purchasing a $15 ticket  or making a donation to show that you Stand for Science. Students can attend for free and we are hoping to inspire many future innovators.
---
Quest Science Center presents Paving the Way: A Virtual Conversation with four remarkable women who share their STEM journeys to inspire the next generation.
How can you help the next generation have a seat at the table? Quest Science Center presents Paving the Way: A Virtual Conversation that features four prominent women in STEM, at different stages in their careers, sharing their stories. Panelists include local notables Pat Falcone, top ranking executive from Lawrence Livermore National Laboratory and Nan Ho who is the STEM Dean at Las Positas College; Camille Schrier who is a biochemist and Miss America 2020 and Jayshree Seth who is a corporate scientist, innovator and chief science advocate with 3M Company.
The conversation, moderated by Quest Advisory Board member and former journalist, Susan Houghton, will reveal the panelists' paths to STEM careers and how they overcame obstacles.
Why you should attend:
-Be inspired and gain insights and confidence to take your career to new heights
-Discover how you can help people you care about to reach their goals and be ready for the jobs of the future
-Learn what you can do to help build a more diverse workforce with the skills to tackle the challenges ahead
The panelists will also discuss:
-The importance of honing critical thinking skills and learning how to think like a scientist.
-Hiring for a growth mindset and potential, not just academic credentials.
-How to recognize and avoid bias and stereotypes to cultivate a more diverse workforce.
-The value of failure in learning.
PREMIER SPONSOR: Workday
SUPPORTING SPONSORS: Sandia National Laboratories, Form Factor, Stanford Health Care Valley Care, The Borchers Family
RELATED PERFORMANCES/SHOWS