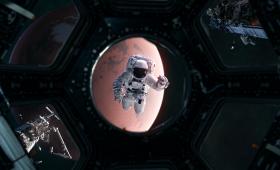 Science on Saturday
When
Sat, February 15, 2020 @ 9:30 am
Email
Where
Bankhead Theater - 2400 1ST ST LIVERMORE, CA 94550

Phone
Health in Space: Developing new tools for the trip to Mars
LLNL Scientist(s)
Matt Coleman,
Matthias Frank,
David Loftus (NASA Ames Research Center)
Teacher
Erin McKay
Teacher's School
Tracy HS
Abstract: Limited medical equipment on space craft makes medical care in space a real challenge. Ordinary problems must be dealt with, as well as problems related to the unique environment of space.  As NASA plans for new crewed exploration missions, beyond low earth orbit, telemedicine support will be limited, and medical evacuation to earth will no longer be possible. To address this problem, LLNL and NASA Ames Research Center are developing a novel diagnostic instrument to help provide medical care on deep space missions. The technology consists of a blood analysis system, based on microfluidics, together with a breath analysis system that uses carbon nanotube sensors. The technology is designed to support future missions to the moon and Mars, and it is expected to be used for terrestrial medicine as well, in a variety of arenas where medical resources are limited.
Bios:
Matt Coleman is a Senior Biomedical Staff Scientist at LLNL and an Adjunct Professor in the Department of Radiation Oncology at UC Davis School of Medicine. He received his Ph. D. in Molecular Biochemistry and Cellular Biology from Boston University. Dr. Coleman is active in the development of advanced biochemical techniques using nanoparticles and nanotechnology.
Dr. Coleman has authored over 100 publications in peer-reviewed journals, and published proceedings and book chapters covering topics in molecular biology and biochemistry.
Matthias Frank is a Senior Staff Scientist in the Physical & Life Sciences Directorate at LLNL and an Adjunct Professor in the Department of Biochemistry and Molecular Medicine at the UC Davis. Dr. Frank received his Ph.D. in Physics from the Max-Planck-Institute for Physics and the Technical University of Munich. He is currently working on instrumentation and methods for the analysis of aerosol particles, single cells, trace gases and exhaled breath for applications in homeland security and biomedicine, as well as developing technologies for high-resolution, dynamical imaging of biomolecules and biological nanoparticles with x-ray free-electron lasers. Dr. Frank has authored and co-authored ~160 articles published in scientific journals and books.
David Loftus is a physician-scientist at NASA Ames Research Center. He received his M. D. and Ph. D. from Washington University in St. Louis, completing his clinical training in Internal Medicine and Hematology at Stanford. Dr. Loftus is primarily involved in the development of medical technology for NASA. Dr. Loftus has led or co-led technology teams involved in developing implantable medical devices, bio-inspired materials, and a handheld instrument for medical diagnostics in harsh environments, among others. He has an extensive portfolio of invention disclosures and patents.  Dr. Loftus is faculty at Stanford University in the School of Engineering.
Erin M. McKay is a Biology teacher at Tracy High School in Tracy, CA. She received her B. S. in Biology with an emphasis in Plant Biology in 2001 and her science teaching credential in 2002 from UC Davis. While attending UC Davis, she interned at AgraQuest. She began teaching at Tracy High School in 2002. She also is an instructor in the Bioscience Teacher Research Academy and Biotechnology Summer Experience for high school students at LLNL.
Science on Saturday is a series of science lectures for middle and high school students. Each topic highlights cutting-edge science occurring at the Lawrence Livermore National Laboratory (LLNL). The talks are presented by LLNL scientists in collaboration with local area high school science teachers. These presentations are offered in several locations. Admission is free of charge. Seating is on a first-come first-served basis.
RELATED PERFORMANCES/SHOWS