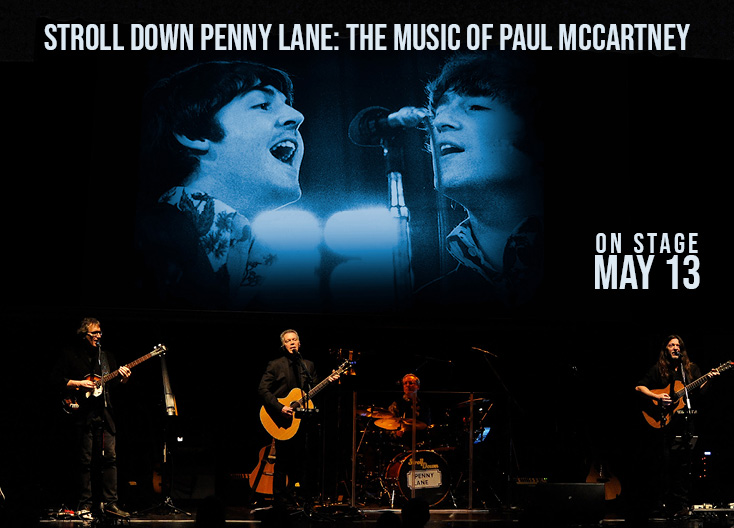 Stroll Down Penny Lane
When
Fri, May 13 @ 8:00 pm
Email
boxoffice@bankheadtheater.org
Where
Bankhead Theater - 2400 1ST ST LIVERMORE, CA 94550

Phone
925.373.6800

Bankhead Presents Stroll Down Penny Lane: The Music of Paul McCartney
The music of the most iconic songwriter of our age: Paul McCartney is presented in a compelling live performance with beautiful accompanying films. Spanning McCartney's career – from early influences, to the Beatles, through the Wings period, and beyond, his beloved songs are performed by some of the Bay Area's most sought-after career musicians. You'll also hear songs that have never been performed in concert – anywhere, by anyone!
A Long and Winding Road
A live-in-concert, experience that includes McCartney's music and influences, from early rock and roll – like Little Richard – until now, spanning sixty years of music. A beautiful chance to explore and appreciate his incomparable ballads – a form McCartney adopted when he was a teenager and grew to become the genre's acknowledged master. This is a chance to delve deep into the music and see the origin of a song and the musical devices that McCartney used to move us so deeply.  Discover the collaborations that led to the creation of a song and the history of the era in which his music is forever embedded.
"...even the most die-hard Beatles fans attending the show discover something they had not known."
— Napa Valley Register
Friday, May 13, 2022 at 8:00 pm
RELATED PERFORMANCES/SHOWS