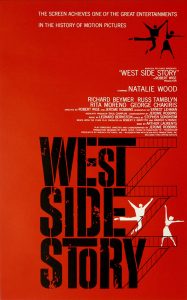 West Side Story (1961)
When
Wed, February 19, 2020 @ 7:00 pm
Email
boxoffice@Bankheadtheater.org
Where
Bankhead Theater - 2400 First Street Livermore,

Phone
925-373-6800

Bankhead Presents Classic Film Musicals West Side Story (1961)
In this urban take on Shakespeare's Romeo and Juliet, Tony (Richard Beymer) and Maria (Natalie Wood) are caught between rival New York street gangs, the Jets and the Sharks, as they battle for control over the neighborhood. Despite their young love, the pair cannot escape the tragic violence that surrounds their lives. Released in 1961, the film earned 10 Academy Awards including Best Picture, a record for a musical film that holds to this day. Leonard Bernstein's memorable score with "Maria," "Tonight, Tonight," and the lively dance number "America" has become an integral part of our musical history. The film was designated "culturally significant" by the Library of Congress and its story of American immigrants remains relevant today.  A new film remake by Steven Spielberg is set to release in late 2020.
RELATED PERFORMANCES/SHOWS